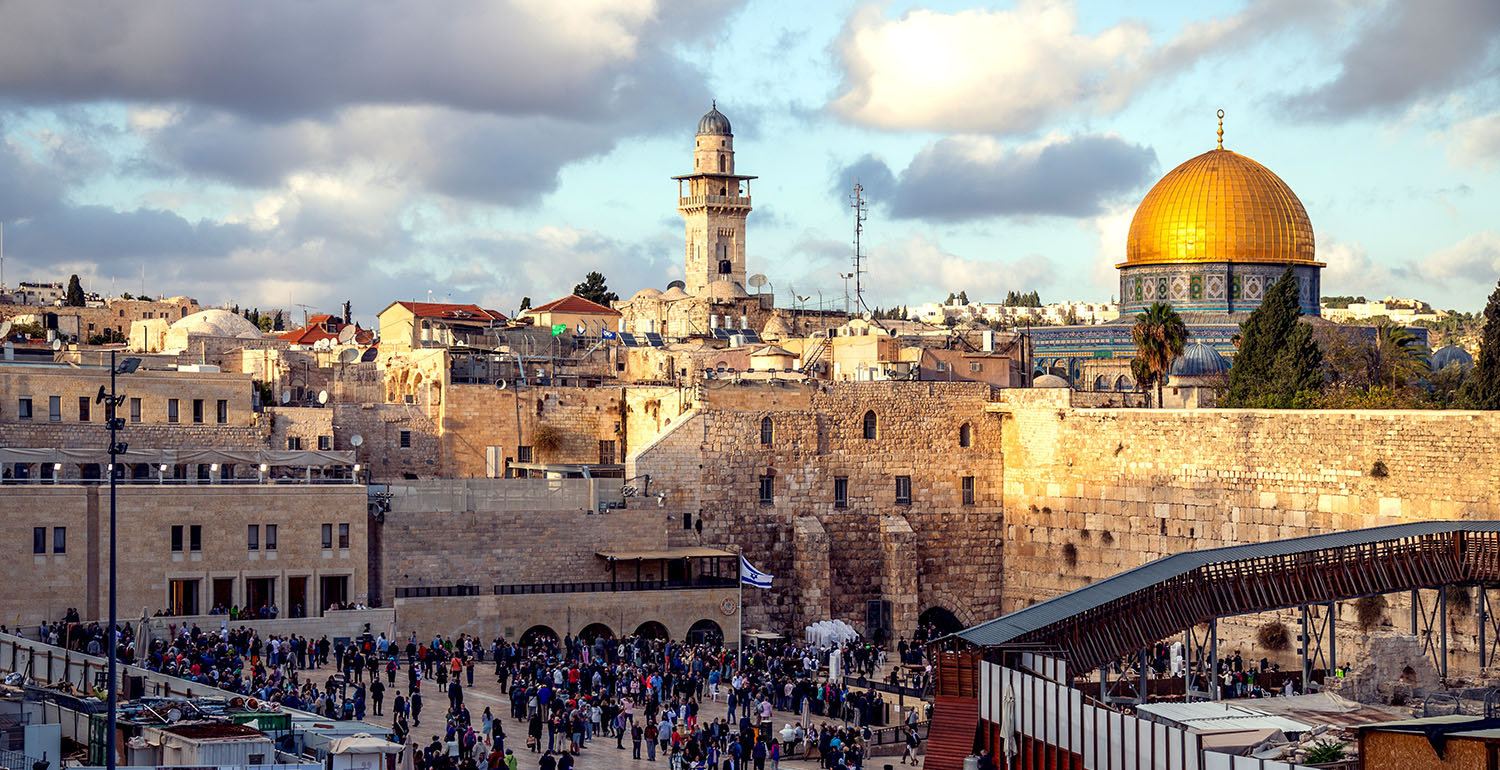 Photo by Sander Crombach
IS IT SAFE TO TRAVEL TO ISRAEL? (2023 UPDATE)
Considering Israel's tumultuous 75-year existence as a country, the casual traveler can be excused for wondering whether it's safe to travel to Israel in 2022.
The truth is that Israel is one of the safest places to travel in the Middle East, according to Israel travel expert Franziska Falkenberg, of Tourist Israel.
"Statistically, travelers are much safer in Israel than in most major American or European cities," Falkenberg says. "The implementation of strict security screening, especially at international land and air borders, [means] security in Israel is some of the strongest and most intelligent in the world."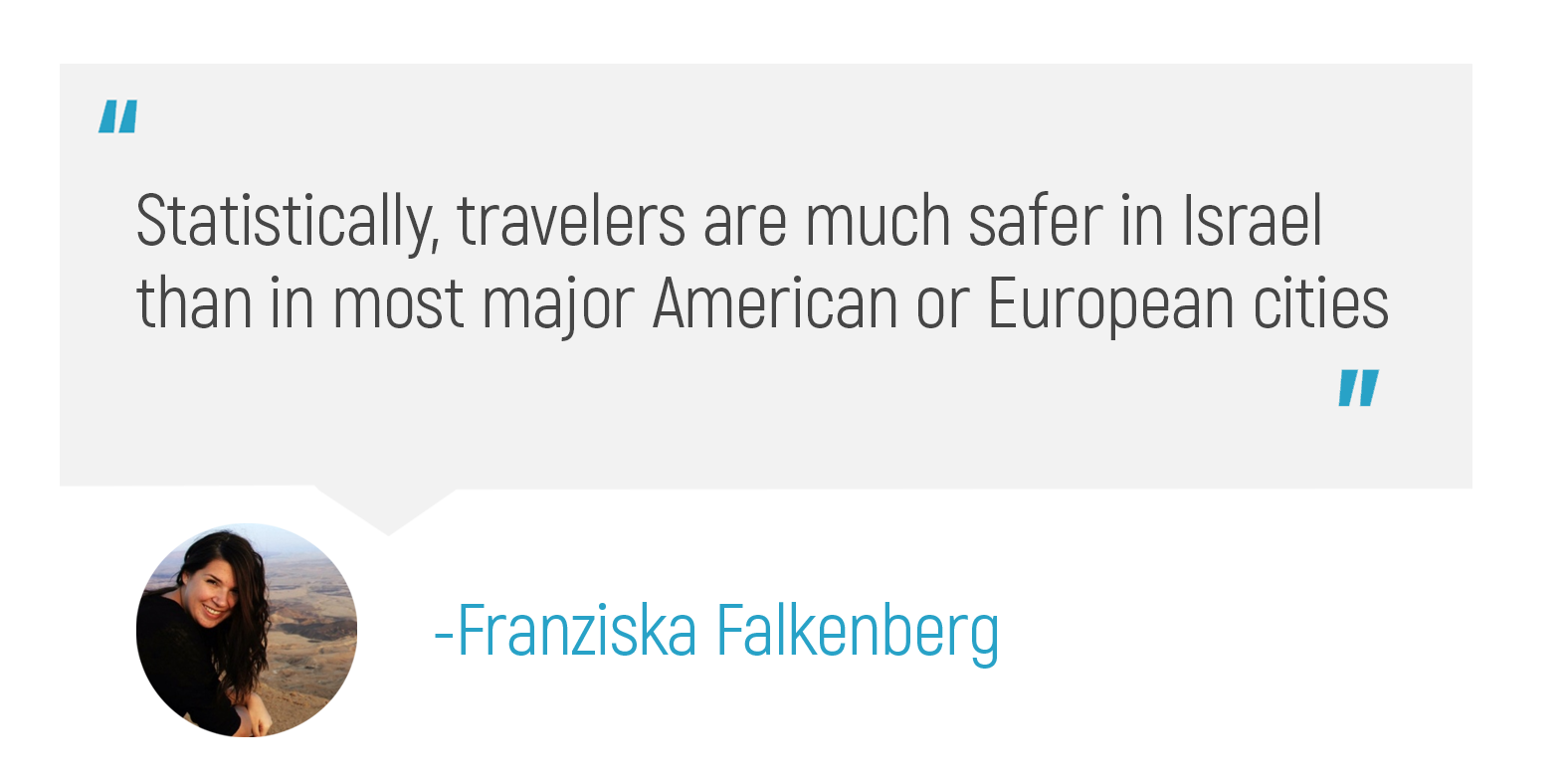 That's good news, because Israel is growing quickly and adding more accommodations and amenities for a new generation of tourists.
"More airlines have begun to offer direct flights, many of which are on low-cost carriers, making it easier than ever to visit," Falkenberg says. "Additionally, the new Ramon Airport opened in early 2019, making it easier to access the southern part of Israel via Europe directly."
United and Delta are also offering more direct flights from the U.S. to Israel, and a high-speed train zips passengers from Jerusalem to Tel Aviv in less than 30 minutes. Tel Aviv is fast becoming one of the world's biggest tech hubs, with hotels and restaurants springing up to meet the demand.
Resort areas are also being developed in southern Israel, including huge developments near the Dead Sea and in the Negev Desert.



GENERAL SAFETY AND SECURITY IN ISRAEL


Roughly 90 percent of the country has no travel restrictions. The two areas that do, the Gaza Strip bordering Egypt and the northeastern part of the country bordering Syria, have never been tourist havens.
Still, Falkenberg recommends that "travelers shouldn't explore off-road areas, especially near borders, and near the Golan Heights. Veering off the beaten path is not advised, and can result in getting lost or encountering security."
Travelers should also note that protests are not uncommon in Israel, especially in areas of long-standing dispute, such as Hebron, East Jerusalem, and parts of the Old City. The State Department's latest travel advisory for Israel has the full details.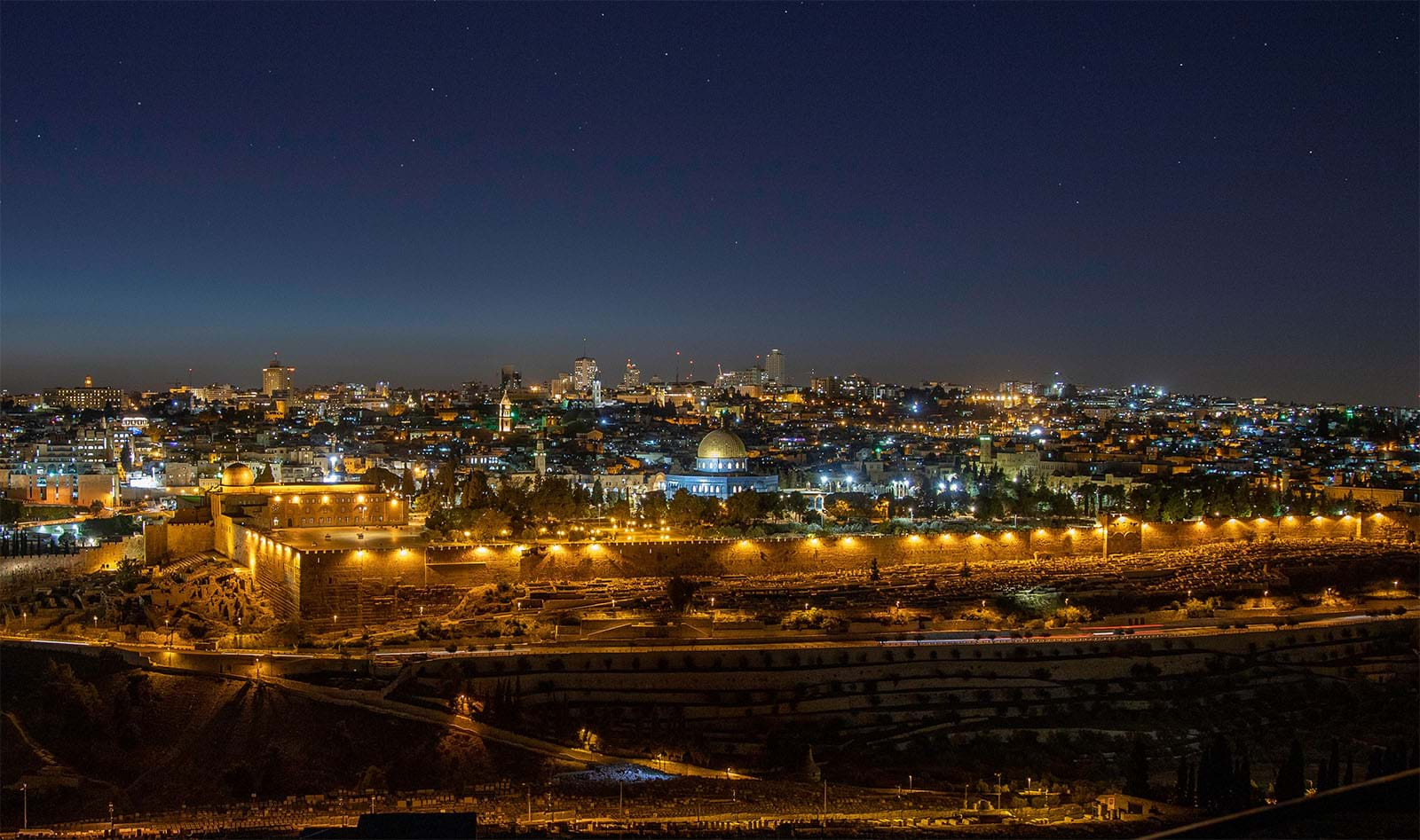 Photo by Sander Crombach on Unsplash


Clashes between protestors and security forces may involve shootings, arson, vehicle damage, and stone-throwing.
Tourists or bystanders can get involved in these incidents; if you see trouble developing, the State Department recommends you leave the area.
Otherwise, crime is generally not a problem in Israel. Even so, you should take normal, reasonable precautions, like:
Keeping travel documents secure

Not leaving bags unattended

Separating valuables and keeping them in multiple places

Staying out of dark, unfamiliar areas at night

Being alcohol-smart


SPECIFIC SAFETY TIPS


These 10 tips will help make sure your trip to Israel is memorable and safe:


1. BE READY FOR AIRPORT SECURITY


"Ben Gurion Airport [in Tel Aviv] is one of the most secure airports in the world," Falkenberg says. "Security and screening are part of the process, and travelers shouldn't worry or feel alarmed."
Falkenberg recommends that departing travelers allow at least three hours to clear security before boarding.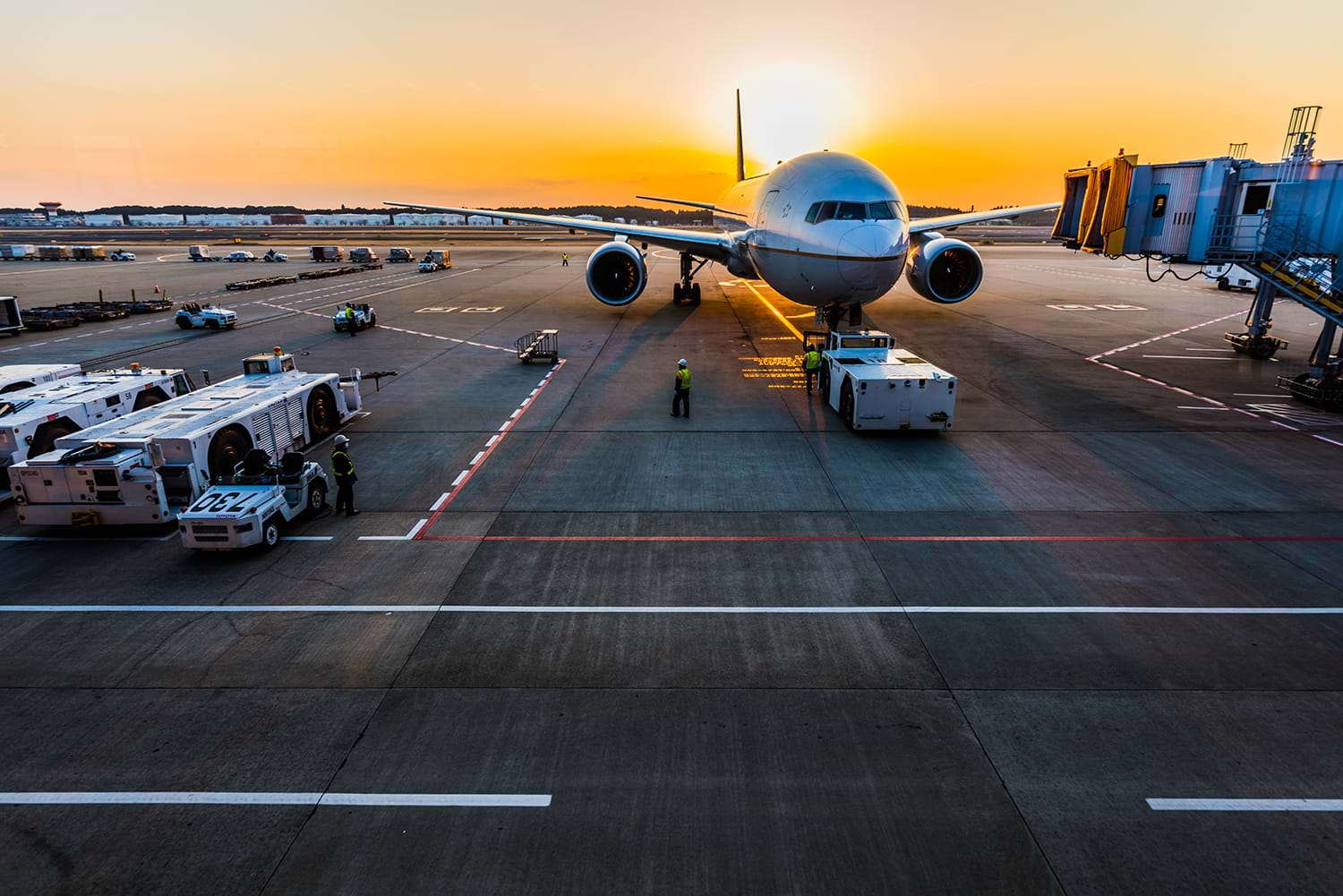 Photo by Ken Yam on Unsplash

2. UNDERSTAND THE VARIOUS BORDER
CROSSINGS AND CHECKPOINTS


If you're traveling into the West Bank, expect there to be multiple checkpoints run by either the Palestinian Authority or Israeli security forces. In Gaza, Hamas operates internal checkpoints and regulates entry.
The State Department notes that travelers to these areas should be prepared for an indefinite stay as the crossings between Gaza with Israel and Egypt can close without advance notice and for long periods during times of unrest and armed conflict."
Additionally, Falkenberg recommends that travelers be polite and honest with all security personnel, and never make jokes about weapons or bombs.


3. READ THE HEADLINES


Israel is a very vibrant country where everyone has an opinion that they have no problem expressing in loud, uncertain terms.
As a result, according to Falkenberg, "Travelers should prepare in advance by reading the current news and paying attention to what's happening when they're visiting."

4. BE A DEFENSIVE DRIVER


"Israeli drivers are known for being slightly assertive when driving, so pay close attention when driving and practice defensive driving," Falkenberg notes.
Obey traffic laws; speed traps are frequent and fines are high. Also, make sure your auto insurance is in order before driving anywhere.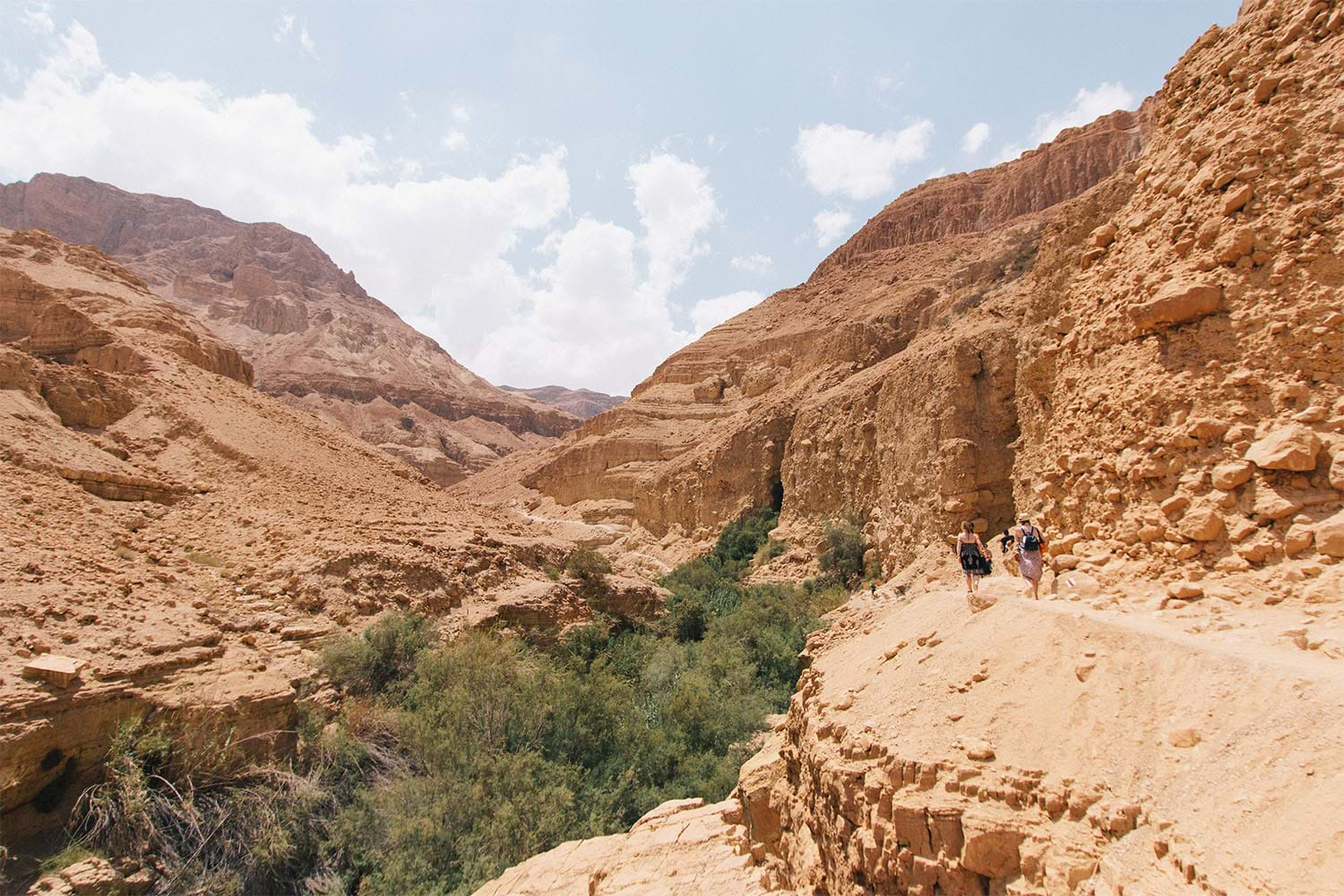 Photo by Robert Bye on Unsplash

5.

BE CAREFUL IN THE DESERT


The Negev Desert covers a large part of the country. If you're traveling to the desert, go with others, take water, sunscreen, and a mobile phone, and let someone know where you're going and when you expect to be back.


6. BE CONSCIOUS OF ULTRA-ORTHODOX AREAS OF THE COUNTRY


Falkenberg recommends that travelers should dress modestly and respectfully when visiting religious sites in Israel.
Residents in ultra-Orthodox Jewish neighborhoods may react strongly to anyone dressed inappropriately, particularly women. Women should not wear pants, jeans, or shorts.
Also, don't drive into ultra-Orthodox Jewish areas of Jerusalem on Shabbat (from sunset Friday to sunset Saturday). If you do, residents may stone your car.


7. BE AWARE OF MUSLIM CUSTOMS AS WELL
You should avoid drinking, eating, and smoking in public places in Muslim-dominated areas during the holy month of Ramadan.
Although alcohol may be available in some hotels and restaurants, keep it within the confines of those establishments, and don't drink alcohol in public.


Photo by Stacey Franco on Unsplash

8. UNDERSTAND HOW THE ISRAELI HEALTHCARE SYSTEM WORKS


Healthcare in Israel is not free; medical treatment can be expensive. Hospitals will insist that you pay up front, and may keep you in the country until your bills are paid.
Travel health insurance from a company like Berkshire Hathaway Travel Protection can help pay for emergency medical expenses. Travel insurance companies have experience dealing with overseas providers and payment practices, and can expedite payments if necessary to secure treatment.


9. MAKE SURE YOUR PASSPORT IS UP-TO-DATE


Renew your passport before leaving the U.S. for Israel if it's set to expire within six months from when you're scheduled to enter the country.
Also, unless you ask for a stamp, your passport will not be stamped when you enter the country, "as it can cause problems when traveling in some Arab countries," per Falkenberg.
Instead of a passport stamp, you'll be issued an entry card. Hang onto it, and keep it with your passport.


10. BRING A NOTE FROM A PARENT


If you're traveling with your child but without your partner, the State Department recommends you bring a signed, dated, and notarized permission note from your partner saying it's okay for the child to enter Israel. It's not required, but it's helpful.
If you follow these 10 simple tips, Israel can be one of your most rewarding travel destinations.
"Israel is a diverse, dynamic, and welcoming country filled with warm and friendly people," Falkenberg concludes. "While the political climate has changed over the years, and the geographical map has changed, overall Israel remains as-is – a safe destination for travelers."
---
---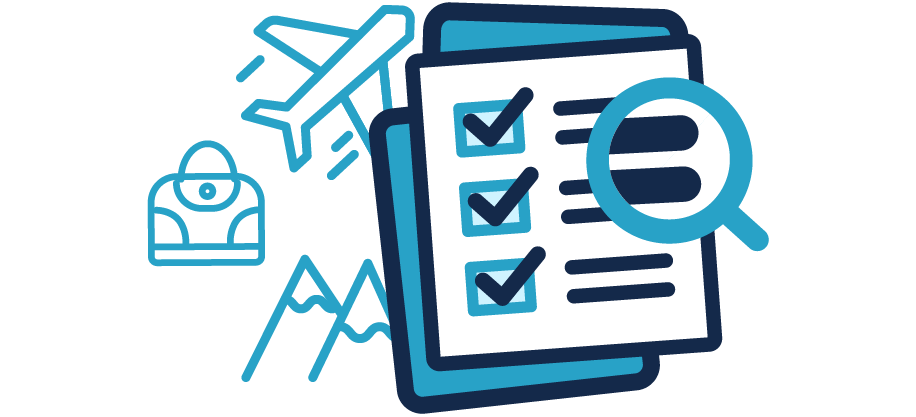 Questions About Travel Insurance?


Check out our online guide, "What Is Travel Insurance All About?" We've provided in-depth answers to all your travel insurance questions, starting with the basics.
---
Back To All Blogs