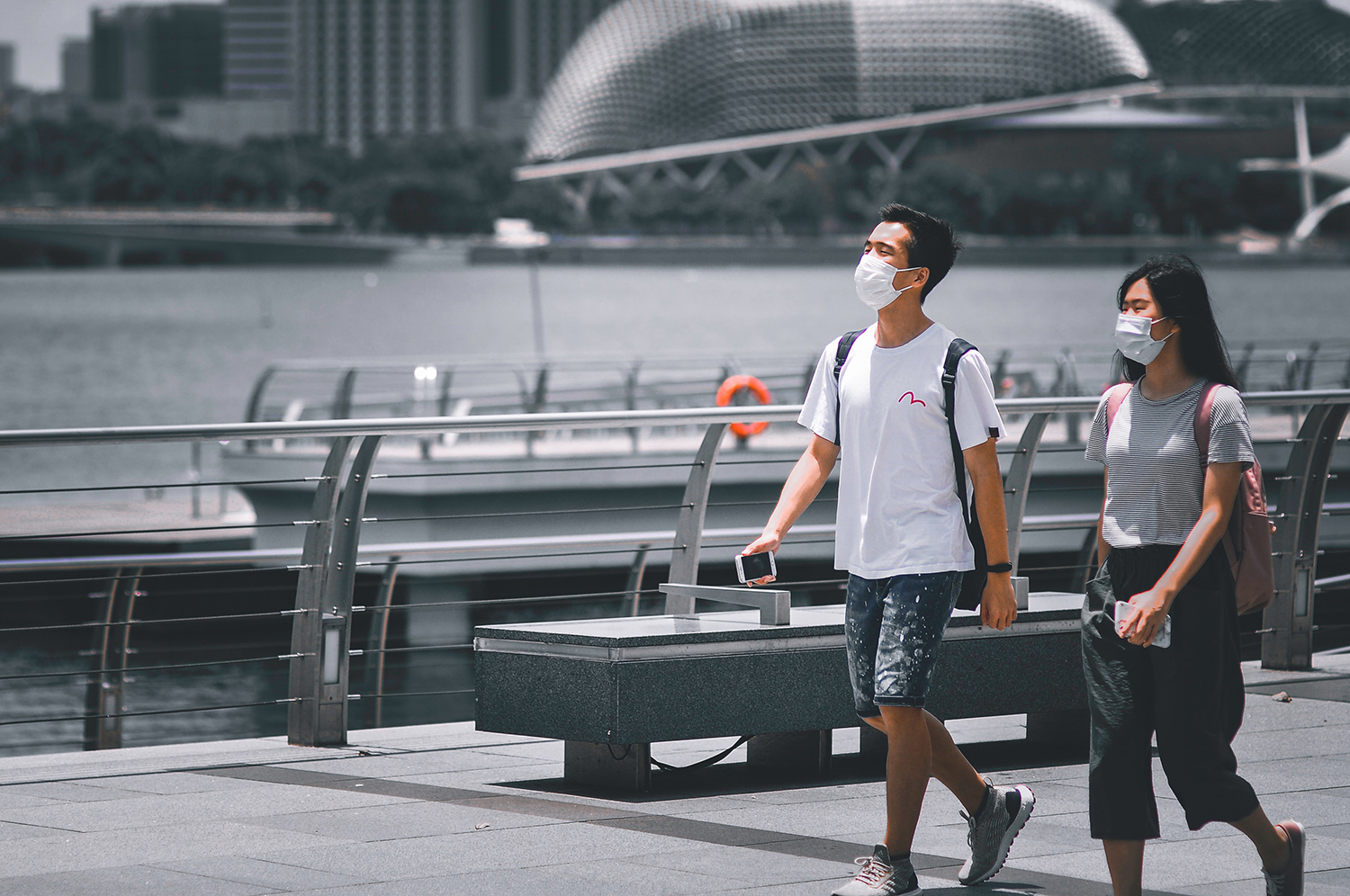 Photo by Victor He on Unsplash
RESEARCH REVEALS TOP TRENDS ABOUT TRAVELING DURING COVID-19
Americans' travel habits have changed because of the pandemic. They're traveling less, going to different places, and doing different things (or nothing at all). Most importantly, the very way they feel about travel has changed fundamentally.
And the differences between the groups have never been more different.
Recent research from Berkshire Hathaway Travel Protection makes this crystal-clear. Here are some of the most important findings from our research:

73% OF RESPONDENTS SAY THE PANDEMIC HAS CHANGED THE WAY THEY TRAVEL FOREVER


That's right. More than 70% of respondents (and more each week) said the pandemic has changed the way they travel forever. No matter what the extenuating circumstances, that's a really big number.
But it spurs a multi-million dollar question: How long is forever? We don't know, however travel may be in for some huge, fundamental changes, the scope of which we can't even gauge yet.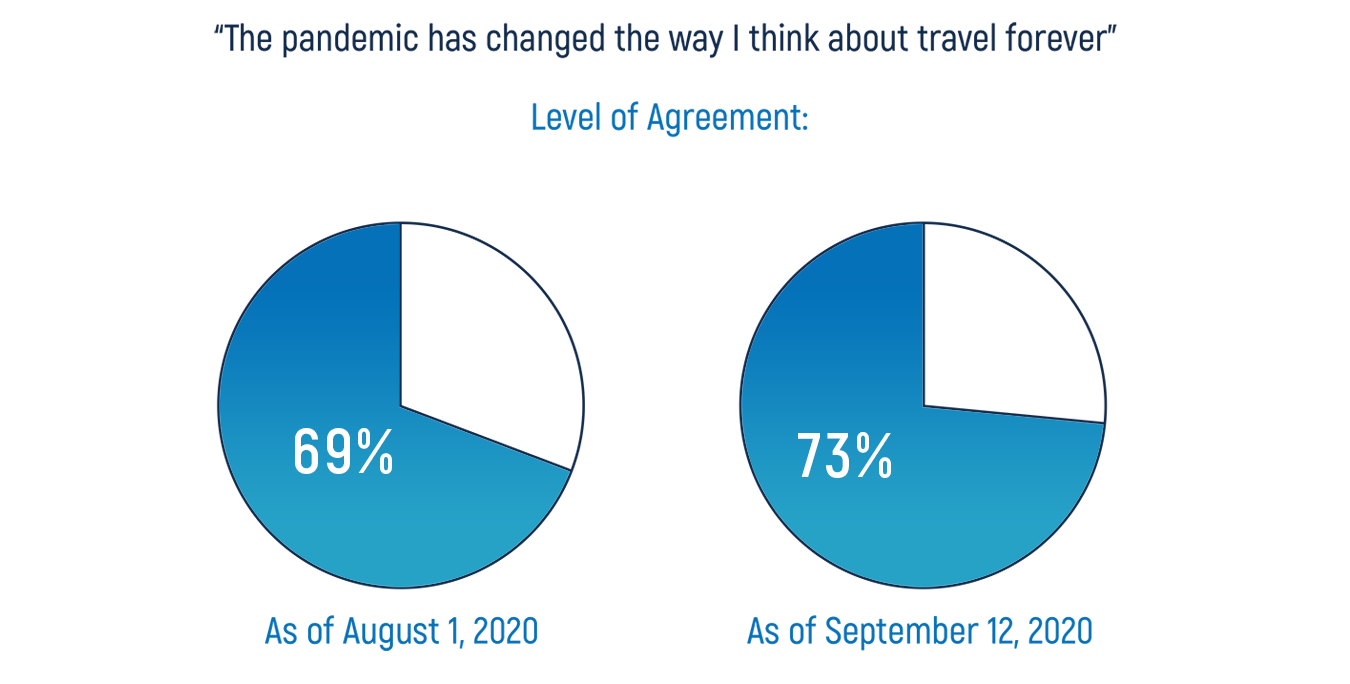 On the other hand, if forever settles into 18-24 months, travel as we knew it should be back before we know it.
How will forever be defined? Maybe some of the supporting data below will give us a clue.

AMERICANS ARE TAKING FEWER TRIPS – AND CANCELLING A LOT OF THE TRIPS THEY WERE PLANNING TO TAKE


The average traveler took 1.99 trips in 2020 – but cancelled 1.66 trips.
We've been doing this research for six years, and never has the rate of cancelled trips been so high, or the number of trips taken so low.
Family travel was the most common trip type in 2020 – but it's also by far the most common trip type cancelled. Cruises and bucket-list travel had more trips cancelled than taken.
| | | |
| --- | --- | --- |
| Did you take, are you planning to take, or cancelled any of the following types of trips in 2020? | Taken | Cancelled |
| Family Trips | 50% | 43% |
| Road Trips | 33% | 17% |
| Solo Travel | 19% | 15% |
| Adventure Travel | 16% | 14% |
| Business Trips | 16% | 14% |
| Cruises | 11% | 14% |
| Bucket-list Travel | 8% | 13% |

Throw out family trips, business trips and road trips, and Americans cancelled more trips than they took in 2020 for the first time in recent history.

TRAVEL SPENDING IS DOWN 23% ...


The amount spent on travel by all respondents declined 23% from 2019 to 2020.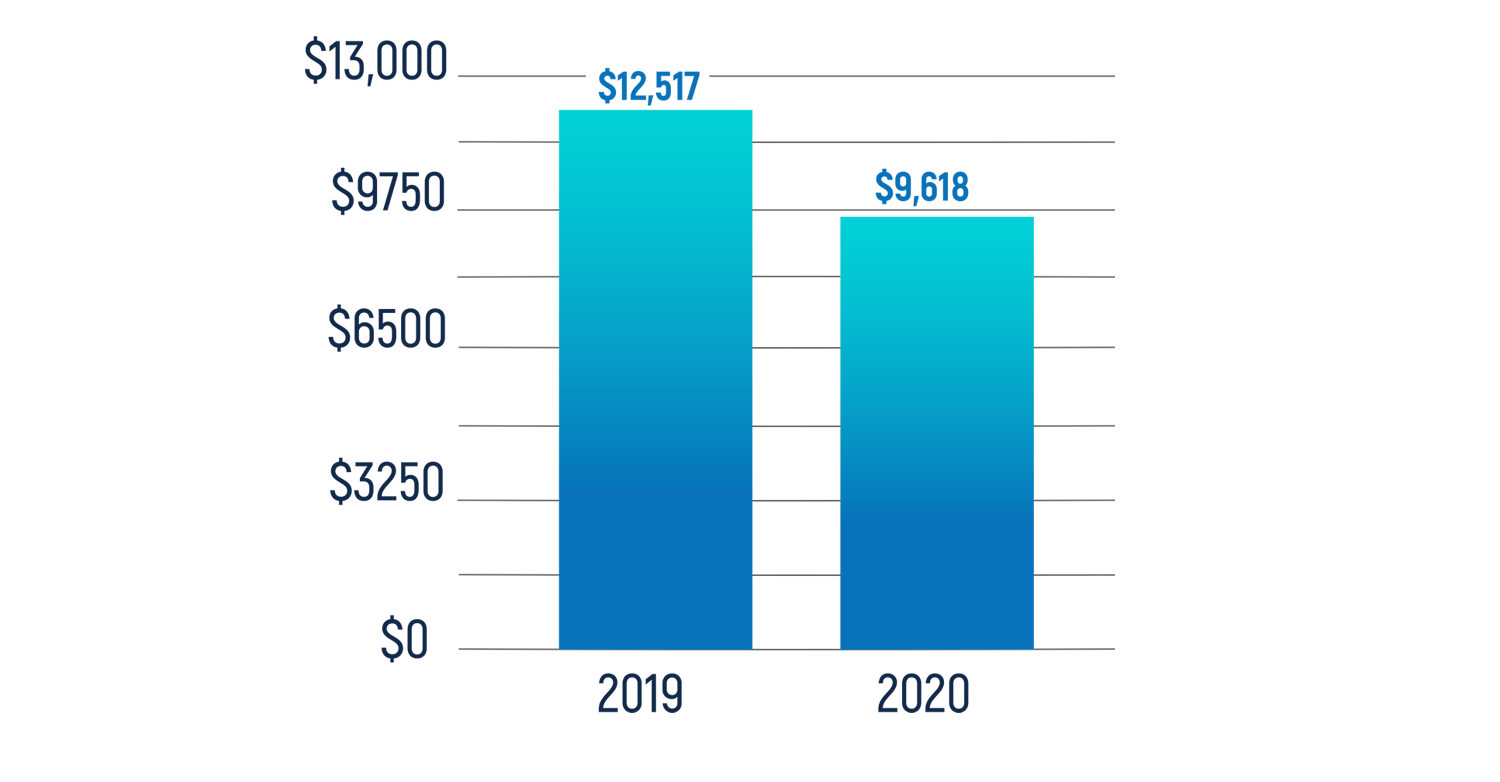 In addition, more than 60% of respondents said they've spent $5,000 or less on travel in 2020. That number was 40% a year ago.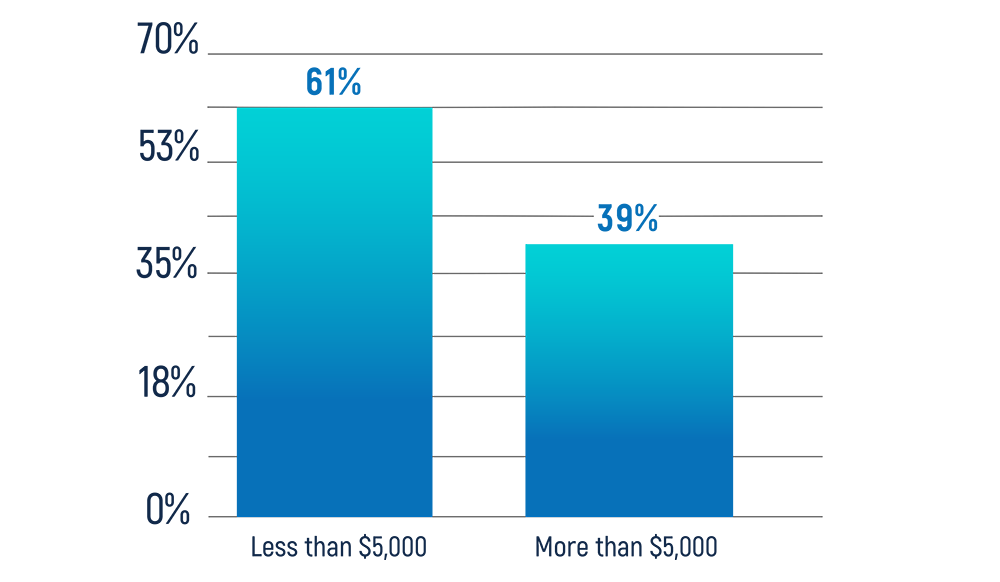 A 23% decrease in travel spending sounds terrible, and it is, but considering that hundreds of millions of Americans literally couldn't go anywhere for at least a month, and millions are unemployed and international travel is a no-go… those numbers might be understated.

… BUT MILLENIALS AND HIGH-INCOME TRAVELERS ARE SPENDING TWICE AS MUCH AS EVERYONE ELSE


While the general travel-spending numbers aren't in any way pleasant or optimistic, there are some exceptions.
Millennials (ages 25-44 in this study) and high-income travelers (household incomes of $100,000 or more) say they've spent a lot on travel in 2020.
And by "a lot," we mean anywhere from 64% to 188% more.
Millennials say they will have spent an average of $15,964 on travel in 2020 – 63.9% more than all travelers. High-income travelers say they will spend $20,649 on travel – 118% more than all travelers.
And when you mash them together, high-income Millennials say they will spend $27,713 on travel – a whopping 188% more than the general population of travelers.
What are they spending it on, seeing as many countries have closed their borders to American tourists? Maybe they're renting an RV or a vacation home for a couple of months and turning remote work into really remote work. The data isn't clear.
But one thing is clear: High-income travelers – and high-income Millennials in particular – will be out front in any potential travel rebound.

92% OF RESPONDENTS PEOPLE WILL TRAVEL IN 2021 … BUT THEY HAVEN'T FIGURED OUT WHERE THEY'RE GOING


It shouldn't come as much of a surprise that 92% of respondents intend to travel in 2021.
What's more interesting is where they intend to go and what they intend to do, which is not entirely clear from the research.
We do know road trips are still going to be a thing – as are camping trips.
And all those international bucket-list trips people cancelled in 2020? They plan to take them in 2021.


| | | |
| --- | --- | --- |
| Which of these types of trips do you anticipate taking in 2021? | Domestic | International |
| Road Trips | 82% | 18% |
| Camping Trips (in a tent or RV) | 79% | 21% |
| Family Trips | 71% | 29% |
| Cruises | 67% | 33% |
| Bucket-list Travel | 63% | 37% |

Interest in specific destinations is down anywhere from 10 to 21 percentage points, even for failsafe destinations like the United States. In all, compared to how they felt about travel heading into 2020, people are less than enthusiastic to say the least.


| | | |
| --- | --- | --- |
| Destinations | Plan to visit in 2021 | Planned to visit in 2020 |
| United States | 69% | 85% |
| Europe | 27% | 39% |
| Canada | 21% | 32% |
| Caribbean/ Central America | 16% | 36% |
| Mexico | 10% | 23% |

And they're not looking forward to doing normal travel stuff like going overseas or taking a cruise ­– at least not for the next six months.
Less than a third of respondents feel comfortable taking a road trip right now, but more than a third of respondents feel they'll have to wait 18 months or more before they can feel safe taking a cruise.




How long before you'll feel comfortable. . .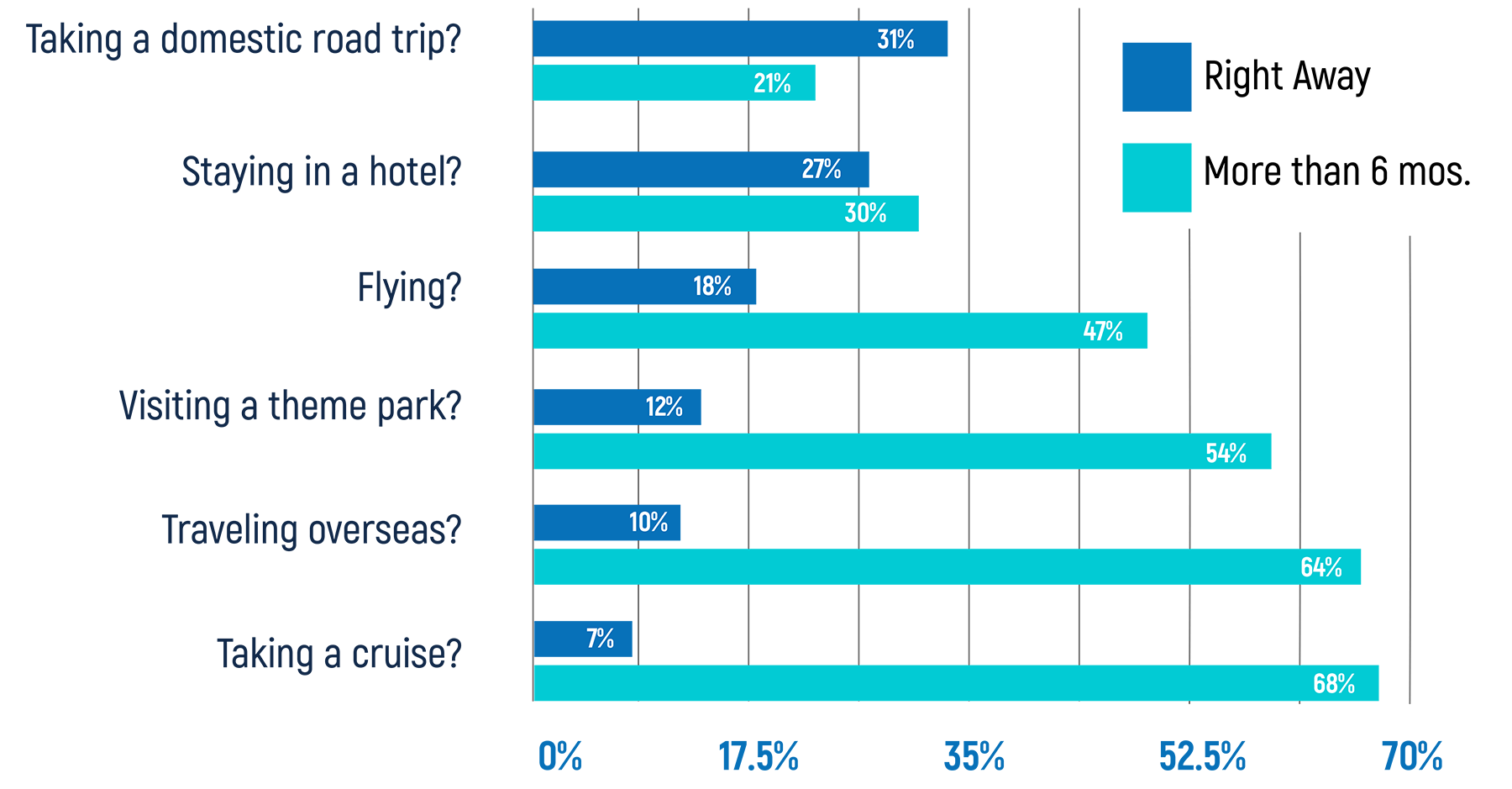 TRAVEL HEALTH IS THE NUMBER 1 TRAVEL CONCERN ...


Health is a very big deal with travelers – and increasingly, a safe place to travel means a healthy place to travel.
"A healthy place to travel" can mean a lot of things, including a place with a pleasant climate, few mosquitoes, and a low rate of terrorist activity. Right now, it means a place that's free from disease.


| | |
| --- | --- |
| Rank the most important factors involved in making you feel safe traveling to a destination. | % in Agreement |
| Free from disease | 67% |
| Ability to socially distance/mask wearing required | 46% |
| Low crime rate | 30% |
| Low occurrence of terrorist incidents | 20% |

Even when they visit a "safe" destination, people are going to do a few things differently to protect their health. Fittingly, they're many of the things the CDC recommends for all people to stay safe during the pandemic.


What are you going to do differently the next time you travel?



Wash my hands more/use more hand sanitizer

50%

Wear a mask/other protective gear

49%

Try to stay away from crowds

44%

Visit a different destination

32%

Change where I stay

14%

Nothing

13%

Who's driving these healthy behaviors? Women. There's a 20-point difference between women's and men's willingness to use hand sanitizer, wear a mask, or socially distance.
Given that, who would you rather travel with?


… BUT IT'S LESS CONCERNING TO HIGH-INCOME TRAVELERS AND MILLENNIALS


First, high-income travelers and Millennials are ready to travel right now. Never mind that there are no cruise ships sailing anywhere – they're ready to cruise!
That may be overstating things a little, but these two groups are definitely giving serious thought to going somewhere soon.
According to the research, more than half of all high-income travelers and half of Millennials are ready to cruise sometime in the next six months, compared to a third of all travelers.
Combine those two groups, and an incredible 70% of high-income Millennials are ready to cruise sometime in the next six months, and almost two-thirds are ready to travel overseas.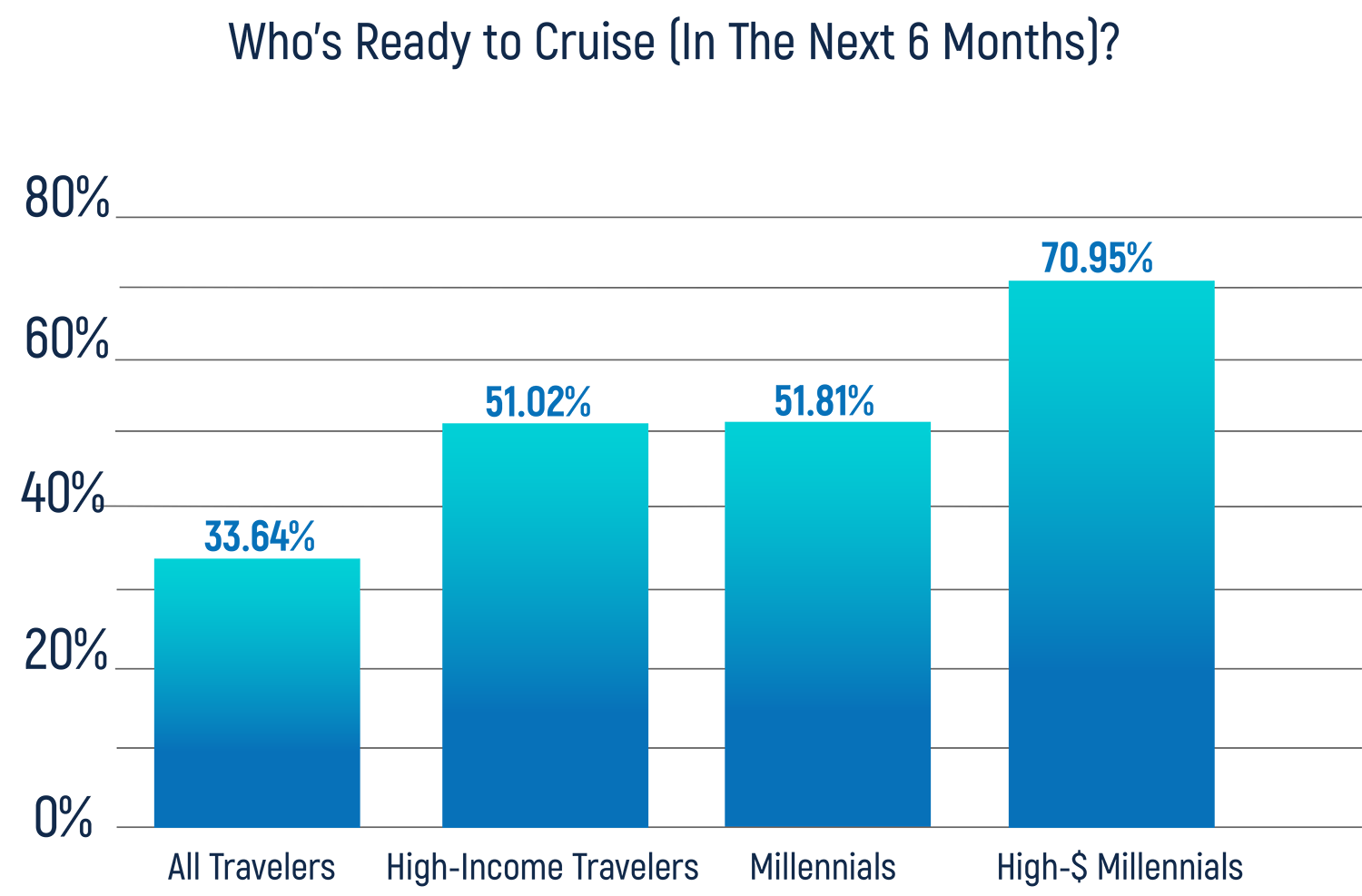 As for specific behaviors, both these groups are much less likely than the general population of travelers to follow CDC guidelines next time they travel. Instead, they prefer to visit a different destination – the Caribbean, perhaps – or try a different mode of travel (that rental RV, again).
Those same high-income Millennials are also significantly more likely to insure all their trips, and more than three-quarters of them say they plan to buy more travel insurance in 2021, compared to 45% of the general population.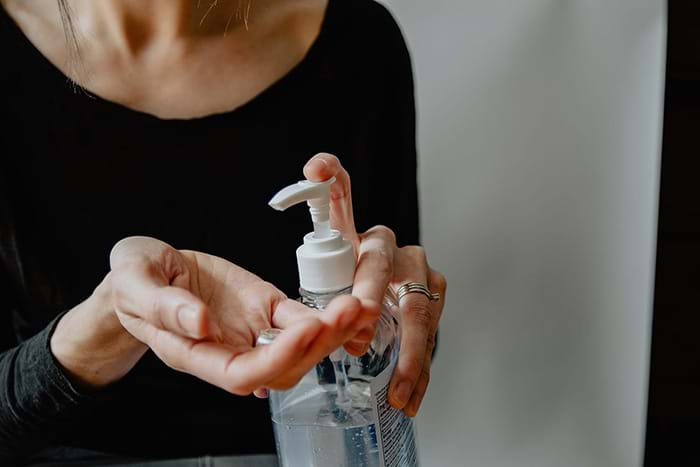 Photo by Kelly Sikkema on Unsplash

THROUGHOUT EVERYTHING, THE DESIRE TO TRAVEL REMAINS STRONG


Throughout the pandemic and everything that's come along with it, people's desire to travel hasn't waned.
If you gave respondents $5,000, a lot of people would spend it on travel as opposed to paying bills or buying something for their family.


Suppose you had $5,000 to spend. Please rank the following to indicate what you would be most likely to do with that money.



Save it

36%

Travel

34%

Pay bills/ living expenses

33%

Spend it on my family

32%

Pay off loans/ debt

32%

In an unusual and difficult way, 2020 has been a time for many travelers to reflect on what they love about travel – and here's what travelers have concluded:
Travel fills them with joy. Last year around 60% of respondents agreed with that statement. Now almost 80% do.

People feel free when they travel. Last year 50% of respondents agreed with that. Now almost 70% do.
Like Joni Mitchell said, you don't know what you've got 'til it's gone. When people can't travel, they realize what a fulfilling experience travel can be.
64% OF TRAVELERS CONSIDER DISEASE OUTBREAKS A THREAT TO THEIR TRAVELS


To a toddler with a hammer, all the world looks like a nail. To a traveler who can't travel, everything looks like a threat to their travels.
In general, all important threats to travel were seen as more threatening in 2020 than in past years.


| | | |
| --- | --- | --- |
| How threatening to your travels are the following? | Very or Extremely Threatening – 2020 | Very or Extremely Threatening – 2019 |
| Disease outbreaks | 64% | 29% |
| Terrorism | 62% | 29% |
| Safety at my destination | 49% | 25% |
| Natural disasters | 45% | 24% |
| Climate change | 39% | 20% |
| My personal health | 39% | 20% |
| My economic situation | 36% | 20% |

It's almost mind-blowing now to look at last year's numbers and think, only 29% of people considered disease outbreaks or terrorism to be a threat to their travels. How naive!
Some changes are good. This one is unfortunate, but it's a natural reaction with only one cure: To get out and get traveling again.
We'll be updating this research in the upcoming months. Subscribe to our blog, and don't miss a single one!
For more data from this report, contact Carol Mueller of Berkshire Hathaway Travel Protection.
---
---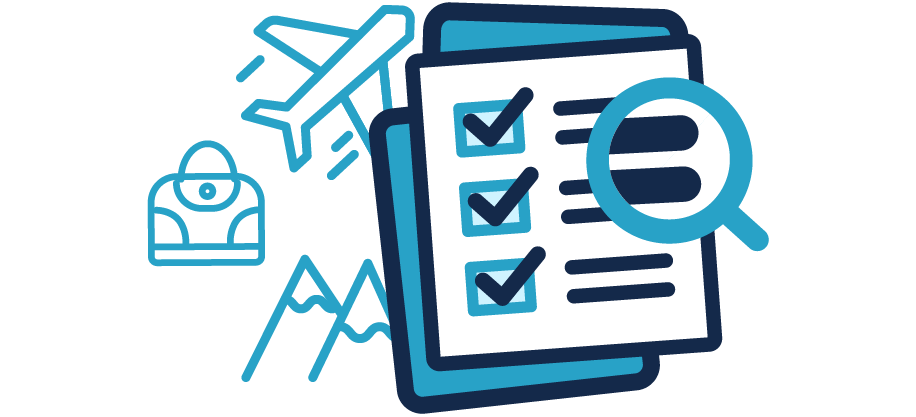 Questions About Travel Insurance?


Check out our online guide, "What Is Travel Insurance All About?" We've provided in-depth answers to all your travel insurance questions, starting with the basics.
---
Back To All Blogs