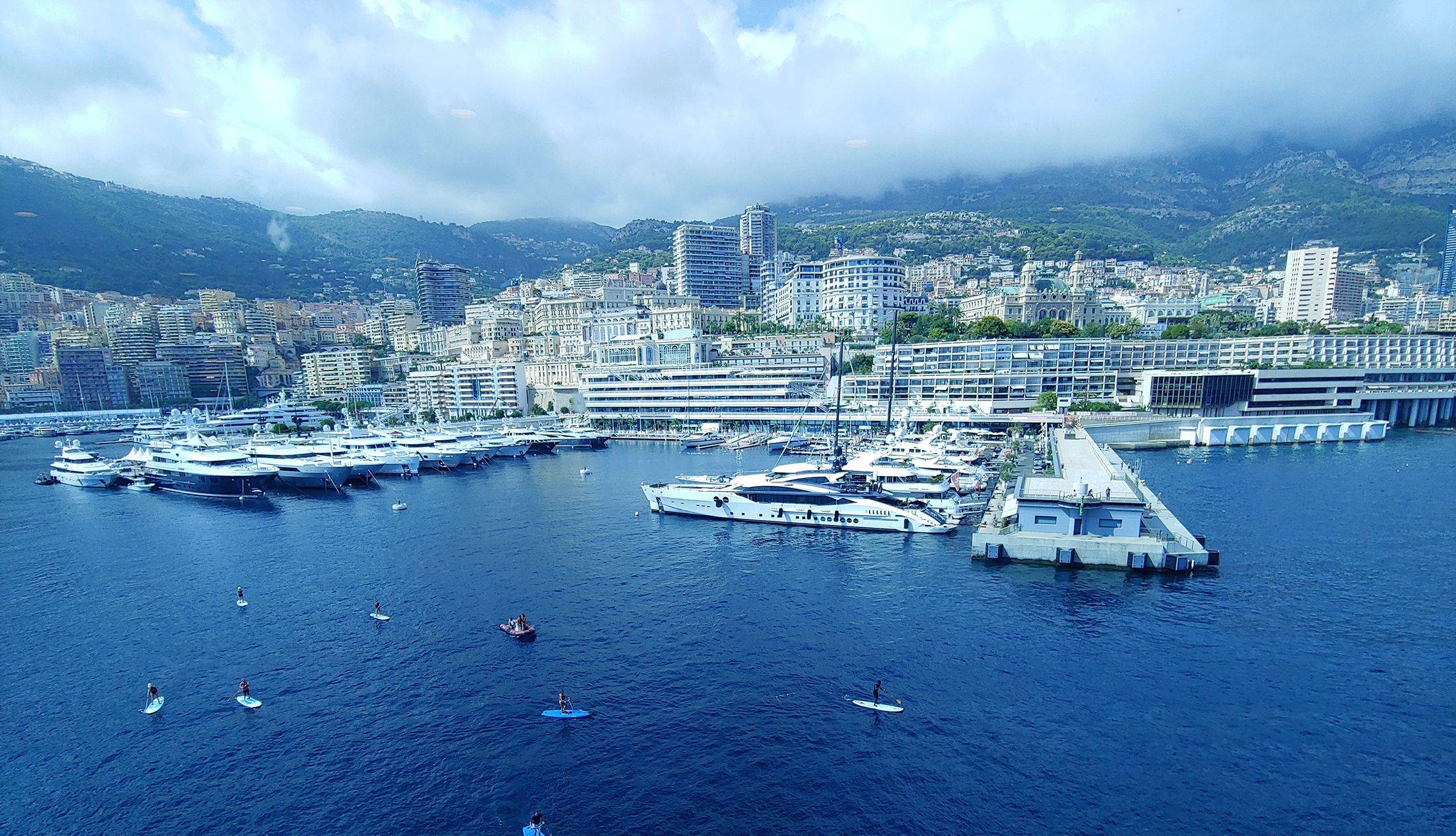 Photo by Michelle Woodson Howell on Unsplash
TRAVEL IN A TIME OF COVID: LUXURY TRAVEL (AND LUXURY TRAVELERS) LEAD THE RECOVERY
Most travelers are sitting out the pandemic, waiting for the right time to travel again. However, our study of 2021 luxury travel trends shows that high-end travelers are continuing to make plans, take cruises, and spend money – a surprising amount of money – on travel.
Here are some of the highlights of our research, including what to look for from luxury travelers in the future.
(Before we get too far into this, it's important to define what constitutes a luxury traveler. Generally, it's someone who spends $10,000 or more on a given trip. Often, those trips include travel insurance, with top-end coverage for things like emergency medical evacuation.)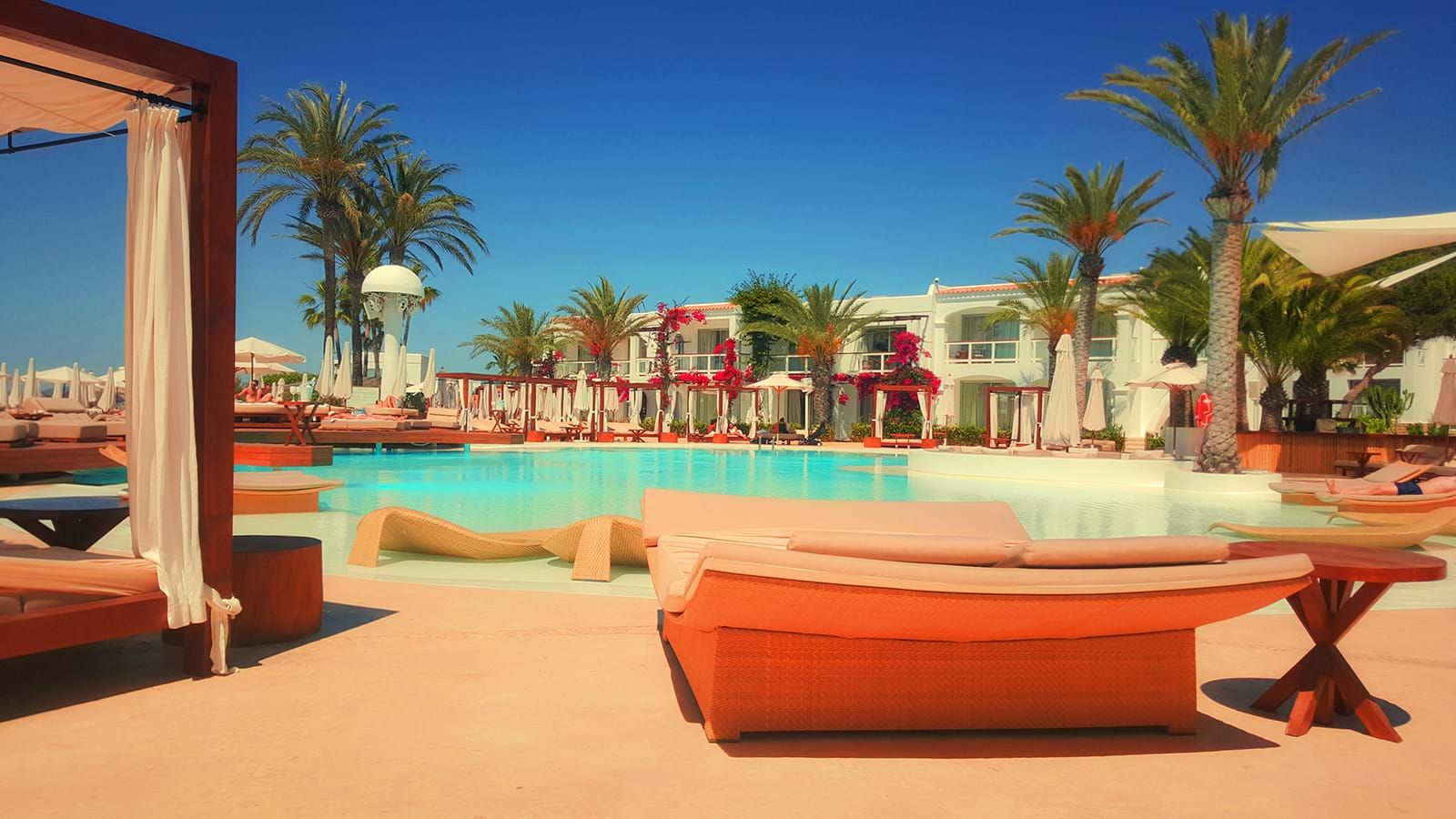 Photo by Mindaugas Petrutis on Unsplash


LUXURY TRAVELERS LIKE IT PERSONALIZED


As part of our research we asked travelers what constitutes a luxury travel experience. While the consensus among all travelers was that a larger hotel room with more amenities was the prime characteristic of luxury travel, that changed as you moved up the income scale.
In fact, people who said they spent more than $10,000 on travel in 2020 are much less likely than the general public to define luxury travel in terms of more space.
Instead, big-spending travelers define the luxury travel experience in terms of experiences – things like limousine service, exclusive events, or smaller tour groups.
How Travelers Define Luxury Travel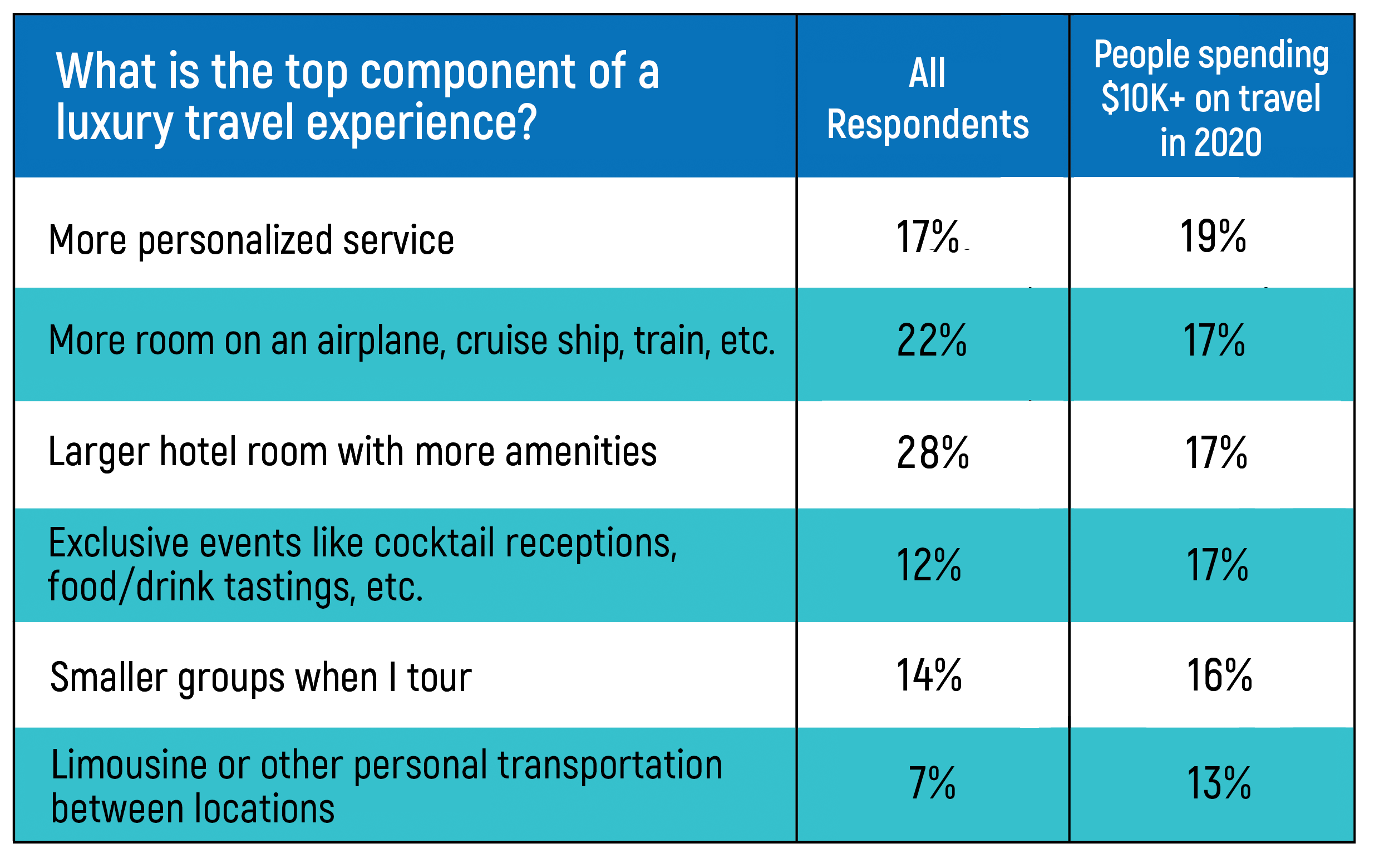 It seems that for many of these travelers, more space is just assumed, but exclusivity is the real difference-maker.



36% OF LUXURY TRAVELERS ACTUALLY SPEND EXTRA MONEY ON TRAVEL


For luxury travelers, additional disposable income is just that – income to be disposed of. If you give a member of the general population $5,000, they'll likely spend it on housing or their family, or use the money to pay bills.
On the other hand, if you give a luxury traveler $5,000 out of the blue, 36% of them are likely to spend it on travel. That's three percentage points more than the general population, which may not seem like much, but think of it another way: Luxury travelers are 10% more likely to spend extra cash on travel.
Is travel important to these people? You could say that.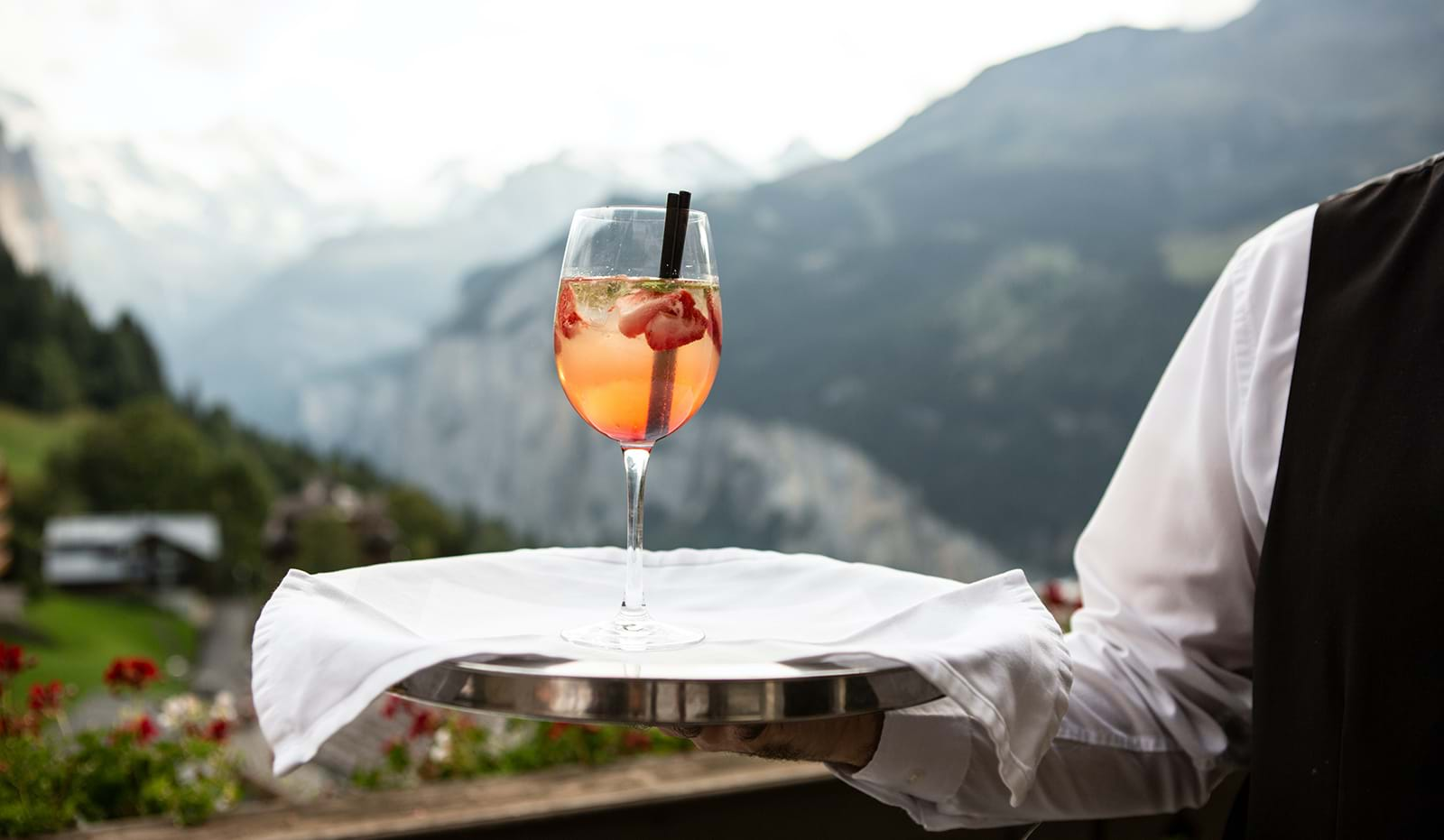 Photo by Alev Takil on Unsplash


LUXURY TRAVELERS ARE 50%-100% MORE LIKELY TO VISIT KEY INTERNATIONAL DESTINATIONS IN 2021


While some sectors of the traveling public might be hesitant to travel worldwide, luxury travelers are putting the pedal to the metal.
Basically every continent and destination is in play for luxury travelers. They're less likely to visit the United States only because they're so interested in traveling everywhere else … especially Europe.
See for yourself:
Where Travelers Are Planning to Visit in 2021
If you're wondering how this compares to the attitudes of these travelers last year, the answer is that it's right in line:
Luxury Travelers, 2019 vs. 2020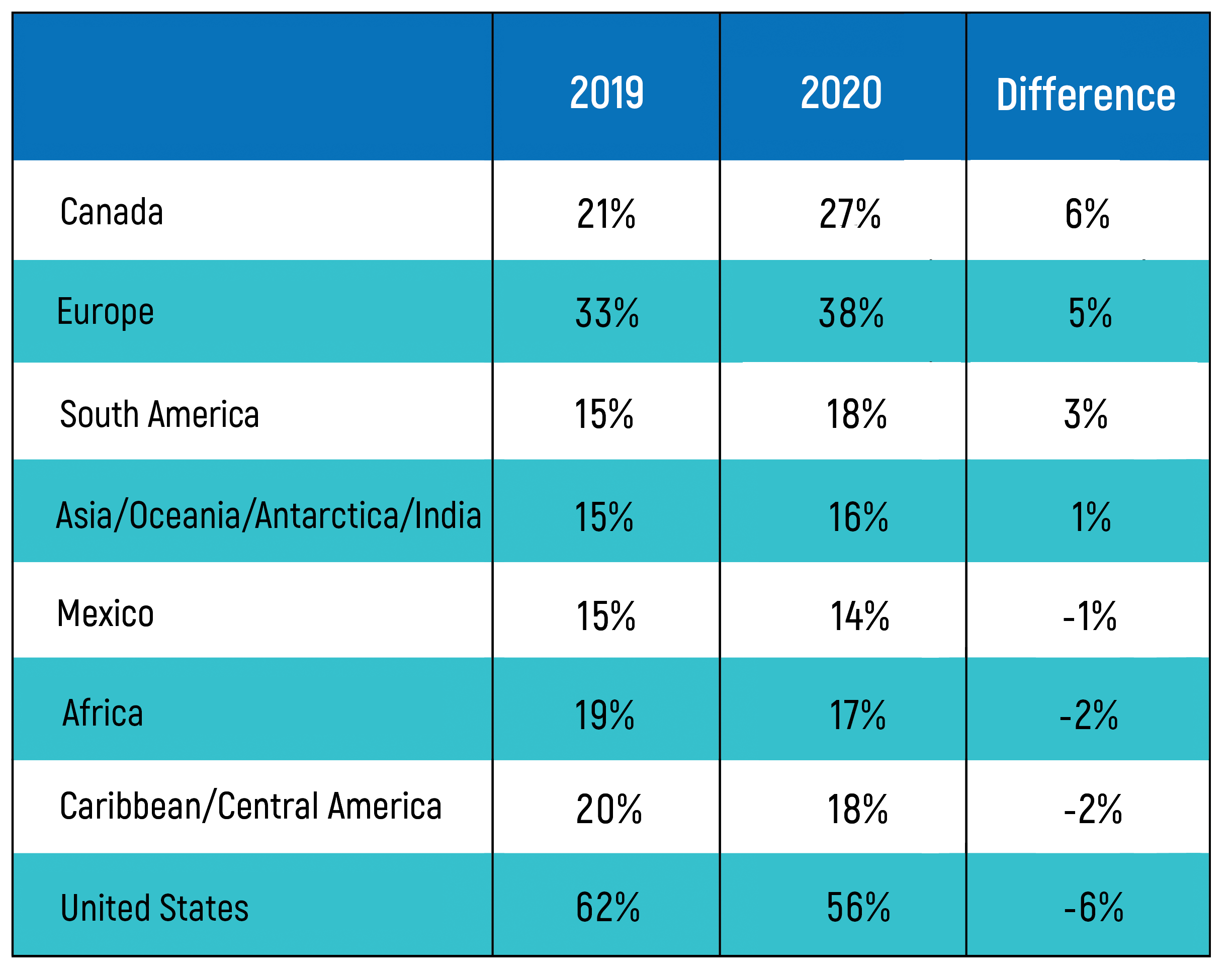 Increased travel to Canada makes all kinds of sense. It topped our list of Safest Countries for Travel, and it's the perfect destination for people looking to leave the country without traveling far.
What's perhaps more surprising is the increased demand for European travel. Are people who cancelled vacations in 2020 looking to take those vacations in 2021? If that's the case, it could be a banner year for European travel.
ALMOST TWICE AS MANY LUXURY TRAVELERS ARE READY TO CRUISE


In previous articles (Travel in a Time of COVID: Millennials Spending 64% More on Travel and Travel in a Time of COVID: Men More Likely to Travel, Women More Likely to Follow Rules) we've talked about how various segments of the traveling public are ready to resume many common travel behaviors. However, no segment is more ready than luxury travelers.
Luxury travelers are ready to do just about everything related within the next six months, including getting on a cruise. Just say the word and they're gone.
Willingness To Perform Common Travel Behaviors, Luxury Travelers vs. All Travelers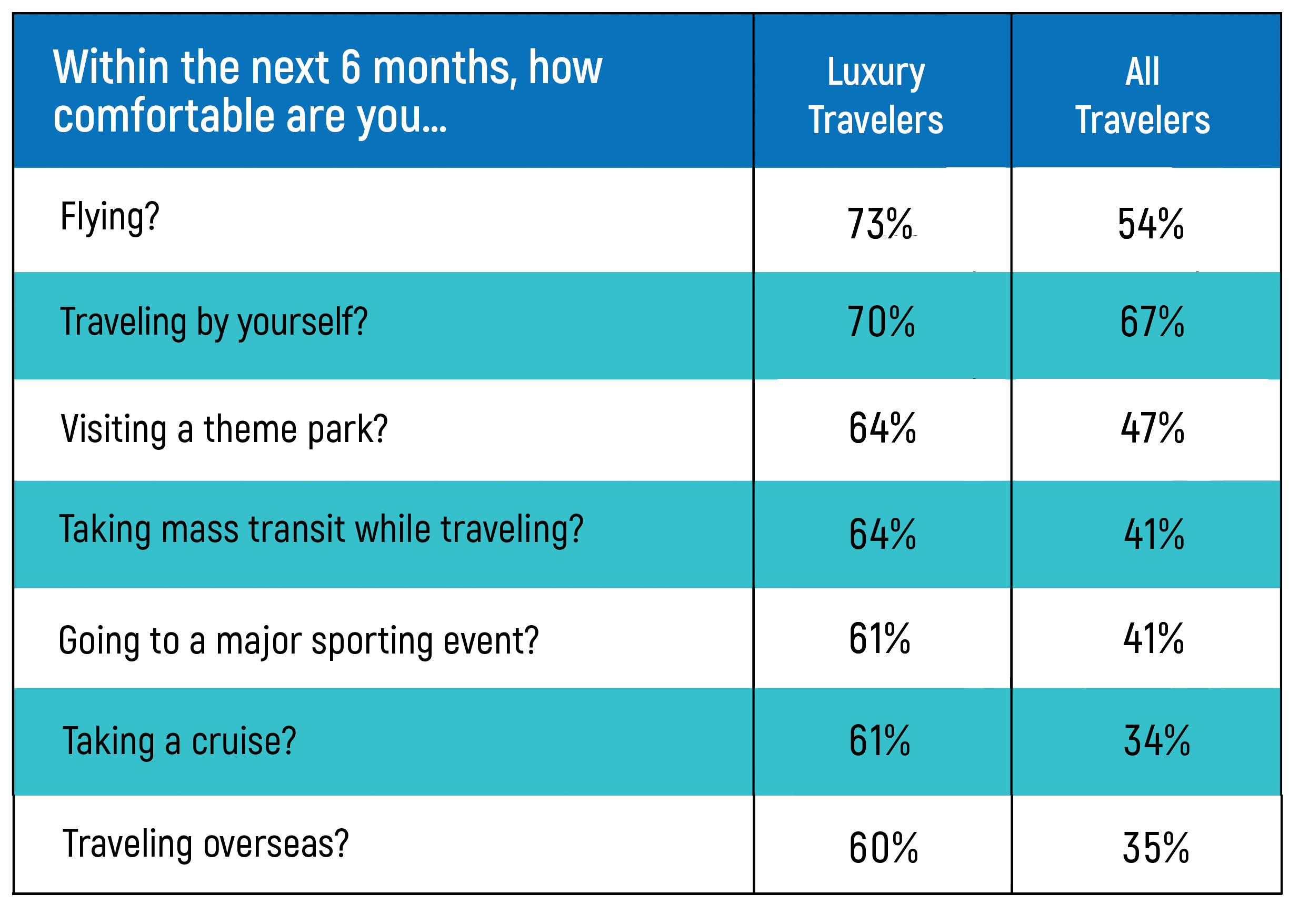 Almost twice as many luxury travelers are ready to cruise sometime in the next six months when compared to the general public. That should tell you all you need to know about luxury travelers' need to travel.




LUXURY TRAVELERS ARE MORE THAN TWICE AS LIKELY TO CONSIDER THEMSELVES RISK-TAKERS


Much of what we think of as luxury travel doesn't align with the concept of "risk." For example, a luxury traveler may consider staying at a less than four-star hotel a risk.
According to the State of Travel Insurance research, those who identified as luxury travelers were more than twice as likely as the general traveling public (69% vs. 33%) to consider themselves risk-takers. Luxury travelers are also less likely (80% vs. 87% of all travelers) to say they would cancel a trip if they felt it was too dangerous.
In addition:
76% of luxury travelers say they have the flexibility to travel more because they're working remotely, compared to 45% of the gen pop

78% say they want to be seen as American when they travel internationally, compared to 48% of all travelers

Three-quarters of luxury travelers like to travel with the latest tech, compared to 40% of general travelers
We all want to travel again; that's a given. And if it's luxury travelers leading the way, more power to them.




Here's one more thing luxury travelers almost universally do: Buy travel insurance for their travels. A whopping 93% of luxury travelers said they bought travel insurance for some or all of their 2020 trips.
You might not be able to fly first-class everywhere you go, but you can certainly copy luxury travelers in this regard. Get a travel-insurance quote from BHTP today. Maybe next time you'll be able to splurge on that five-star hotel.
---
---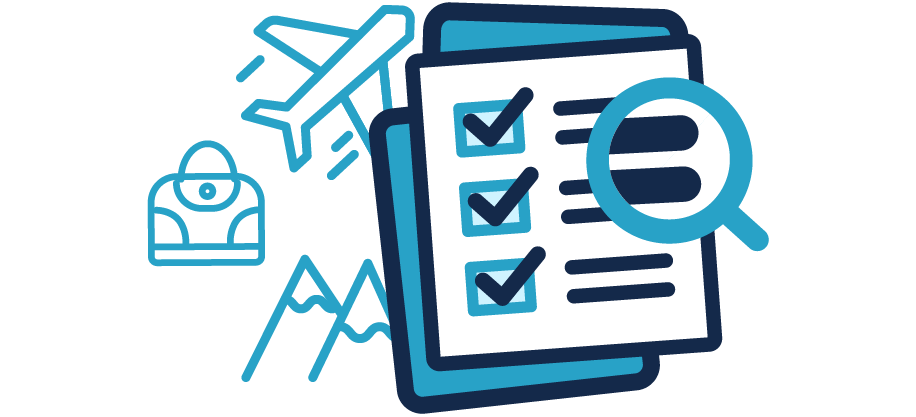 Questions About Travel Insurance?


Check out our online guide, "What Is Travel Insurance All About?" We've provided in-depth answers to all your travel insurance questions, starting with the basics.
---
Back To All Blogs