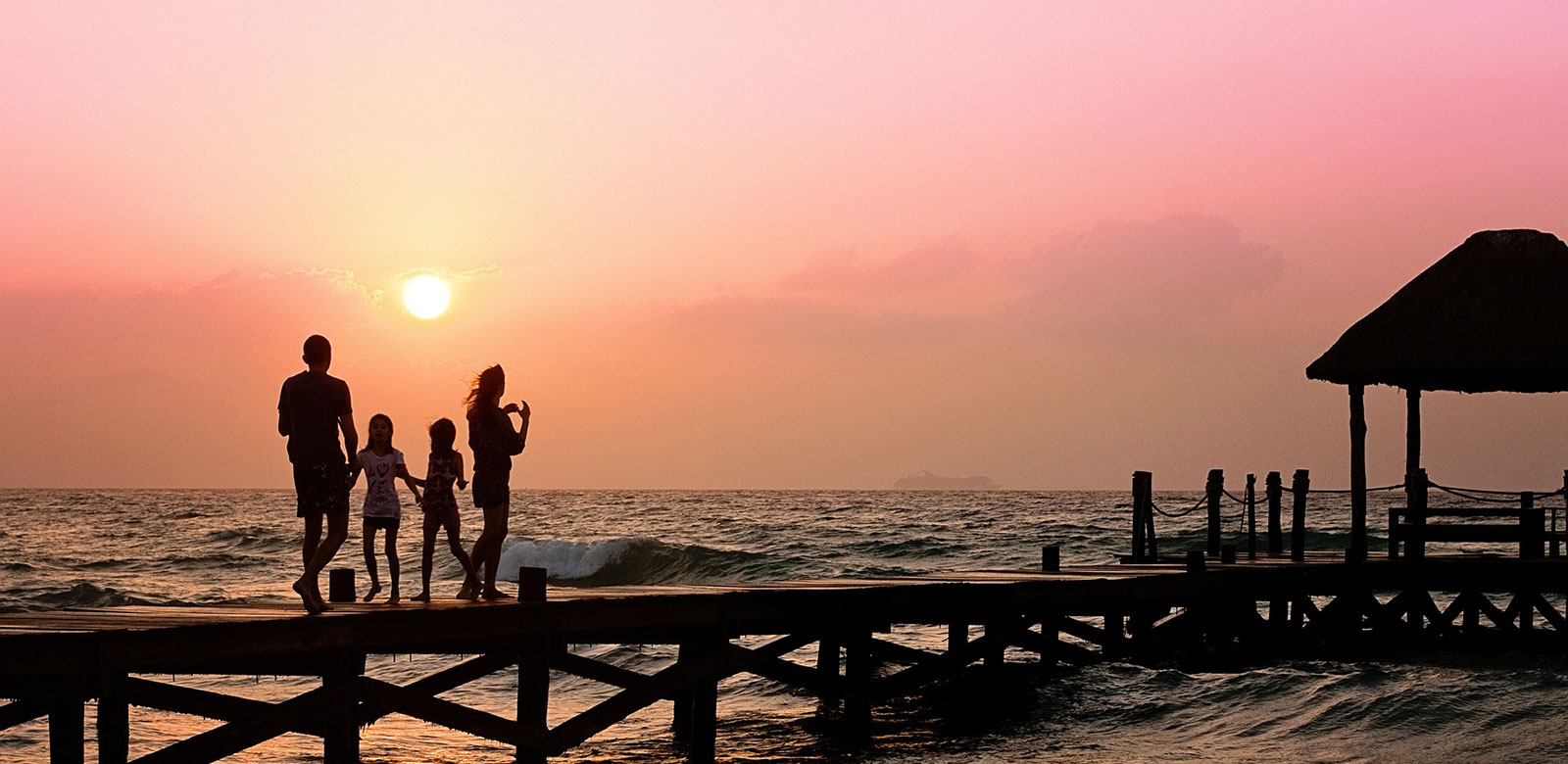 Image by Jill Wellington from Pixabay
5 TRENDS (AND 6 CONCERNS) THAT DEFINE TODAY'S TRAVELING FAMILIES
Family travel is booming. As Millennials start families, they're going further afield and seeing more things than their parents ever did. But as families see the world with their kids, how are they doing it differently – and what are their top travel-safety concerns?
The answers may surprise you.

1. YOUNG FAMILIES LOVE TO TRAVEL.


For parents, travel is more than a thing to do so their kids can see the world. It's their happy place.
According to the 2018 State of Travel Insurance survey conducted for Berkshire Hathaway Travel Protection, 71% of parents with children living at home said travel fills them with joy. That compares to 61% of respondents who don't have kids at home.
"We know how amazing the world is and we want to share it with our children," says Celine Brewer, co-author of the popular family travel blog Baby Can Travel. "Plus, we don't want to give up our passions – like travel."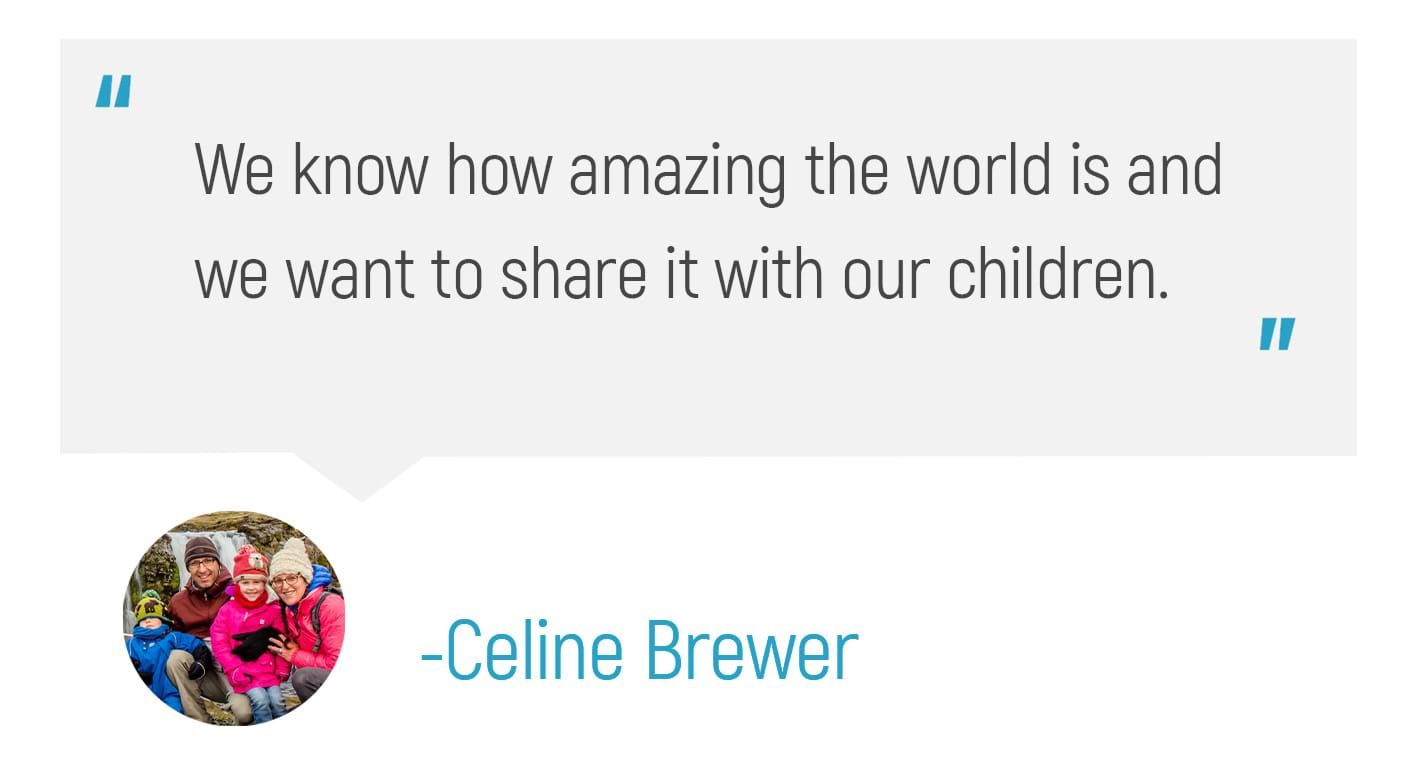 2. CHILDREN PLAY A HUGE ROLE IN DETERMINING WHERE FAMILIES GO AND WHAT THEY DO WHEN THEY TRAVEL.


This young generation of travel influencers even has a name: Generation Alpha. And Alphas are shaping travel like never before.
In the State of Travel Insurance survey, 28% of responding parents said their kids influenced where they travel, and 45% said their kids influenced what they did when they got there.
"[Having children involved in] choosing where you go makes for a better trip for everyone," Brewer says. "Traveling with a child who will be miserable the entire time isn't much fun!"

3. FAMILIES TRAVEL DIFFERENTLY THAN THEIR PARENTS DID – AND DIFFERENTLY THAN OTHER TRAVELERS DO.


As the Brewers noted in a previous post, stuff is a big part of travel with kids, and it takes a concerted effort to reduce the amount of stuff that families carry when they travel.
So it's really no surprise that 30% of responding parents say they travel with a lot of stuff, compared to 18% of respondents with no kids at home.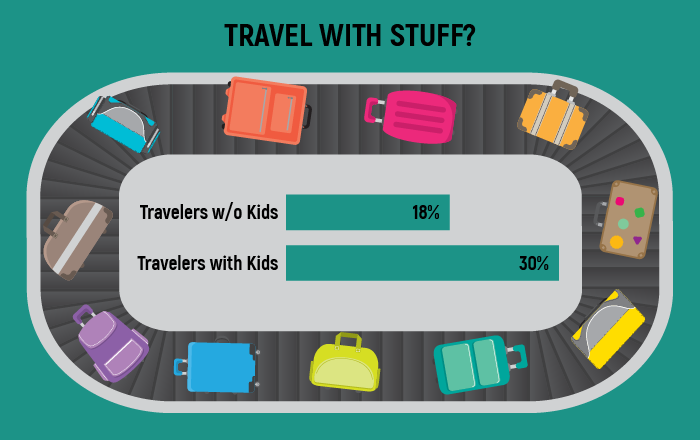 Design Credits: vecteezy.com

"We have strollers for every different type of outing, we have huge car seats, we have swings – but we don't really need them," Celine Brewer says. "Parents can still travel lightly with babies and toddlers."

4. TRAVEL IS REALLY IMPORTANT FOR FAMILIES TO BREAK OUT OF THEIR ROUTINES.


There's no question that travel is an opportunity for parents to change up routines. The State of Travel Insurance survey found that 42% of responding parents with kids behave differently when they travel than they do at home. That's half again as many as respondents without kids.
However, what does "behaving differently" mean for parents? One big thing is that it means behaving more like a kid again.
Of the parents who said they behave differently when they travel, 54% said they do different things when they travel with their children than they would if they were traveling sans kids.
For parents, travel is not only an opportunity to get away from the car pools, swim lessons, and daycares – it's a chance for them to reconnect with their inner child.

5. PARENTS AREN'T AFRAID TO TAKE THEIR KIDS ON LONG OVERSEAS TRIPS.


One of the most interesting findings from the State of Travel Insurance is that parents with kids at home are twice as likely as childless travelers to travel almost anywhere on the planet … except the United States.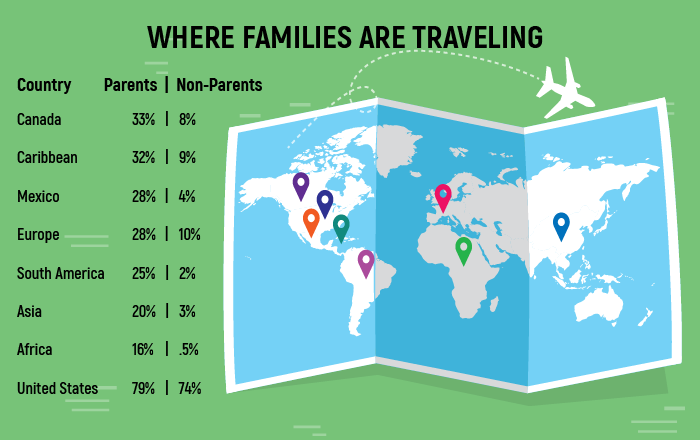 Design Credits: vecteezy.com

"Social media helps show us what's possible," Brewer says. "When we see other parents taking their kids to exotic places and on long overseas trips, it helps give us confidence that we can do it, too."
While older, childless travelers are sticking closer to home, the fact that almost 14% of families plan on traveling to Europe this summer should establish that families are pretty ambitious when it comes to travel.
As Brewer notes about flying with a toddler, "It's easier and less stressful for parents to venture into the unknown knowing that other parents have been there."
TRAVEL FEARS HAVE CHANGED


Modern families sound like fearless travelers, but they have their travel fears, just like any other travelers. The difference is what they're afraid of. For instance:

1. THEY'RE SCARED OF STRANGERS, LESS SO OF TERRORISM.


Let's be clear: Families are concerned about potential terrorist attacks when they travel. While 53% of responding parents said they feel safe when they travel, 44% said international terrorism is a major threat to their travels.
That's similar to the numbers for travelers without children – but remember that a lot of those people aren't traveling overseas, and have little reason to be afraid of terrorist attacks.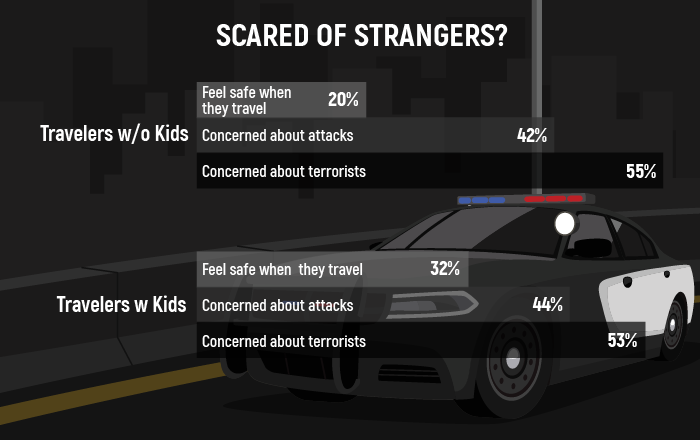 Design Credits: vecteezy.com

On the other hand, respondent parents are almost twice as likely as non-parents to say they're afraid of being attacked by a random stranger.

2. THEY'RE WORRIED ISSUES WITH FLIGHTS WILL RUIN THEIR VACATION.


"Low-cost airlines allow us to fly more, making it a big part of where we can travel," Brewer says.
The problem: Families travel on a tight schedule, and for parents with small children, lengthy airport delays can turn into nightmares.
As a result, family travelers were 25% more likely as travelers without children to say they're afraid of flight issues when they travel.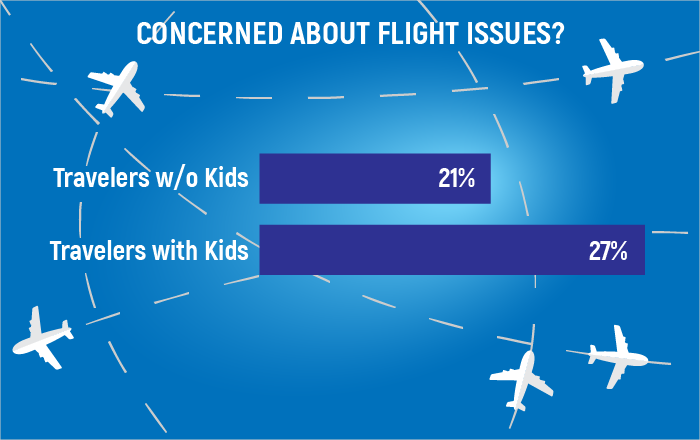 Design Credits: vecteezy.com

3. THEY'RE CONCERNED ABOUT ILLNESSES AND DISEASES.


In addition, as Brewer says, "Because we're traveling further afield, there are a lot more sicknesses we need to worry about. Also, we need to worry more about things like vaccinations and water."
Family travelers know how awful kids' illnesses can wreck a long-awaited vacation.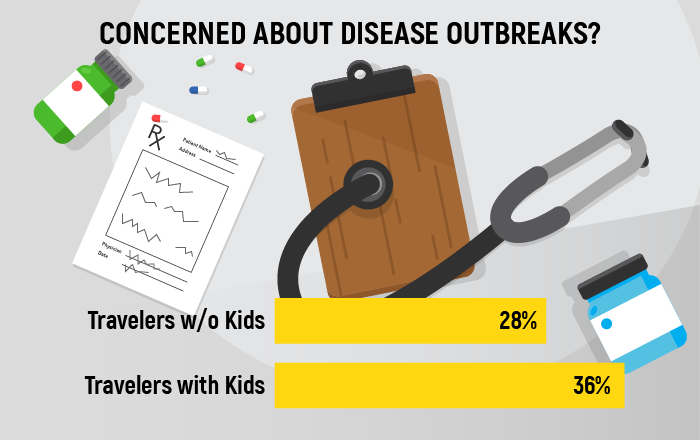 Design Credits: vecteezy.com

It shouldn't come as a surprise that more parents than non-parents are afraid of disease outbreaks when they travel – 36% of responding parents, vs. 28% of travelers without kids.

4. THEY'RE UNSURE WHETHER RESTRICTIONS ON TRAVEL TO POPULAR DESTINATIONS WILL HURT THEIR ABILITY TO TRAVEL.


Survey results strongly suggest that families are generally fearful of anything that would hurt their ability to travel anywhere they want to go – like Venice or Machu Picchu, for instance.
As a result, 21% of responding parents said they're afraid of travel restrictions, compared to 12% of child-free travelers.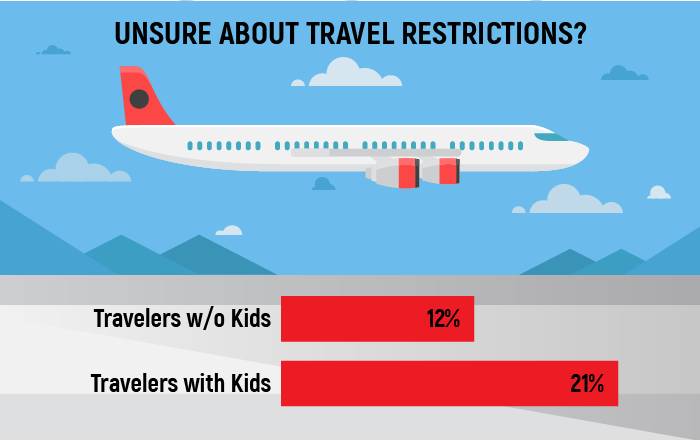 Design Credits: vecteezy.com

5. THEY'RE UNEASY ABOUT THE IMPACTS OF CLIMATE CHANGE ON THEIR TRAVEL.


Climate change has two components – increasing temperatures around the world, and more natural disasters. And family travelers are afraid of both.
More than 18% of responding parents said they're afraid of the impact of rising global temperatures on travel, compared to only 13% of child-free travelers.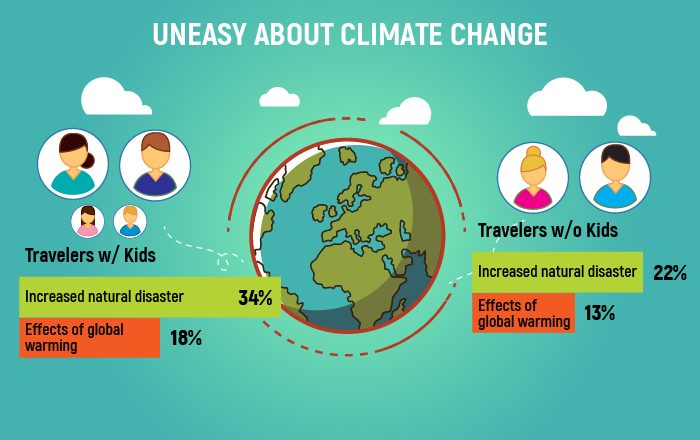 Design Credits: vecteezy.com

When it comes to an increase in the number and severity of natural disasters, that has one-third of parents worried, compared to a little more than one-fifth of responding travelers without kids at home.


6. THEY'RE CONCERNED THAT MANY AMAZING DESTINATIONS AROUND THE WORLD WILL DISAPPEAR BEFORE THEIR CHILDREN GET TO SEE THEM.


This might be the most important worry for many parents – that their kids will never get to see the sights they've seen because those sights will have vanished.
The gap between parent respondents and respondents without kids at home is dramatic – 27% of parents vs. only 15% of non-parents.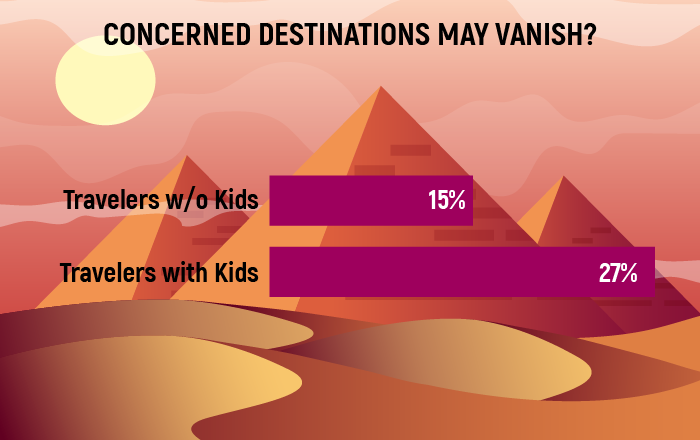 Design Credits: vecteezy.com

When it comes to that catch-it-before-it's-gone feeling, the Brewers have been there, too.
"We've had similar feelings to this," Celine Brewer says, "not only that our children might miss seeing some of the amazing destinations, but that we might miss out, too."
And how are the Brewers and thousands of other families like them responding? By traveling – getting out, being fearless, seeing the world, having fun, and teaching their kids some amazing lessons.
All we can say is: Go get 'em.
---
---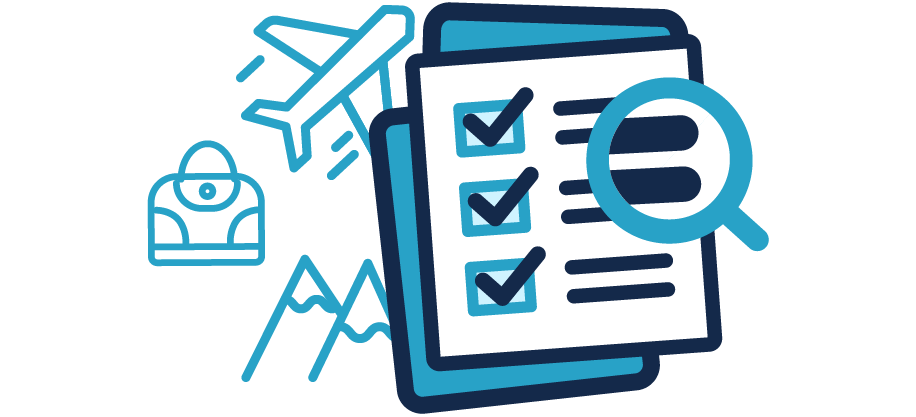 Questions About Travel Insurance?


Check out our online guide, "What Is Travel Insurance All About?" We've provided in-depth answers to all your travel insurance questions, starting with the basics.
---
Back To All Blogs