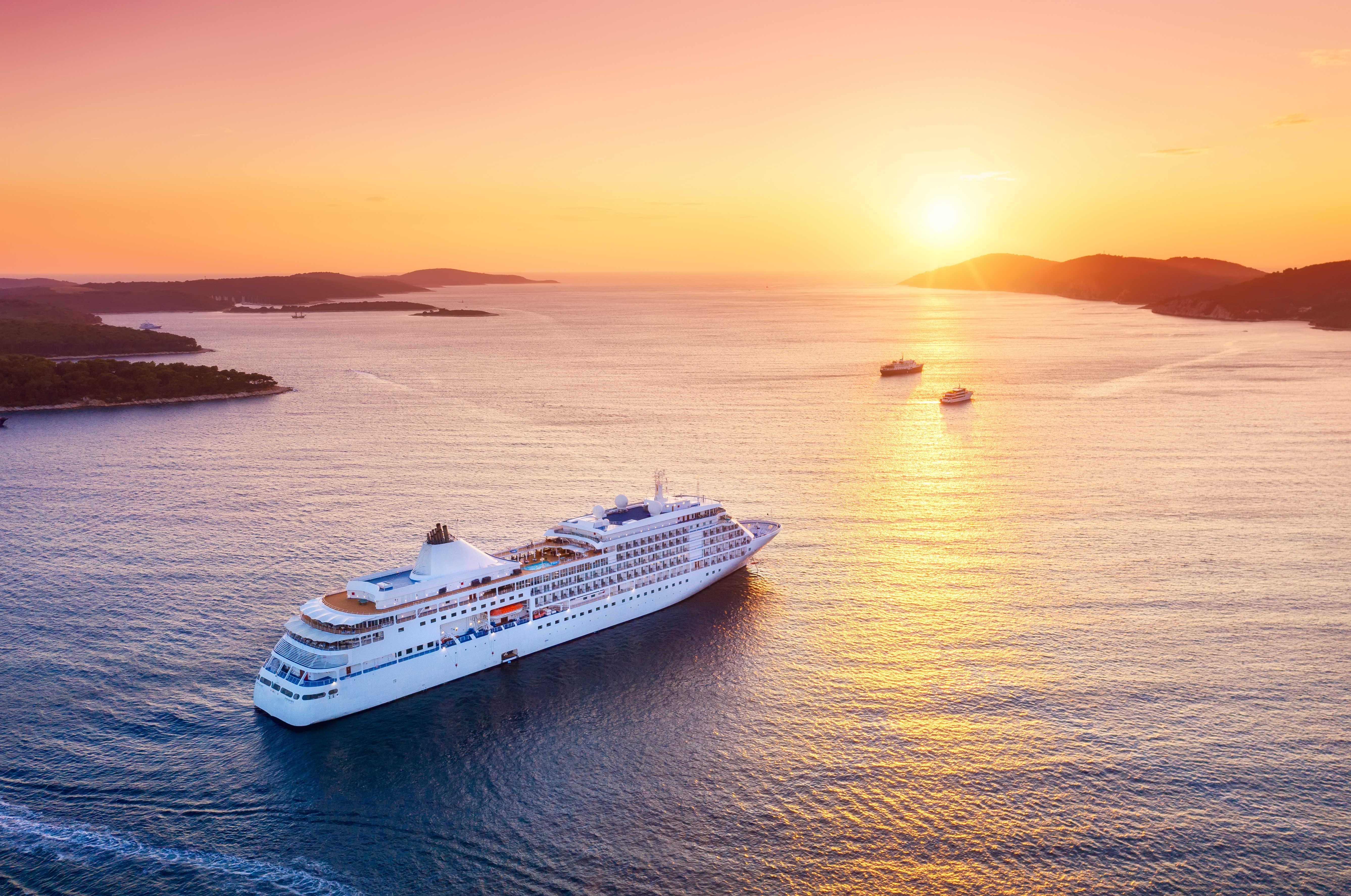 ABOARD THE REGENT SEVEN SEAS EXPLORER
I just returned from a Euorpean trip aboard the most luxurious ship ever built: Regent Seven Seas' Explorer.
The brand-new ship is 55,000 tons of pure luxury. It's also the largest ship in Regent Seven Seas' fleet, spreading 750 guests over 10 decks.
Walking around the ship, you'd never know that many people were on board. The public areas were never crowded, and I didn't have to stand in line once for a tender, disembarkation or dinner seating.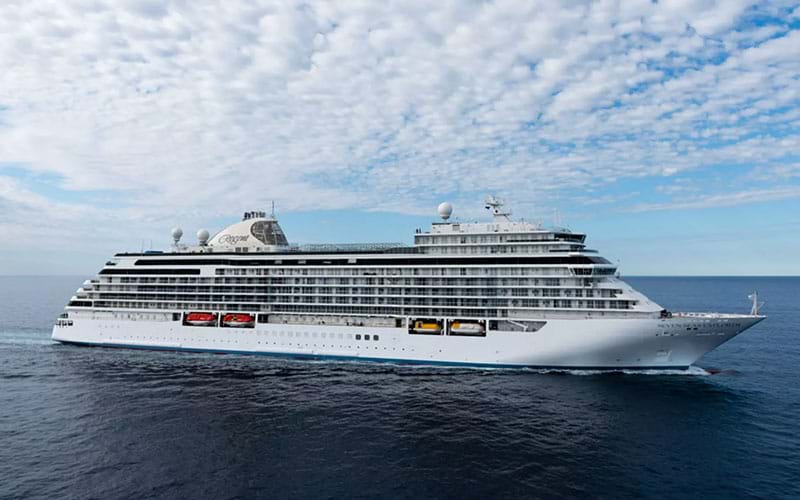 Photo credit: USA Today.

The Explorer is the largest ship in Regent Seven Seas' fleet.
There are 542 crew members onboard, and their only mission is to tend your every need. After day one, all the crew members knew my name and made sure I felt at home every second.
And since Regent Seven Seas is an all-inclusive product, you never have to worry about your personal comfort or needs.
With Regent Seven Seas cruises, all shore excursions are included. Our groups were never more than 20 people to one guide, and the guides were phenomenal! In Sardinia, for example, we didn't just learn that the island is 270 kilometers by 146 kilometers and is divided into four provinces with 27 sub-regions, all with different languages; we also learned that it's the world's third-largest producer of cork (yes, the thing that keeps your wine bottled up) and that it's one of the top exporters of granite.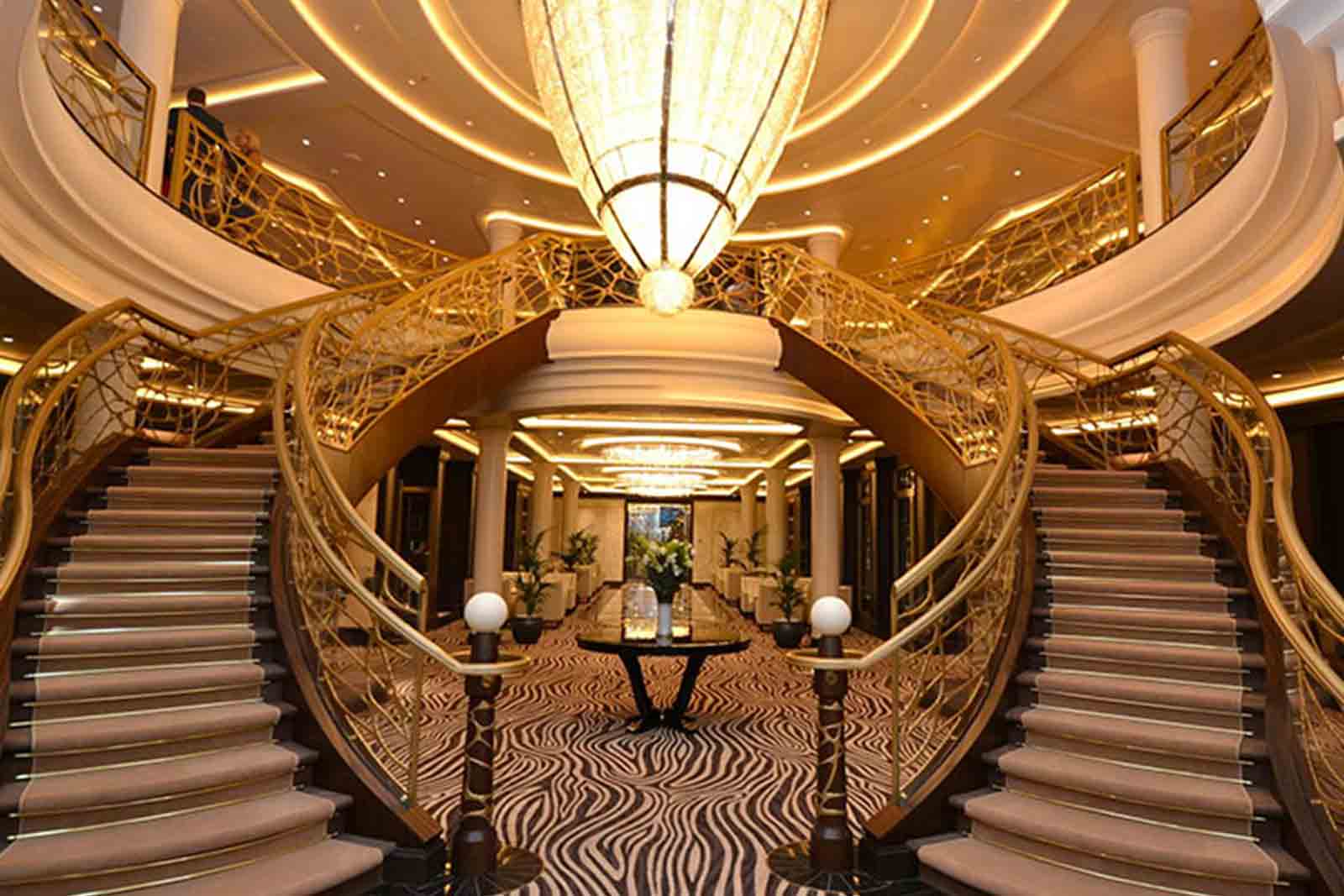 Photo credit: USA Today.

Cuisine on board is nothing short of amazing.
We did an extensive wine tasting, visited the harbor and explored Nuraghe La Prisigiona, an archeological site that dates from the 14th century B.C. And we still had free time to shop our hearts out at some of the most amazing boutiques in the Mediterranean.
A must-do: The Ice Cream Shop in Porto Cervo – their gelato is some of the best I've ever tasted!
My stateroom, a Concierge Balcony Suite, had an expensive 454 square feet for me to stretch out in. I had a walk-in closet, a bedroom area, a separate sitting area, a desk, a minibar hutch, a large balcony furnished with two chairs and one table, as well as one incredibly comfortable lounge chair.
My bathroom was beautifully laid out with double vanities, ample storage space, a bathtub and the most amazing rain shower ever!
Even the drawers are easy-close. It's truly the little things in life that make a difference.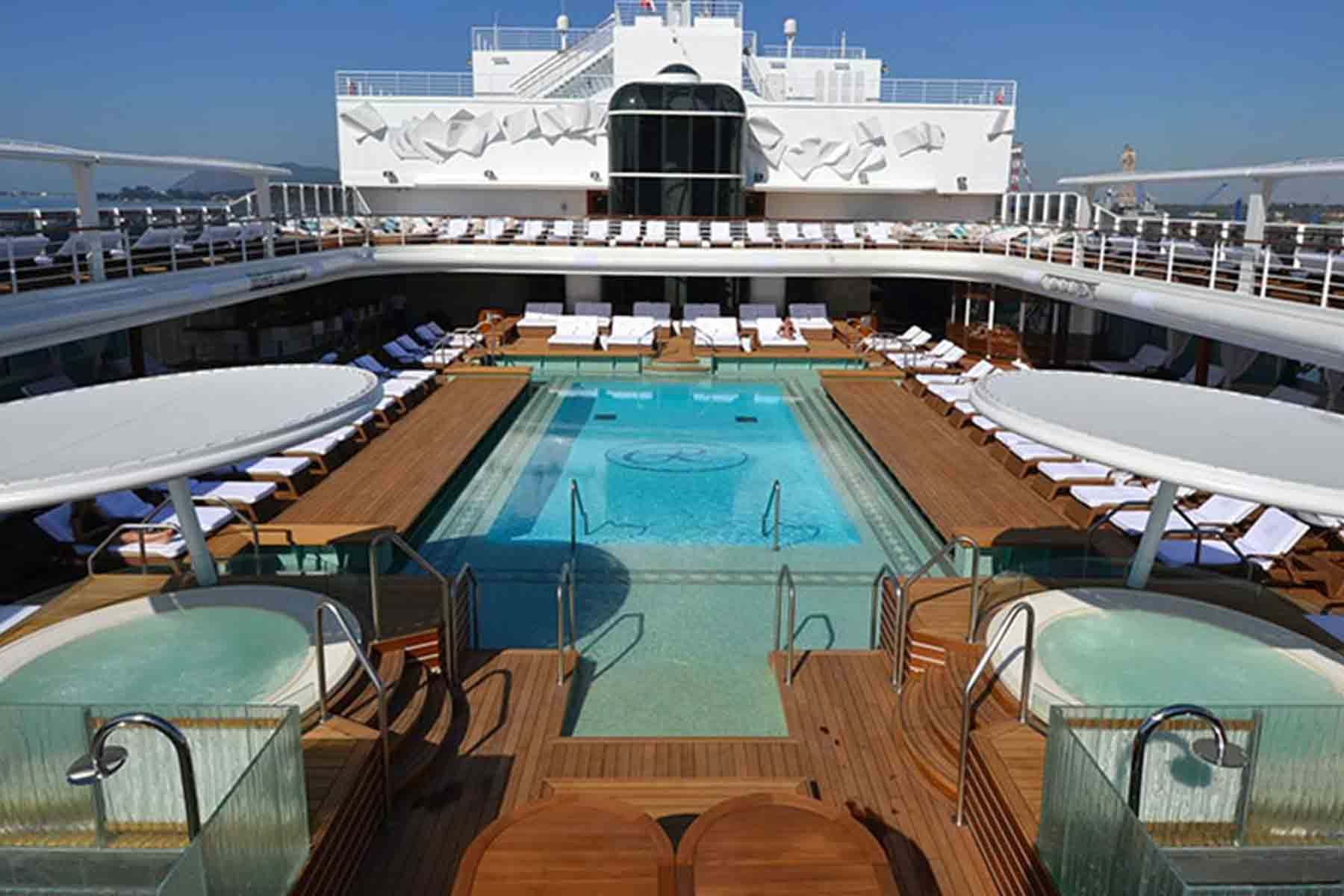 Photo credit: USA Today.

The salt-water pool is accompanied by two hot tubs — and the bar makes a mean strawberry daiquiri.
Feeling peckish? Try any of the six amazing restaurants on board. Each features its own kitchen and cuisine, with décor to match.
Your options range from the buffet to Asian fusion, French cuisine, Italian cooking, a top-notch steakhouse, or the main restaurant.
All dietary needs and food allergies can be accommodated, and unlike other cruise lines there are no extra fees for any of the restaurants or room service.
For those that can't sit still for too long, there's a tennis court, an 18-hole putting course, a jogging track and a top-of-the-line gym with stunning ocean views.
Are you more of the type who prefers lounging by the pool and getting spoiled silly in the Canyon Ranch Spa? Not a problem at all. The salt-water pool is accompanied by two hot tubs and the spa features a separate infinity pool for a more relaxed atmosphere.
The pool bar is fully stocked and they make a mean strawberry daiquiri.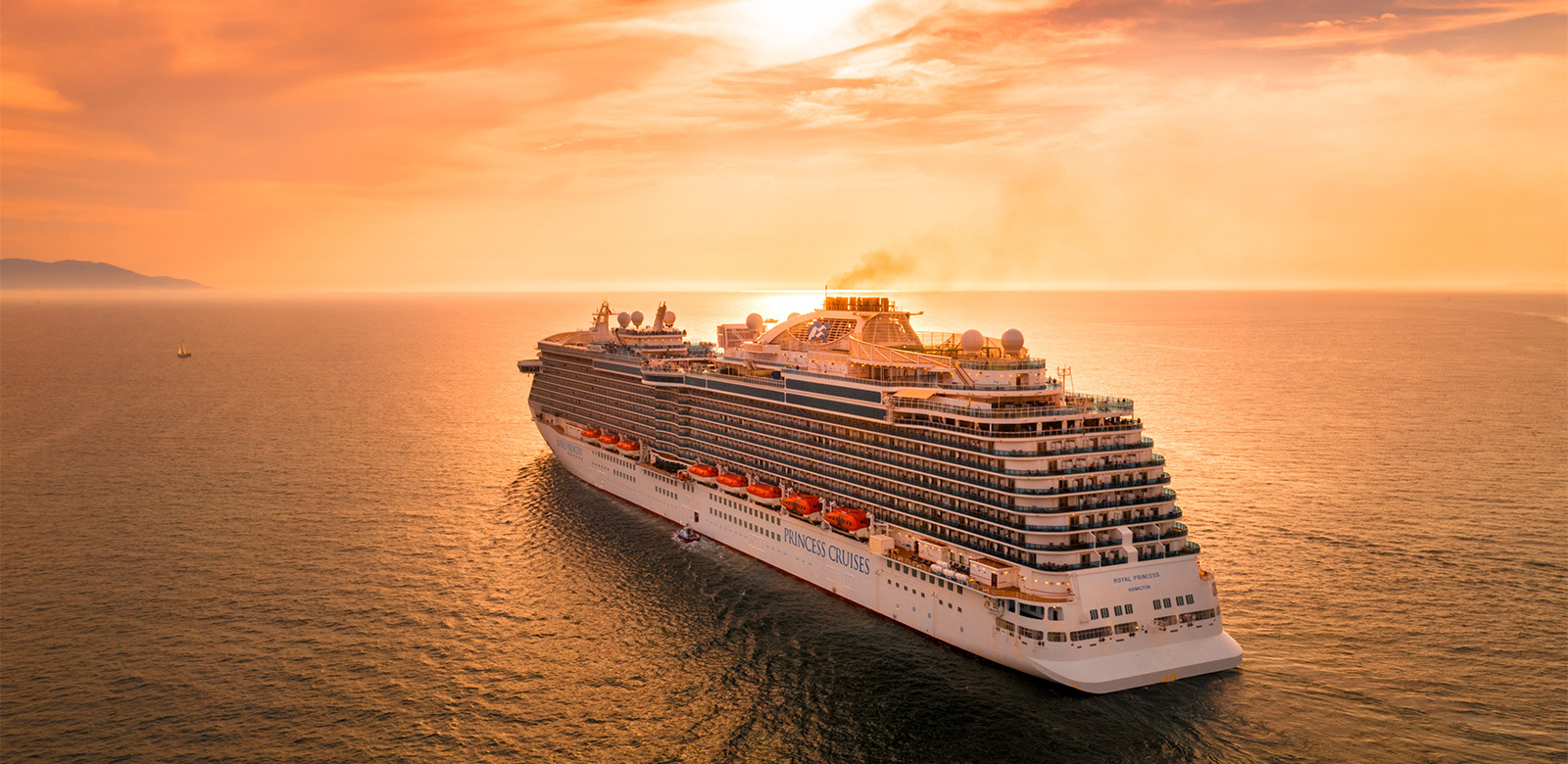 Photo credit: USA Today.

The interior of the new ship is absolutely spectacular.
Your evening entertainment is taken care of as well. The Constellation Theater offers a different show every night.
I absolutely loved the "Best of the 60's" performance. Nobody was able to stay in their seats!
All three lounges offer live music in the evenings, and after 10 p.m. the DJ is ready for you. Make sure to pack your dancing shoes.
What else is there to do on board? The Arts Kitchen offers cooking classes (where an extra charge applies), themed by the port of the day. Some days you'll have hands-on classes, while other days you'll get a shopping list and get to go ashore with the chef to pick ingredients at the market and then learn how to prepare them.
What's my favorite kitchen tip? Coat your salad bowl with dressing first before adding your salad, then stir to get a more even mix on your greens.
The drawback? I've been home for a few days now and someone has yet to ask me what I would like to drink and if they can fetch me a snack.

In all seriousness, though, once you get onboard this amazing ship, life as you know it will never be the same. Get ready to be spoiled beyond belief as you explore some of the world's most amazing destinations.
And if that sounds good to you, it would be my pleasure to make your arrangements and help get you there.
---

Daniela has been a Travel Consultant since June 2010. She works for Avenues of the World Travel, Flagstaff Ariz. 86004. For more information please contact Daniela at 800-230-3322. For travel inspiration please visit danielapharrison.wordpress.com.
---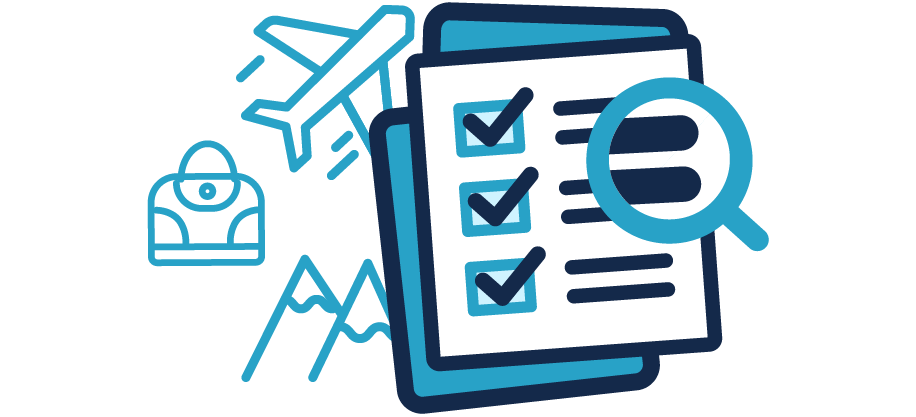 Questions About Travel Insurance?


Check out our online guide, "What Is Travel Insurance All About?" We've provided in-depth answers to all your travel insurance questions, starting with the basics.
---
Back To All Blogs