---
---
---
The Grand Canyon is one of America's iconic natural wonders. Eighteen miles wide and 277 miles long, the Grand Canyon offers multiple ways for people to explore and enjoy its beauty, from hiking its craggy depths to watching the sun rise across it.
With a destination as big and challenging as the Grand Canyon, it's important to plan your trip early and thoroughly.
This guide will help you get there, get you around safely, and get you back home, with memories (and lots of amazing photos) to share.

Visit the park website

If you decide to plan a trip to the Grand Canyon, one of your first stops will undoubtedly be the Grand Canyon National Park website. And look at that: One of the top tabs on the home page is "Plan Your Visit."
Click there, and you're off to a great start.
The Plan Your Visit page takes you through what's open and closed for the week, hours and admissions, and includes links to lodging, hiking, river trips, activities, sights, and more.
Using this page as your pivot point, you can pretty much plan your whole time at the Grand Canyon. But you still have some decisions to make.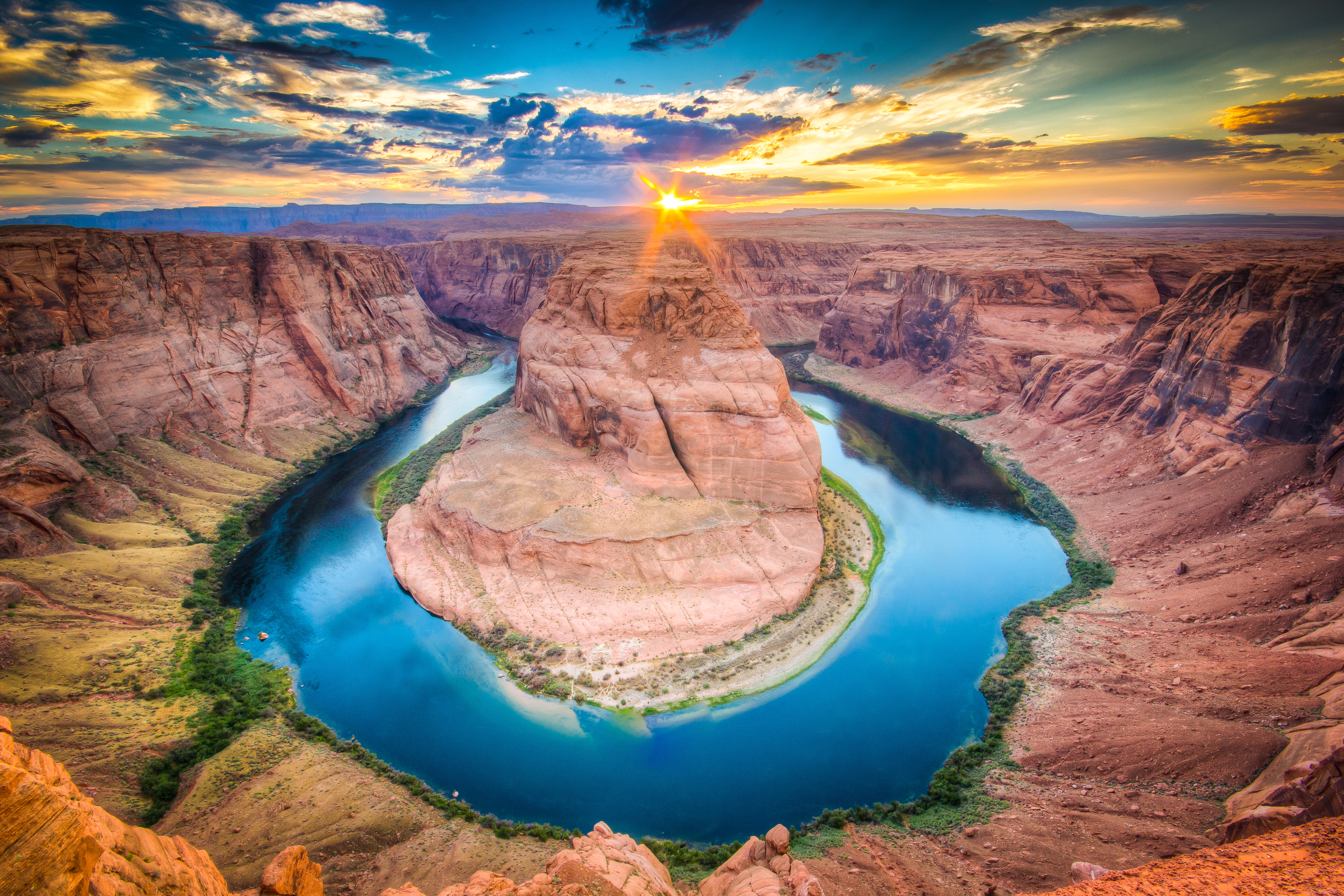 Decide which side of the canyon to visit

For one thing, you need to decide which side(s) of the Canyon you're going to visit.
The Grand Canyon can be accessed from the four main compass points: north (the North Rim), south (the South Rim), east (Grand Canyon East), and west (Grand Canyon West).
Summing them up:
The South Rim is the most popular and offers the best views, hiking, activities, and lodging. If you're only visiting one rim, it's the one to see.

The North Rim is less crowded and offers a more remote experience, but snow keeps it closed from November through April.

The West Rim has the

Grand Canyon Skywalk

, a glass bridge that extends over the canyon. It's the only rim that allows visitors to drive to the bottom of the canyon.

The East Rim is the least visited and offers a more rugged and remote experience.
You might think that because the canyon is only 18 miles wide you can see all the rims. The truth is that while it's a 21-mile hike (with elevation) from the South Rim to the North Rim, it's a 220-mile drive – and not a fast drive – to cover the same distance.
This isn't meant to tell you that you can't see multiple rims, but you may want to curb your ambition.

Pick your season

The Grand Canyon is open year-round, but the best time to visit depends on your preferences.
Peak season is from May to September, when the weather is warm and sunny.

If you prefer cooler temperatures and fewer crowds, consider the shoulder seasons of April, May, September, or October.

Winter is the least crowded season, but some areas of the park (like the North Rim) may be closed due to snow.
When choosing a time to visit, determine your heat tolerance. Summers have gotten hotter around the Grand Canyon, and that can lead to increased incidence of dehydration and heatstroke. Plus, some people simply don't like hot weather.
This is particularly true if you're tent camping. Down sleeping bags and 70-degree nighttime temps don't get along.
Check the weather page on the park's site and use the National Atmosphere and Oceanic Administration's long-range forecasts and drought outlook to help you choose the best time to visit.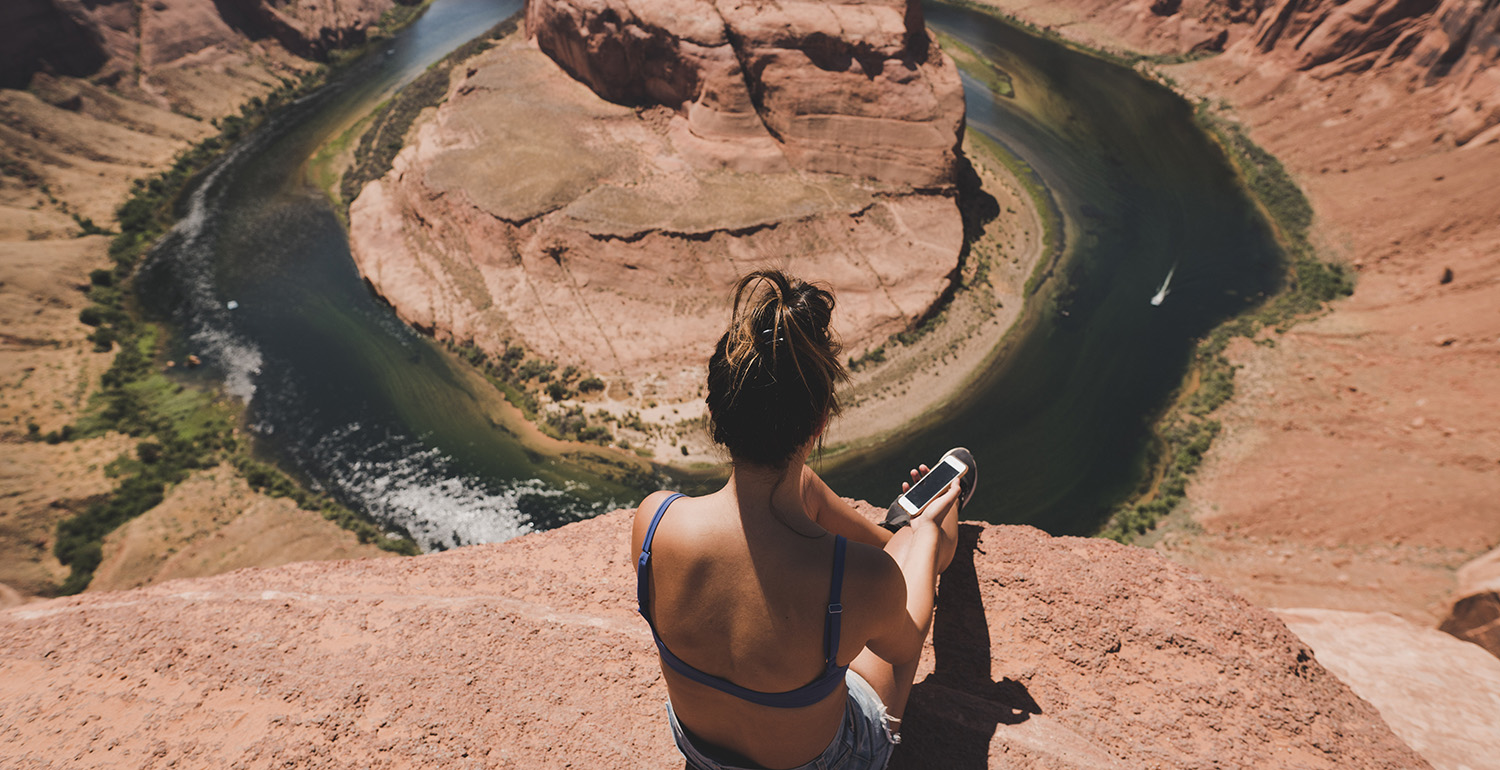 Get your pass(es) and reservations

First off, you need a pass to get into the park.
You have options. You can buy:
A seven-day pass ($35 for cars; $20 walk-in)

An annual park pass ($70)

An annual pass that gets you into hundreds of national parks, forests, monuments, and seashores around the country ($80)
This screaming deal gets even better; active military, veterans, and Gold Star families get this for free, and seniors pay $20 annually or $80 for a lifetime pass.
You can buy a pass in lots of places, but the annual and lifetime passes need to be purchased through the National Park Service site.
As for Grand Canyon National Park, there may be limits on the number of visitors allowed in certain areas at certain times.
Expect to make reservations for:
Lodging

Camping

Tours

Activities
Because these things fill up fast, there's added time pressure to decide where you want to stay and what you want to do.
As soon as you decide you want to visit the Grand Canyon, start reserving activities, campsites, and/or lodgings. Opt for early park entry times on weekdays in spring and fall to beat the heat and ensure best availability.
This is especially true for popular lodgings like the Grand Canyon Lodge on the North Rim, or the lodges in Grand Canyon Village managed by Xanterra and Delaware North.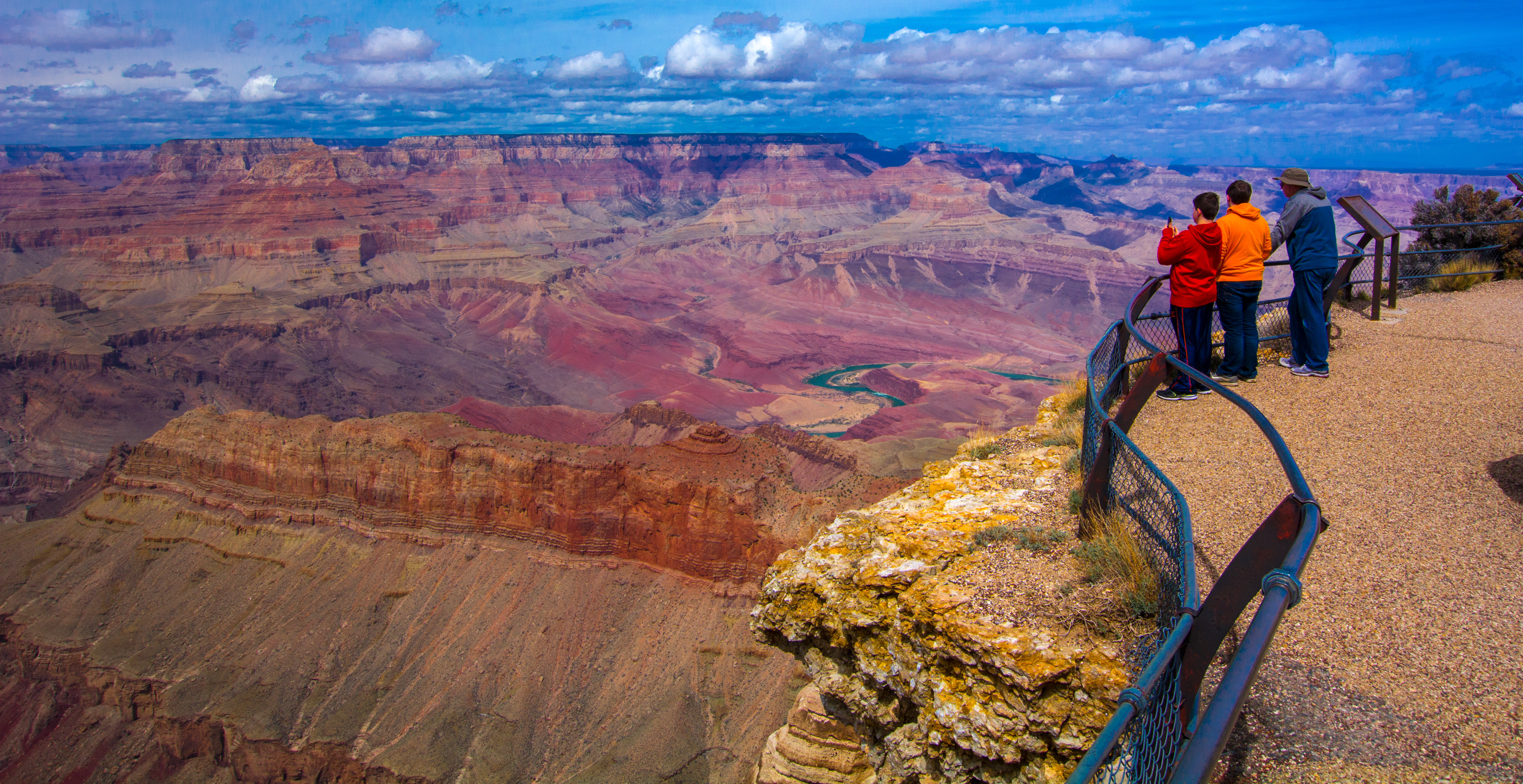 Decide how you'll travel

One way or another, you'll most likely be driving to the Grand Canyon.
Your basic choices are:
You can drive your own vehicle or RV

You can rent an RV, jeep, or SUV and drive

You can fly to a nearby airport, rent, and drive
No matter how you'll get there, you'll soon realize how vast the park truly is.
If you're taking a vehicle that's not off-road capable and you decide to drive down to the base of the canyon from Grand Canyon East, you may wish you had chosen a different mode of transport.
Also, bringing an RV largely restricts you to campsites with hookups and lodgings that have parking spaces for RVs, and neither is guaranteed. The Trailer Village at the South Rim is your best bet, and it fills fast.
If you're flying and renting, the closest airports are in Phoenix, Las Vegas, and Flagstaff. However, you may have to travel beyond the airport's car-rental services to rent an RV from big operations like Cruise America and Outdoorsy.

Understand the effects of climate change

The changing climate plays a big part in visits to the Grand Canyon. For instance:
Heat can be dangerous when hiking through the canyon in summer.

Water restrictions may be in place at any time.

Droughts may affect river trips.

Droughts may also spark wildfires.

Flash floods are not uncommon.

Late-fall and early-spring snows can wreak havoc with the shoulder seasons.
With any trip to the Grand Canyon you need to keep an eye on the long-range weather forecast through NOAA and buy travel insurance (like ExactCare® from Berkshire Hathaway Travel Protection) to cover prepaid expenses like RV rental, park admissions, and lodging reservations, as well as medical emergencies.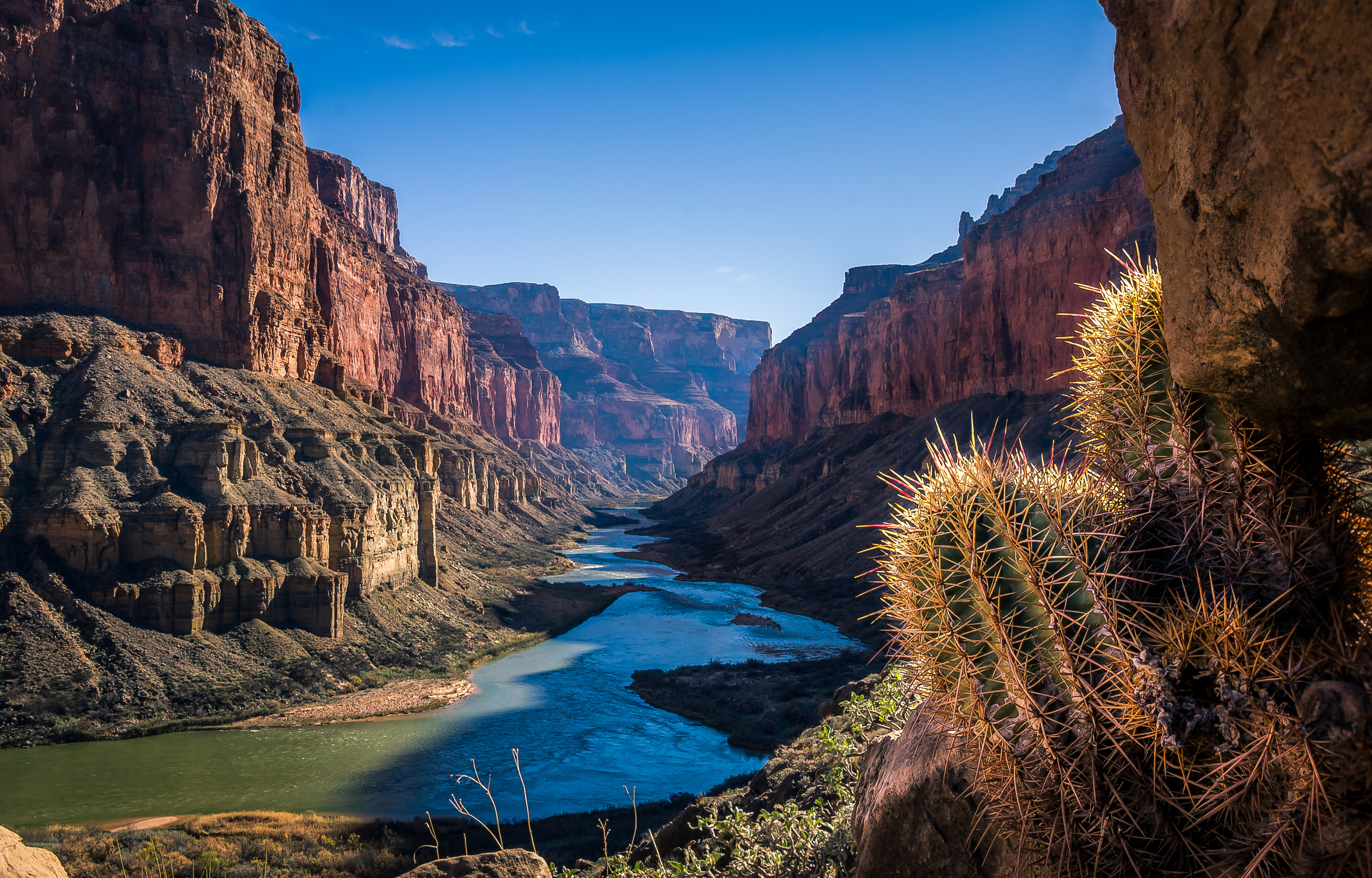 Pick an alternate park

If you prefer to avoid the crowds at the Grand Canyon, consider visiting an alternate park, national forest, or monument.
Zion National Park is the closest national park, but you should also consider:

Choose your adventure – and align it with your fitness level

The Grand Canyon offers a variety of activities, including:
Hiking

Rafting down the Colorado River

Mule rides down to the canyon floor

Helicopter tours
Be honest about your fitness level and choose appropriate activities.
The park has trails for all fitness levels, from easy walks along the rim to strenuous hikes to the bottom of the canyon and back. There are also specialty walks and hikes, like nature and history walks.
Guided backcountry hikes are available, and offer the best combination of safety and sights to see.
River trips range from day trips on smooth water to 18-day guided and 25-day DIY trips down a long stretch of whitewater on the Colorado River. Permits for the latter are awarded via a weighted lottery, and reservations for the former have to be made a year in advance.
According to the park's mule-rides page:
South Rim mule rides may be booked 15 months in advance and fill up early

Reservations for Phantom Ranch trips are by an online lottery

A waiting list is only maintained for day-before cancellations, and chances of obtaining reservations on the waiting list are slim
In general, if you want to do the cool stuff on your visit to the Grand Canyon, you need to plan way ahead.
That's how it is if you want to visit one of the world's great national parks – so it makes sense to protect all those paid-ahead fees and admissions with travel insurance from Berkshire Hathaway Travel Protection.
Our redesigned website makes it even easier to get a quote for all your travels – even if it takes you down to the floor of one of the world's deepest canyons.

Please visit our Disclaimer page for underwriter info. Policies have exclusions and limitations. For complete details of coverage, contact BHTP by calling 844-411-2487, or emailing us at assist@bhtp.com.
---
---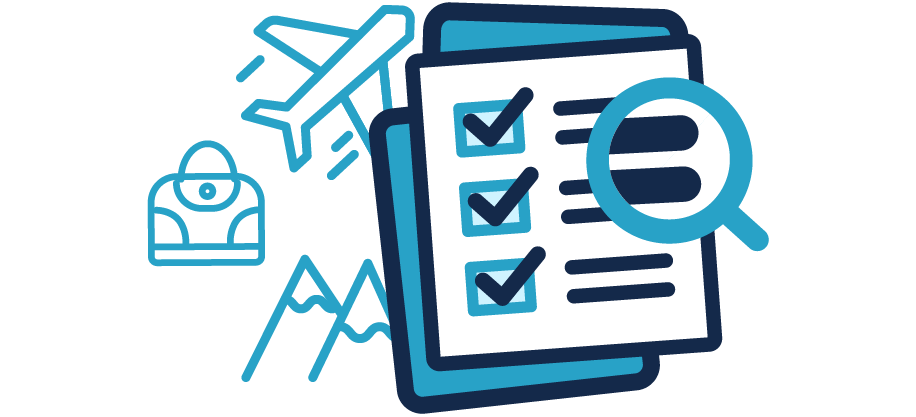 Questions About Travel Insurance?


Check out our online guide, "What Is Travel Insurance All About?" We've provided in-depth answers to all your travel insurance questions, starting with the basics.
---