---
---
---
You probably think you know Ireland pretty well. Green, castles, St. Patrick's Day, the Blarney Stone, pubs, Jameson, golf … all that jazz. So you know how to plan a trip to Ireland – right?
Well, maybe not. While you may know many components of the Irish experience, and have a laundry list of experiences you want to see and do, there's so much more to Ireland than checking off popular items on a list.
That's why planning a trip to Ireland takes time and consideration. It's a small country, but you can miss a lot if you're not thoughtful in your approach.

Understanding Ireland

It's no secret why so many Americans want to visit Ireland – nearing 2 million per year at last count. It's largely English-speaking, friendly, and easy to explore.
You don't need a carefully guided and curated tour to discover Ireland (though there are many great tours which do precisely that). All you really need is a rental car and a map.
And a good raincoat, which we'll get into later.
Once you've decided to go to Ireland there are many fun ways to prep for your trip. You can:
Ireland has been called the land of poets. The more you dive into Irish culture the more apt that phrase becomes.
There are also much more prosaic ways of preparing for your trip. Check out our blog on the World's Safest Countries. See what the State Department has to say about Ireland (spoiler alert: it's almost all good). And you can read the volumes and volumes of travel blogs written about Ireland.



Pick your travel destinations and modes

Obviously you're going to fly to Ireland. Good news: Fares are relatively low (especially if you fly midweek) and air time is relatively short.
In fact, if a hatred of long flights is keeping you from traveling the world, you'll be pleased to know that a flight from Boston to Ireland's Shannon Airport is actually shorter than a flight from Boston to Los Angeles.
Shannon is the westernmost of Ireland's two major international airports, with Dublin the easternmost. Each has its pros and cons.
Shannon is a shorter flight, but there are fewer of them, and you land out in the country a bit.
For road-trippers who want to test out that right-hand-drive thing on some gentle country roads, Shannon is a great choice, but there are few lodging options close to the airport. If you're jet-lagged, the thought of a bus ride to Limerick or Ennis for a hotel might be a deal-breaker.
Dublin is a more metropolitan airport with multiple transportation options to hotels and train stations, but it's also where bags go to die – as many as 1,000 a day during peak travel times, according to the Irish Examiner.
You may be able to split your flight – arrive in Shannon and depart from Dublin or vice versa – but it may cost you. Investigate costs and options early in the planning process.

About that road trip …

Unlike most other countries in Europe, and most other countries period with the exception of the U.S., Ireland is a road-tripper's delight. Renting a car and driving around Ireland's quaint rural roads is probably the best way of seeing the country and interacting with its delightful people.
One popular approach to an Irish road trip is simply to go on whatever roads are closest to the coast. This takes you to many quaint villages and gives you endless views of roiling waters, but you miss out on the country's lush interior.
Conversely, too much interior means you miss out on some picturesque fishing villages. The good news is whichever approach you choose, you won't be wrong.
The roads will take you everywhere you want to go, like:
The Rock of Cashel

Cobh

Westport

The Cliffs of Moher

Galway

Donegal

Northern Ireland
However, there are a couple things to bear in mind:
Right-hand drive

. People drive on the left side of the road in Ireland, and the cars are right-hand drive. It's not that hard for most people to get used to; in fact, it's actually quite logical. But it is an adjustment.

Stick shift

. Most rental cars in Ireland have manual transmissions. Again, for stick-shifters it's an easy and logical transition – steer with the right hand, shift with the left. But for non-stick-shifters it's a non-starter.

Narrow roads

. Irish roads are rough and narrow. Passing tour buses with all that car to your left can be terrifying. Before you take the Slea Head Drive, practice on some country roads with no tour buses or sheer drop offs. Your heart will thank you.

Sheep

. There are 4 million sheep in Ireland, and you'll swear they're all blocking the road when you want to pass. Relax.

Maps

. Get paper maps. You won't always be able to rely on GPS (though having GPS is great, too).

Other transportation options

Trains
Irish Rail trains go practically everywhere, and they're clean and safe. If you choose not to drive, it's absolutely the next-best way of seeing Ireland.
And a bonus: Irish Rail offers ferry/rail packages, in case you want to include France or the U.K. on your vacation.

Ferries
Even if you don't take Irish Rail, car ferries are a great way to connect to other destinations in Europe.
The main ferry to the U.K. goes from Rossaire Harbor in southeastern Ireland to Fishguard in Wales. Wales is another road-tripper's paradise and definitely worth a visit – but only if you have the time.
They drive on the left side of the road in Wales too, so if you were confused in Ireland you can be confused in Wales. And check out the road signs!
Ferries to France take quite a bit longer and go from Cork (Ringaskiddy, actually) and Rossaire to Cherbourg and Roscoff.

Biking
For super-active types village-to-village or pub-to-pub bike tours are popular. There are tours for yoga lovers, families, music lovers, beer drinkers, and much more, and they're a particularly great way of seeing Ireland's west coast.
Even if you don't feel like an entire bike tour, rental bikes are a great way to see the Aran Islands or cities like Cork, Westport, and Galway.



Choose your time to visit

Like everywhere else in the Northern Hemisphere, summer is the most popular time to visit Ireland, which means that popular destinations like the Ring of Kerry and Blarney Castle are apt to be packed.
Here's the thing with Ireland, though: Few people visit Ireland for the balmy summer weather. They visit for the misty hills and rainy nights best spent in a cozy pub. And you can experience those any time of year.
For that reason Ireland is best experienced during the shoulder season, and even the extreme tips of the shoulder season.
Of course, if summer is the only time you can get away, Ireland is wonderful then as well. But don't discount the experience of Ireland in March or October.
The only possible exception is if you plan on doing a lot of golfing in Ireland. Ireland is a super-popular destination for golfers looking to experience iconic courses like Portmarnock, Royal Portrush, and Royal County Down, and golf tours of Ireland are everywhere.
Ireland's long summer days means you can often squeeze in two rounds and a leisurely lunch, which makes summer a perfect time to visit for high-volume golfers.
Otherwise, a casual midday round is always a possibility at any of the country's multiple links-style courses. You'll need reservations and conservative golf clothes – a polo and slacks, soft spikes, and perhaps a jacket and tie for the dining room.
There's no central reservations system for Ireland's courses, so you'll have to choose your course(s) and make reservations directly.

Pack for the weather

Ireland never gets super-hot, but it never gets super-cold, either. You can have temps in the 50s just about any time of year, with rain and wind.
While there are variations to this theme – Dublin tends to be warmer and drier, Donegal is windier, and spring is the "dry" season – the bottom line is that you need to pack for an American late fall or winter just about any time you visit Ireland.
That means jeans, sweaters, hats, gloves, and above all, a really good raincoat.
The downside to visiting Ireland in the summer from a packing standpoint is that you have to pack all of those things plus summer gear.
Other things you'll want to add to your Ireland packing list:
Waterproof hiking boots:

Pack your tennies by all means, but boots are going to be your go-to.

Rain pants:

Especially if you're hiking or biking, keeping your legs dry is a must.

Extra socks:

Wool, if you please. Ireland makes you appreciate the luxury of warm, dry socks.

The right power converter:

Ireland's on the 230V system and plugs are three-prong.

The right phone and/or the right SIM card:

This post

has all the details. Basically you need an unlocked GSM phone and an international calling plan, or a GSM phone with the right SIM card.

Proof of Financial Wherewithal:

Ireland is easy to visit and doesn't require a visa. However, it does require proof that you have the financial means to travel in the country. More details are available from

Irish Immigration

.



Understand the travel style

If your plan is to rush around Ireland, see all the sights, kiss the Blarney Stone and fly back home, you've missed the point.
You're not going to go fast on Irish roads. Embrace it. You're going to go through a lot of small towns and villages. Explore them. Stop into the local pub and have a pint. Talk to the locals.
If you see a side road that looks interesting, take it. If you get lost, there'll always be someone to point you back to the main road.
Like good Irish whiskey, Ireland is meant to be savored slowly, with friends old and new. You need to appreciate the pace of the old sod, and realize that travel is more about who you see than what you see.
Allow yourself time in Ireland, and take your time. The result will be an unforgettable vacation to an enchanted land.

Buy travel insurance

It's important to buy travel insurance for any vacation to Ireland. Adventure vacations and golf vacations benefit from AdrenalineCare®, with its extra medical coverage and protection for sporting equipment.
Otherwise, all Berkshire Hathaway Travel Protection plans include coverage for luggage and various trip disruptions.
In addition, getting a quote is fast and easy.
Planning a trip to Ireland is almost as much fun as traveling there. Enjoy the process!



Please visit our Disclaimer page for underwriter info. Policies have exclusions and limitations. For complete details of coverage, contact BHTP by calling 844-411-2487, or emailing us at assist@bhtp.com.
---
---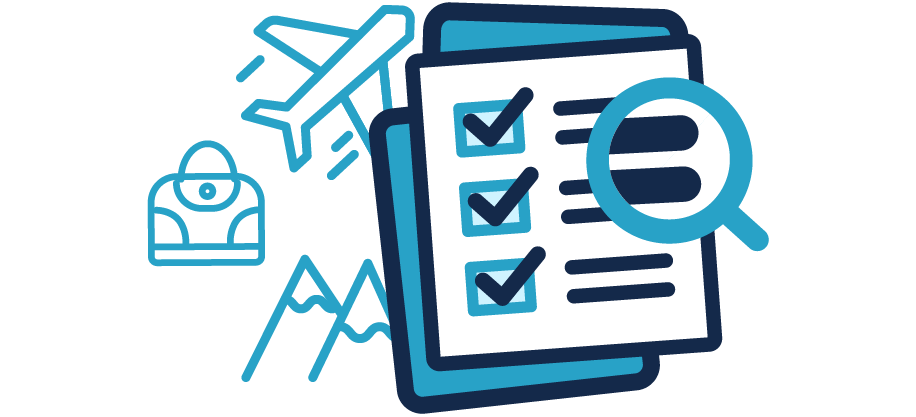 Questions About Travel Insurance?


Check out our online guide, "What Is Travel Insurance All About?" We've provided in-depth answers to all your travel insurance questions, starting with the basics.
---