---
---
---
Don't Gamble With Your Travel Investment.
A luxurious vacation is a big investment – and you could lose that investment if you don't protect it from:


Unexpected cancellation:

If one of the insureds, their spouse or domestic partner becomes pregnant or approved for an adoption, or extra days are added to your child's school calendar unexpectedly, you could be forced to cancel your vacation – without guarantee of a refund.


Medical emergencies:

Medical treatment away from home can be complicated and costly – and almost always out-of-network.


Travel delays:

Getting stranded in an airport and missing flight connections is more than an inconvenience – it can be costly to catch up on your vacation plans.


Lost luggage:

Clothes, electronics, and more can vanish in an instant – and how will you recover what you need on vacation?


Luxury travel insurance from Berkshire Hathaway Travel Protection is there to protect you when these issues, and many more strike – and with our 24/7 travel assistance, you'll never be left stranded with no one to contact.
---
---
Luxury Travel Insurance Protects Your Investment ...And You.


LuxuryCare from Berkshire Hathaway Travel Protection is easy, full-featured trip insurance, specially designed for travel issues listed below.
LuxuryCare covers more reasons for cancellation than any other offered by Berkshire Hathaway Travel Protection. Some of these additional covered reasons include:


You become pregnant or approved for an adoption and can't travel


Your child's school calendar is adjusted over the holidays or at the end of the year to make up for lost days


You or your traveling companions are not medically able to receive the proper vaccinations or your travel documents are lost or stolen



Plus, LuxuryCare offers the Cancel for Any Reason upgrade on eligible trips
With all these issues, you can count on:


Quick quotes:

Get covered in as little as five minutes


Clear coverage:

Receive coverage details in clear, easy-to-understand language


Easy claim submissions:

File many claims in seconds, often with just a picture from your phone – and without piles of forms


Fast payments:

Get your claims paid up to five times faster than industry averages*


Help when you need it:

Count on 24/7 emergency travel assistance
---
---
LuxuryCare Coverage Details
Coverage Details for LuxuryCare®
Coverages
100% of Trip Cost
Reimburses you for non-refundable trip payments up to your trip cost if you have to cancel your trip due to an unforeseen covered reason listed in the policy. Our LuxuryCare plan will insure trips up to $100,000 maximum per traveler.
Available
Provides reimbursement for up to 50% of your non-refundable trip payments if you have to cancel a trip for any reason not listed in the Description of Coverages. CFAR is only available on LuxuryCare, for trips up to $10,000 per individual, and only if you are purchasing your travel insurance plan within 15 days of your initial trip deposit. Must be added at time of purchase. CFAR cannot be added after purchase of a LuxuryCare plan. Please read the plan's Description of Coverages for complete details.
150% of Trip Cost
Reimburses you for unused, non-refundable trip payments and additional expenses up to 150% of your trip cost to transport you home or to a point where you can continue your trip. The interruption must be due to an unforeseen covered reason listed in the policy. Our LuxuryCare plan will provide up to $150,000 in trip interruption coverage per traveler.
$1,000
Reimburses you for additional transportation expenses incurred in order to reach your return destination due to unforeseen events.
Available
When this is listed as "Included," the exclusion of pre-existing medical conditions is waived as long as you meet all criteria outlined in your Description of Coverage. Please read the plan's Description of Coverages for complete details.
$2,000
Reimburses you up to $2000/max $200 day for additional meals, accommodations, and stated miscellaneous expenses if your travel is delayed due to a covered unforeseen reason and for more than 5 hours.
$500
Pays up to $500 if you experience a covered delay lasting more than 3 hours which causes you to miss your flight, cruise or other covered transportation's departure.
$100,000
Provides reimbursement for emergency medical expenses if you suffer an injury or sickness while on your trip. Medical expense coverage is primary on this plan. Some plans vary by state. Primary coverage means your travel insurance pays first, and you are not required to first submit a claim to your individual health insurance plan. Includes some dental coverage. Please read the plan's Description of Coverages for complete details.
$1,000,000
Covers reasonable and customary charges for an emergency medical evacuation incurred for an injury or sickness that occurs while on a trip. Please read the plan's Description of Coverages for complete details.
$2,500
Covers your lost, stolen or damaged luggage, personal items, and documents. Please read the plan's Description of Coverages for complete details.
$200 (fixed)
Reimburses you a full fixed amount of $200 to help with the purchase of necessary personal effects if your luggage is delayed more than 12 hours. This benefit does not apply if baggage is delayed while traveling to your return destination.
$500
Reimburses you for the rental of necessary equipment if your sporting or golf equipment is delayed more than 6 hours. This benefit does not apply if equipment is delayed while traveling to your return destination.
Included
Reimburses you for prepaid non-refundable costs of license or permits if unable to travel due to covered unforeseen reasons.
$25,000
Pays you for an accident that results in the loss of life, limbs or sight. Some plans provide higher benefit limits if the accident occurs on a common carrier. Please read the plan's Description of Coverages for complete details.
Available
Available for purchase as an upgrade on certain BHTP plans. Provides reimbursement for repairs if your rental vehicle is damaged due to collision, vandalism, windstorm, fire, hail or flood. Eligibility varies by state. A deductible may apply. Please read the plan's Description of Coverages for complete details.
Included
24-hour access to a service team that can help in a medical emergency (e.g., locating a doctor, hospital or pharmacy), travel emergency (e.g., finding alternative flights, last-minute hotel changes or car rental assistance), or simply obtain concierge assistance for non-emergency requests (e.g., restaurant reservations, theater or event tickets). Costs of the services are the responsibility of the insured if not covered under the policy.
---
---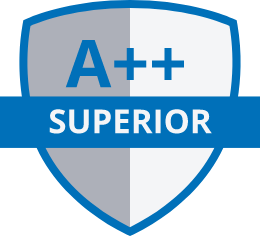 A Travel Insurance Company Backed By Experts
Berkshire Hathaway Travel Protection has an AM Best Financial Strength Rating (FSR) of A++.
---
---
See What Our Travel Insurance Customers Have To Say

"This is by far the best customer experience that I've had with any claims I've needed to do for travel. The staff is helpful and their response time is super fast. Thank you for being so customer friendly!"
—Katie H.

"Very professional and easy to work with. Fast handling of claim."
—Sandra G.

"Berkshire Hathaway's International Travel Insurance is far superior to other products. The service is excellent and the claims process quick and reliable."
—Kevin H.

"My medical claim was easy to submit and was reviewed in a timely fashion. A representative helped me with any questions that I had as well."
—Meira Z.
---
---
Luxury Travel Insurance Q&A


What does luxury travel insurance cover?
Our luxury travel insurance plan includes cancellation insurance for trips up to $100,000 per person, and our highest levels of medical expense and medical evacuation limits. LuxuryCare also includes trip interruption, trip delay, missed connection, and coverage for lost, damaged, or stolen luggage.* LuxuryCare's medical coverage is primary in the base plan – which means no need to meet certain requirements or pay more for medical coverage to be primary.


Does LuxuryCare include Cancel For Any Reason?
Our luxury travel insurance plan includes the option to purchase the Cancel For Any Reason (CFAR) coverage upgrade. Coverage includes up to 50% trip cancellation coverage for trips valued up to $10,000 per traveler. CFAR may only be added at the time of policy purchase and within 15 days of the initial trip deposit. All travelers must be medically able to travel at time of purchase and full trip cost must be insured. Trips must be cancelled no less than 48 hours prior to the departure date.


Can you buy luxury travel insurance after booking?
Yes – and if you buy within 15 days of making your initial vacation deposit, you qualify for bonus coverages, like coverage for pre-existing medical conditions and financial default.


How much does luxury travel insurance cost?
Luxury travel insurance can cost from 5% to 10% of your total trip cost, though that amount can be influenced by:


Your age


How much you're spending on your trip


Number of days you are vacationing


When you are traveling


Number of days until your departure


The number of people covered under your policy


Where you are going


As with any travel insurance, it pays to look around and compare to find the best luxury travel insurance policy for you.


Can trip insurance be worth it for a luxury vacation?
Absolutely – trip insurance can be worth it because it can help reimburse you for covered expenses like emergency evacuation, medical bills, and costs related to trip cancellation and interruption. The U.S. State Department includes travel insurance as a key component of its traveler's checklist.


Do I need medical travel insurance while on a vacation?
A medical emergency away from home could mean thousands of dollars of bills that you have to pay. Travel medical insurance can help pay if you get sick or injured when you're traveling, and can cover costs to evacuate you to an adequate medical facility.


Should I insure my luxury vacation?
Savvy travelers usually do. If you're not sure, ask your travel professional, or someone who's suffered mishaps while vacationing.


Is LuxuryCare right for me?
Is your vacation booked months out? Is your vacation payment protected if you're forced to cancel for a covered reason? Do you have adequate coverage if a medical emergency occurs while you're away from home? LuxuryCare may be your best travel insurance option.
---
---
* Subject to limitation and exclusion of the policy.
** Based on industry average. Fastest payment on approved claims is based on electronic payment of claim. Speed of transaction varies by processing financial institution.
---