---
---
---
Can You Buy Insurance After Booking?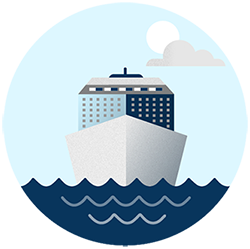 Yes! It's the best time to buy cruise insurance – as soon as you make your initial trip deposit, while it's still fresh in your mind.


Plus, if you buy cruise insurance within two weeks of making the first deposit on your trip, you can often qualify for bonus coverages.


Here's why you should buy cruise insurance within two weeks of making your first trip deposit:
It's done. Cross it off your to-do list; move onto the next item.


It's part of your trip package. Many times, you'll be offered cruise insurance as part of your cruise purchase. If the plan looks good, it makes sense to buy when it's right there in front of you.


It'll be easier to forget later on. That's why cruise insurance companies offer bonus coverages if you buy within the two-week window.


It gets you bonus coverages. Depending on your plan, you may qualify for coverages like these at no additional cost:


Coverage for pre-existing medical conditions


Cruise disruption benefits


Coverage for financial default


Why buy cruise insurance right after booking? Additional coverage at no additional cost is a pretty great reason.
---
---
What Are Some Other Good Times To Buy Cruise Insurance?

Great times to buy cruise insurance include:
50 days before departure
Two weeks before departure
The day before you leave
---
---
Let's look at why these are all good times to buy cruise insurance.
Buying 50 Days Before Departure

Buying 50 days out makes sense because studies have shown 50 days before departure is when you start making lists, double-checking arrangements, and ensuring everything's in order … and that means cruise insurance.

Buying cruise insurance at this time also takes the "panic" factor out of your purchase. There'll be lots to think about right before you leave. Buying 50 days out means you won't be worrying about "what-if" scenarios right up to departure date.
---
---

Buying Two Weeks Before Departure

Why buy cruise insurance two weeks before departure?


You know what the weather is going to be.

Be aware that if a named storm is threatening your cruise you may not be covered for cancellation or interruption if you buy after that storm is named.


You know what your personal situation is like.

You may be out of luck if you've already been called to jury duty or have had a pre-existing condition crop up, but otherwise you should be all set.


You want to focus on other things.

How to fit two week's worth of clothes into your carry-on, for instance. (Hint: Roll, don't fold.)


You know you're covered.

Peace of mind is priceless.


Regardless of what led to the decision, two weeks out is an excellent time to buy cruise insurance if you haven't yet, because your next option is …
---
---
Buying The Day Before Departure (Maybe Even The Hour Before Departure)
If you don't buy cruise insurance when you make your first deposit, or start thinking about your trip, or when you're two weeks out, you're going to wait until the very last minute to buy.
Here's why that's still okay.
You booked your cruise at the last minute, too. Lots of people jump on last-minute, bargain cruises. If you're one of those, it's nice to know you can cover that impulse trip.
You want to get the best handle on weather and other cruise conditions. If you're a sky-watcher, or if you decide to jump on a cruise in the middle of hurricane season, you might want to wait to the last minute to buy. (Just remember the named-storm thing we talked about earlier.)
You're covered. And that's the important thing.
---
---
'When' You Buy Cruise Insurance Isn't As Important As 'Why'

In the end, when you buy cruise insurance isn't nearly as important as why you buy cruise insurance. And you buy it for things like:


Protection for trip cancellation & interruption


Emergency medical insurance


Medical evacuation coverage


Insurance for lost, stolen, damaged or delayed luggage


Cruise disablement coverage



24/7 worldwide emergency travel assistance

If that's important to you the day you book your trip, it's going to be 10 times more important on the day you leave.


So don't wait. Get a cruise insurance quote today.
---