Photo by Renan Araujo on Unsplash
RESEARCH: MILLENNIALS SPEND MORE AND TRAVEL MORE THAN ANY OTHER AGE GROUP
Everyone with an Instagram account knows that Millennials love to travel, but we're finding out just how much they love travel – and how much they're spending.
Last year, according to the State of Travel Insurance research from Berkshire Hathaway Travel Protection, Millennials took more trips and spent more on travel than any other age group.
Over the years, Berkshire Hathaway Travel Protection research has dived deeply into Americans' travel habits. This year, we've learned a lot more about the spending patterns of different types of travelers, including Millennials … and we've gained a lot of other valuable insights as well.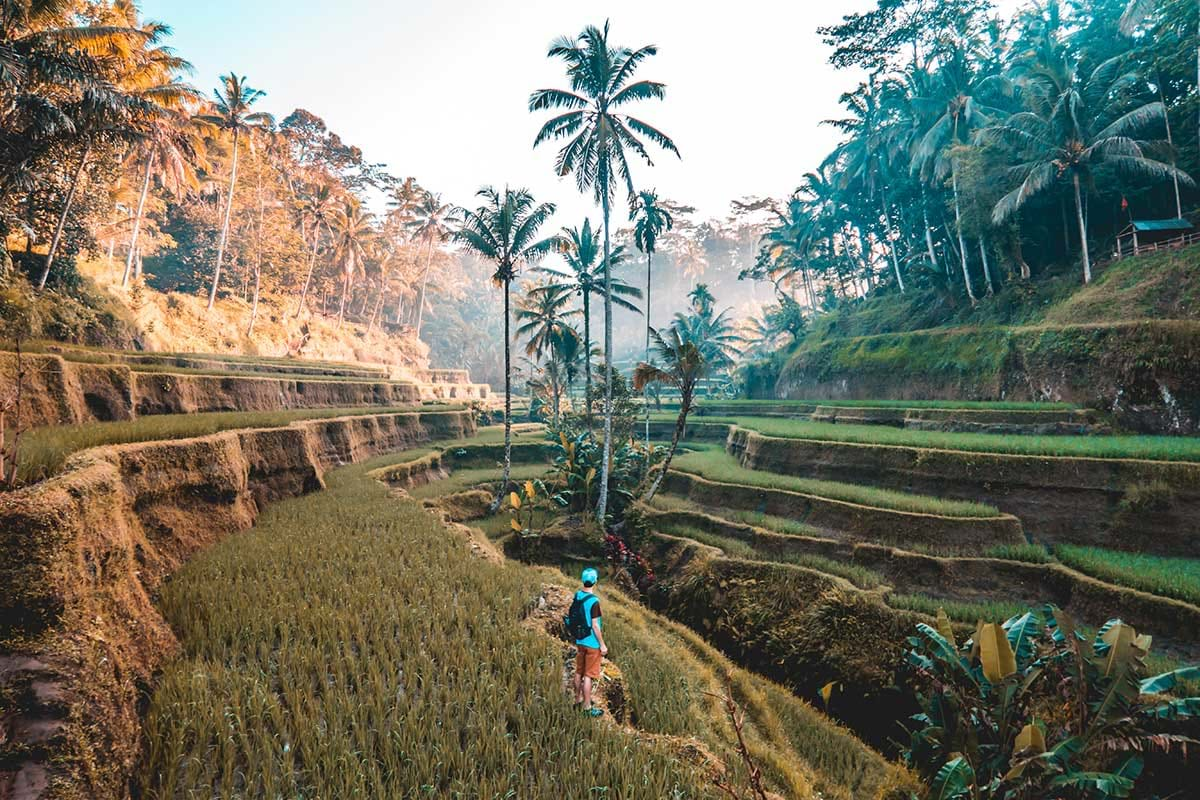 Photo by Jamie Fenn on Unsplash

MILLENNIALS ARE SPENDING AND TRAVELING MORE THAN ANY OTHER AGE GROUP.


In 2018, Millennials took an average of five trips, compared to about four and a half for the next-highest group, and spent an average of $5,700 on travel, compared to $3,300 for Baby Boomers.
Actually, more than 35% of Millennials said they spent $5,000 or more on all their travels in 2018 – and plan to spend at least as much this year.
And perhaps the most telling stat: If Millennials had more disposable income, they'd spend even more on travel.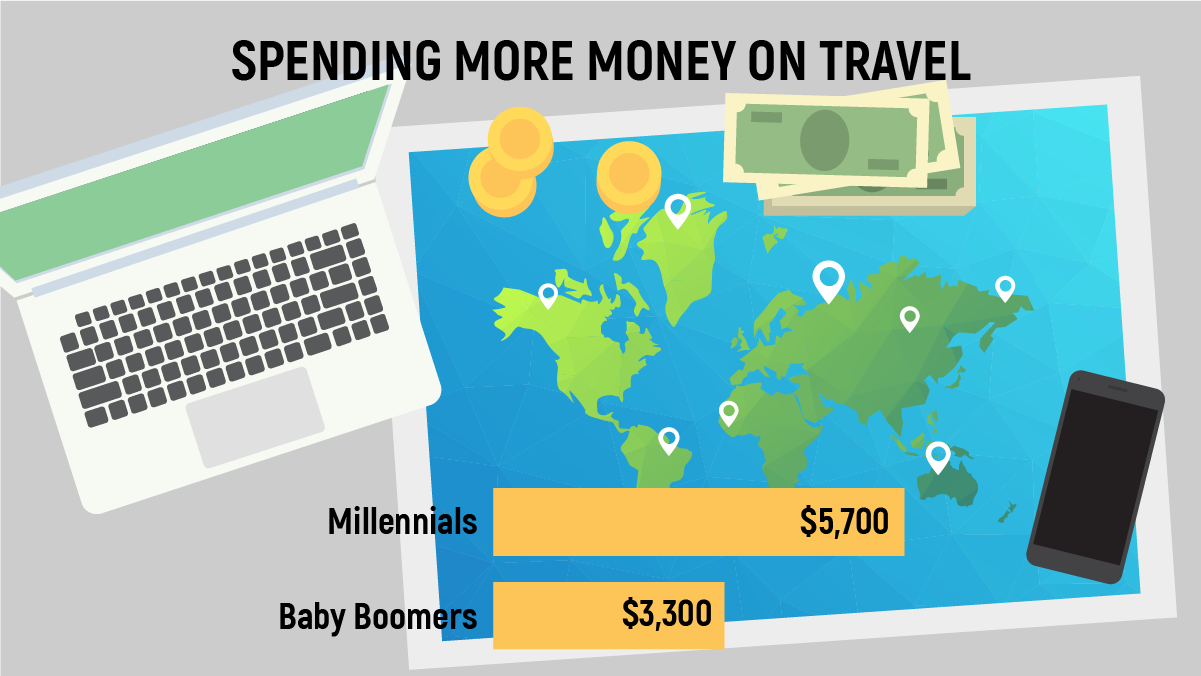 Vectors by Vecteezy.com

MILLENNIALS ARE TRAVELING MORE THAN THEY USED TO – AND TO MORE PLACES.


There are many reasons why Millennials seem to travel more than their older counterparts.
"It's easier than ever to travel," according to Ashley Fleckenstein, a/k/a Ashley Abroad, on her blog and on Instagram.
"Travel is more accessible to our generation," adds Cailin O'Neil, creator of the Travel Yourself blog. "Also, jobs are less stable, people value vacation time more, and social media and the internet teach us about new destinations. People are also valuing the whole 'Travel while you're young' idea more."
According to the SOTI survey, some of the big reasons why Millennials travel so much are adventure, food, and "bleisure." However, another big reason why is the fact that accessing that information is so much simpler than it used to be.
As Fleckenstein says, "Because of the internet and the proliferation of travel blogs, it's easy to find out information about the best places to eat, the best local neighborhoods to stay in, and so forth."
What's also surprising is the extent to which Millennials mix business and pleasure.
In the 2019 State of Travel Insurance survey, 27% or Millennials said they took or are planning to take a mixed business/leisure trip in 2019, compared to 16% of Boomers.
A little more than a quarter of Millennials may not seem like much, but the concept of bleisure travel isn't as well-established as road-tripping. It's definitely becoming more popular, though – and Millennials are leading the way.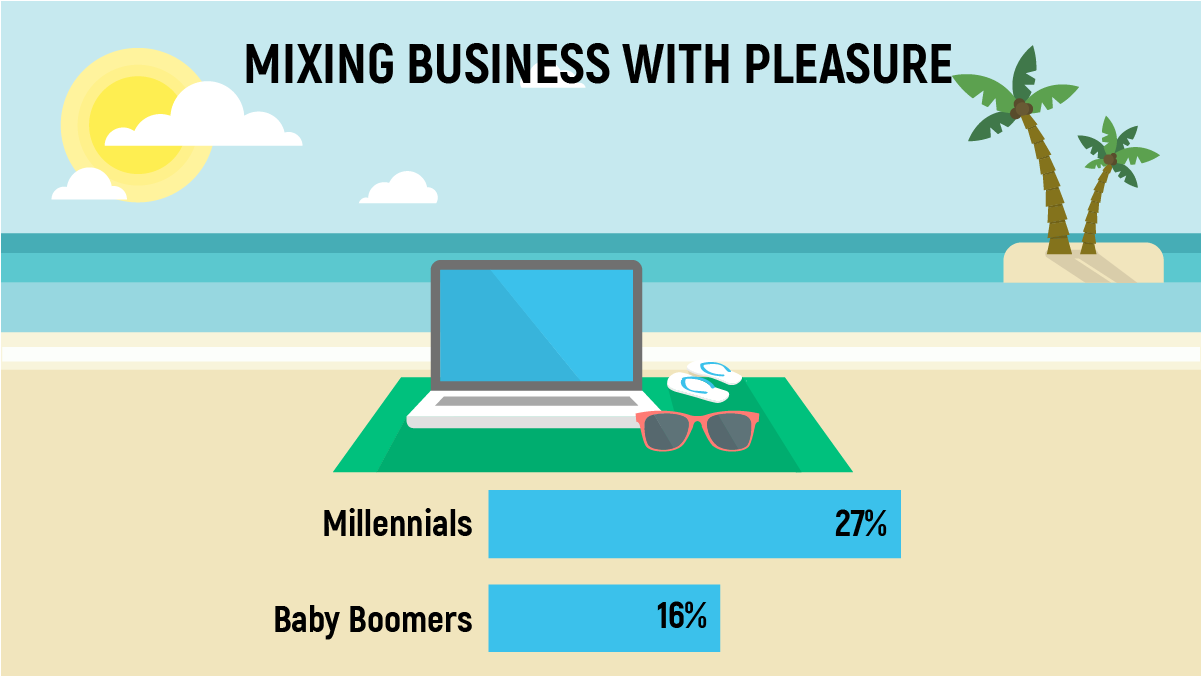 Vectors by Vecteezy.com

MILLENNIALS SPEND A LOT ON TRAVEL – BUT REALLY WANT TO SPEND MORE.


"I think many Millennials are keen to spend their money on experiences rather than possessions," Fleckenstein says – and the numbers back her up.
Millennials who have the means spend even more on travel. Around 45% of Millennials making more than $70,000 a year spend more than $5,000 a year on travel, making them one of the biggest-spending, most-traveled groups of all.
Not only that, but Millennials would spend even more on travel if they had it. When asked what they would do if someone gave them $5,000, Millennials said "travel" right after "save it." No other age group thinks that way.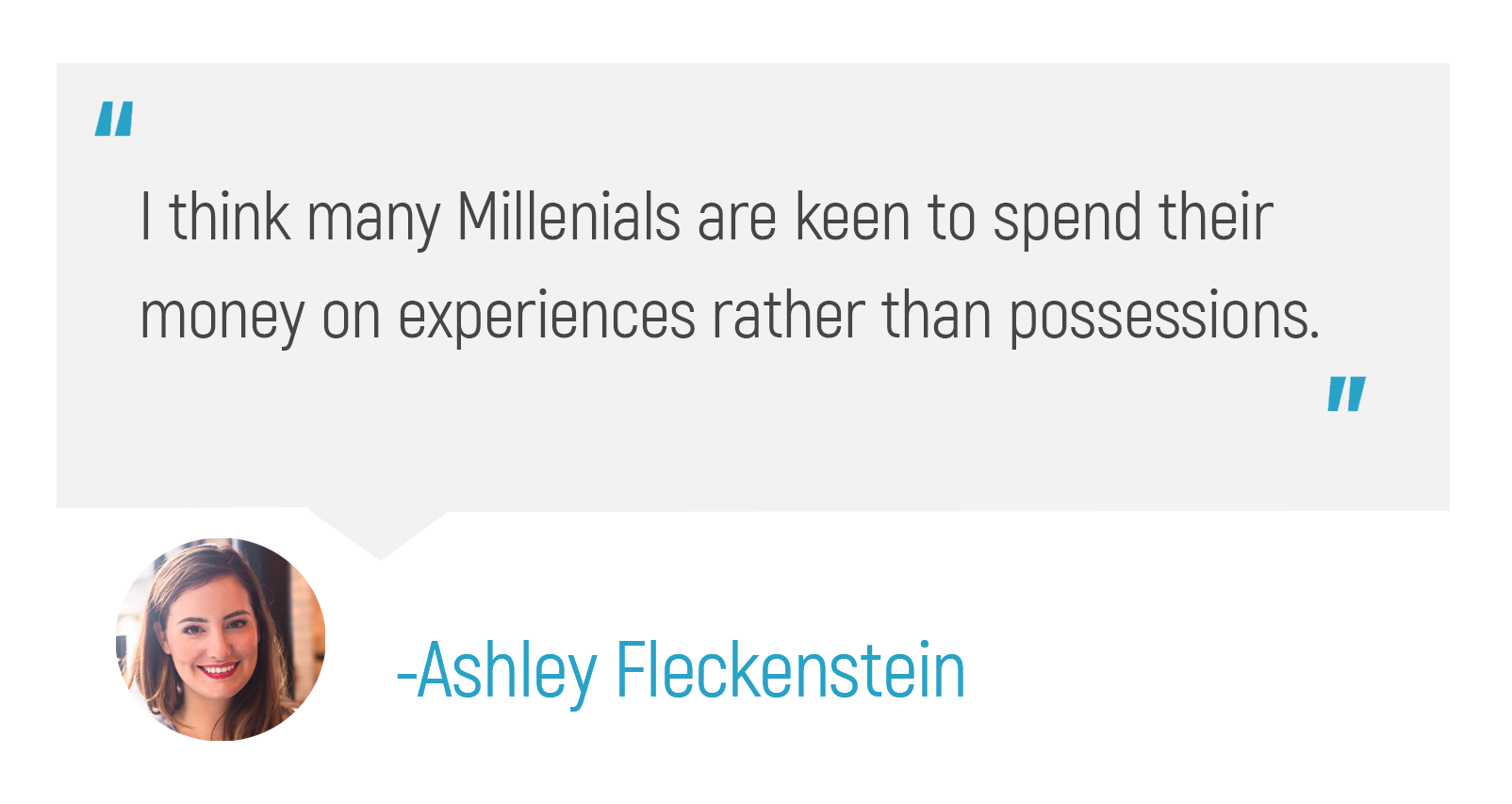 MILLENNIALS ARE SPENDING LESS ON TRIPS TO SEE FAMILY AND FRIENDS.


O'Neil says travel is about "Being open to new cultures, learning, trying new foods, but also learning about who you are as a person in a pivotal point in your life before you possibly 'settle down' with work and family."
What it's not about is going somewhere to hang with the family.
It's not that Millennials are neglecting family and friends; it's just that compared especially to Baby Boomers, who are focusing on road trips to visit friends and relatives, Millennials spend more time seeing the great big world.
There's about a six-point gap between Boomers and Millennials when it comes to family-and-friends travel (58% vs. 52%), but Millennials make it up to their families in other ways. For instance, they take significantly more intergenerational trips than older travelers (17% vs. 9%).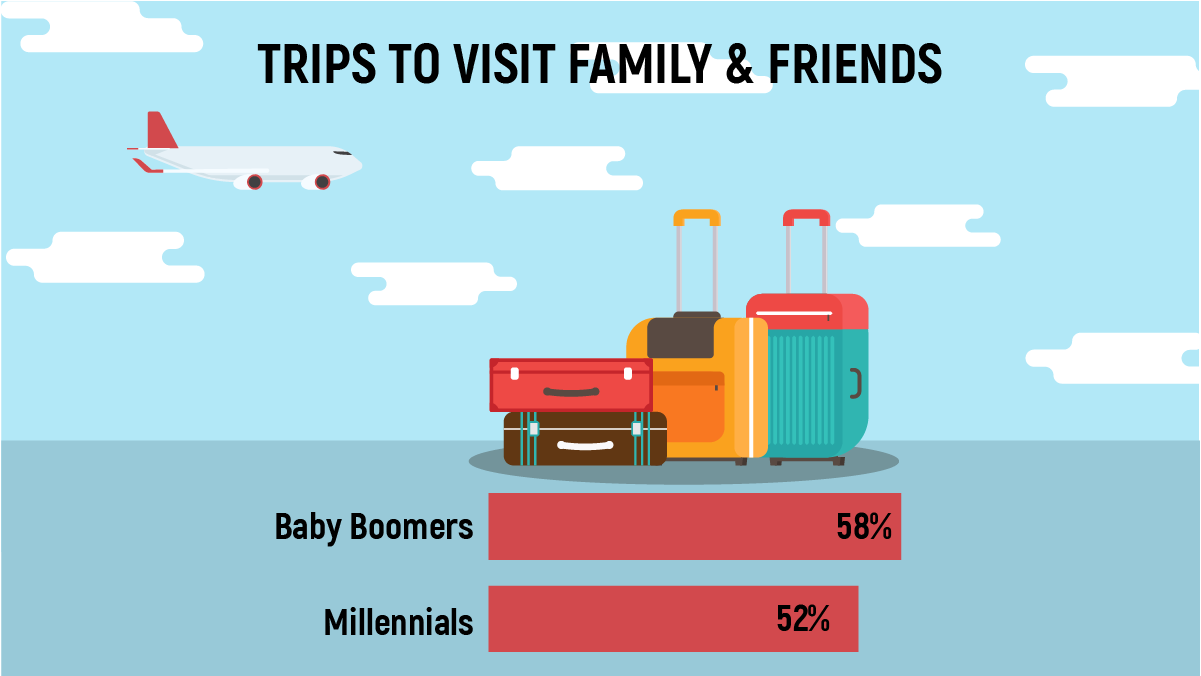 Vectors by Vecteezy.com

EXPLORING THE UNKNOWN AND THE 'GRAM' ARE DEFINITELY THINGS.


"Millennials seem to be more interested than older travelers in getting a "local" experience," according to Fleckenstein – but after they do, what then?
It's a conundrum. As O'Neil says, "There's a lot of exploring the unknown going on out there, but as soon as the unknown becomes popular it's not unknown anymore – is it?"
In addition, O'Neil acknowledges, "Social proof is a huge thing these days. If you don't put it on Instagram, did it really happen?"
"There are a lot of travel content creators that travel for the 'gram' – especially ones with massive followings, because that's what people want," she adds. "But who isn't going to go to Venice and not take pictures of the gondolas?"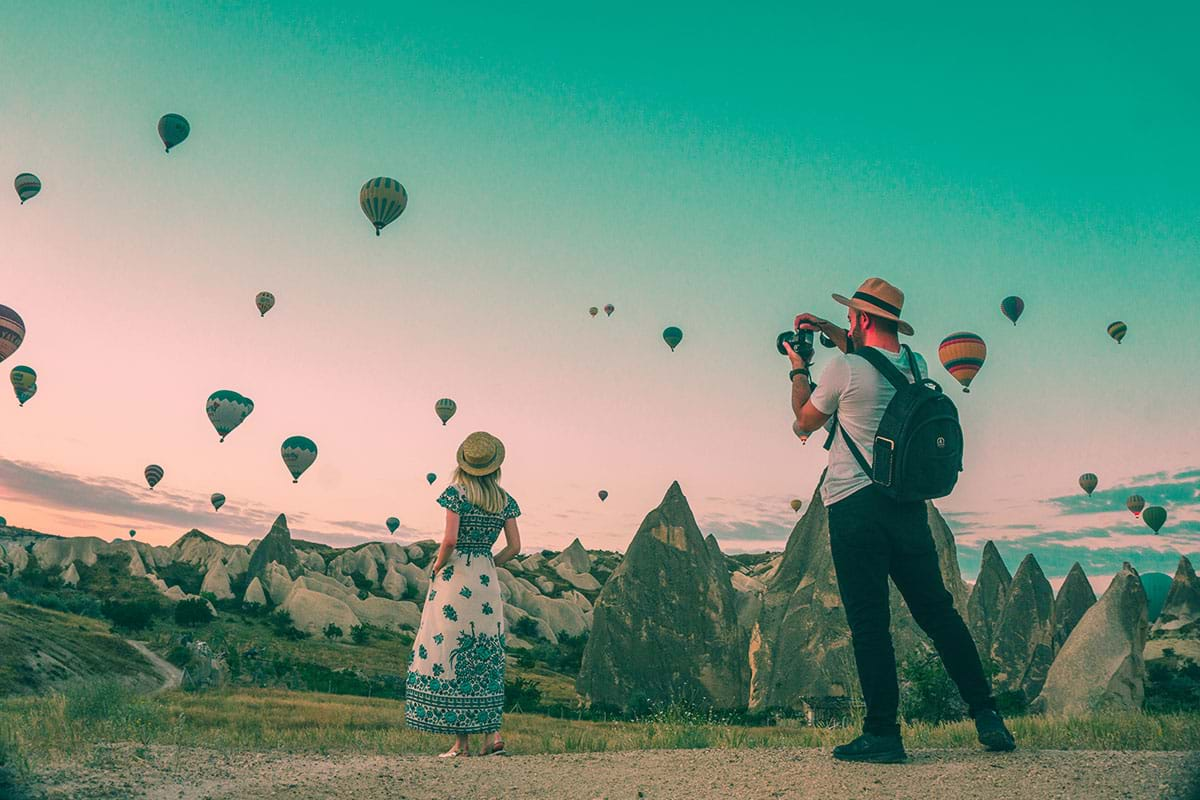 Photo by Mesut Kaya on Unsplash
MILLENNIALS REALLY LIKE TRAVEL TECH.


Previous generations traveled places for a lot cheaper; however, there might not have been as many opportunities.
One of the interesting things from the research is that Millennials with kids aren't particularly likely to agree with the comment, "I travel with a lot of stuff," but Millennials without kids are.
And a lot of that stuff that Millennials travel with is tech.
Whether it's a GoPro, a GPS, a smartwatch, or a drone, tech is a big part of the travel experience for Millennials – much more so than older travelers.
And it's made travel easier.
Before, according to O'Neil, "you had to pick up a guide book and call a hotel to book your stay, or know about a place from a friend or word of mouth. Now you can book on your phone and plan your whole trip while running on the treadmill at the gym."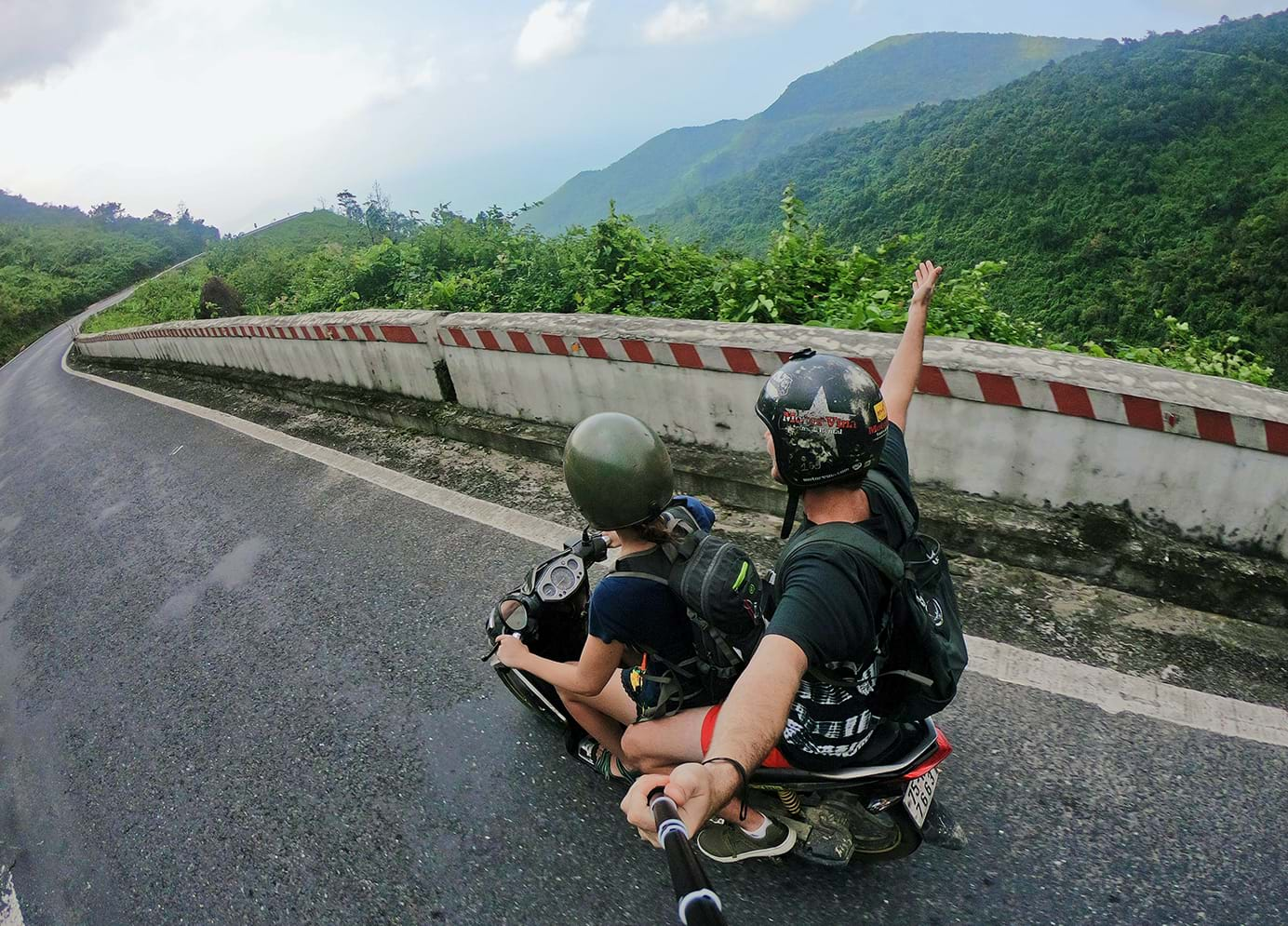 Photo by Jordan Opel on Unsplash

MILLENNIALS BALANCE ADVENTURE AND SAFETY.


Millennials are definitely more adventurous than Boomers, but at the same time, they're not unconcerned about their safety.
Two-thirds of Millennials would cancel a trip if they thought it was too dangerous – which seems like a lot until you consider that 80% of Boomers would do the same thing.
What's more, 23% of Millennials would visit a place after a terrorist incident took place there, compared to just 10% of Boomers.
So while Boomers (56%) and Millennials (53%) are about equal in saying they feel safe when they travel, the reasons why couldn't be more different. Millennials say they feel safe in spite of the fact they sometimes do dangerous stuff. Boomers say they feel safe because they're a lot more cautious.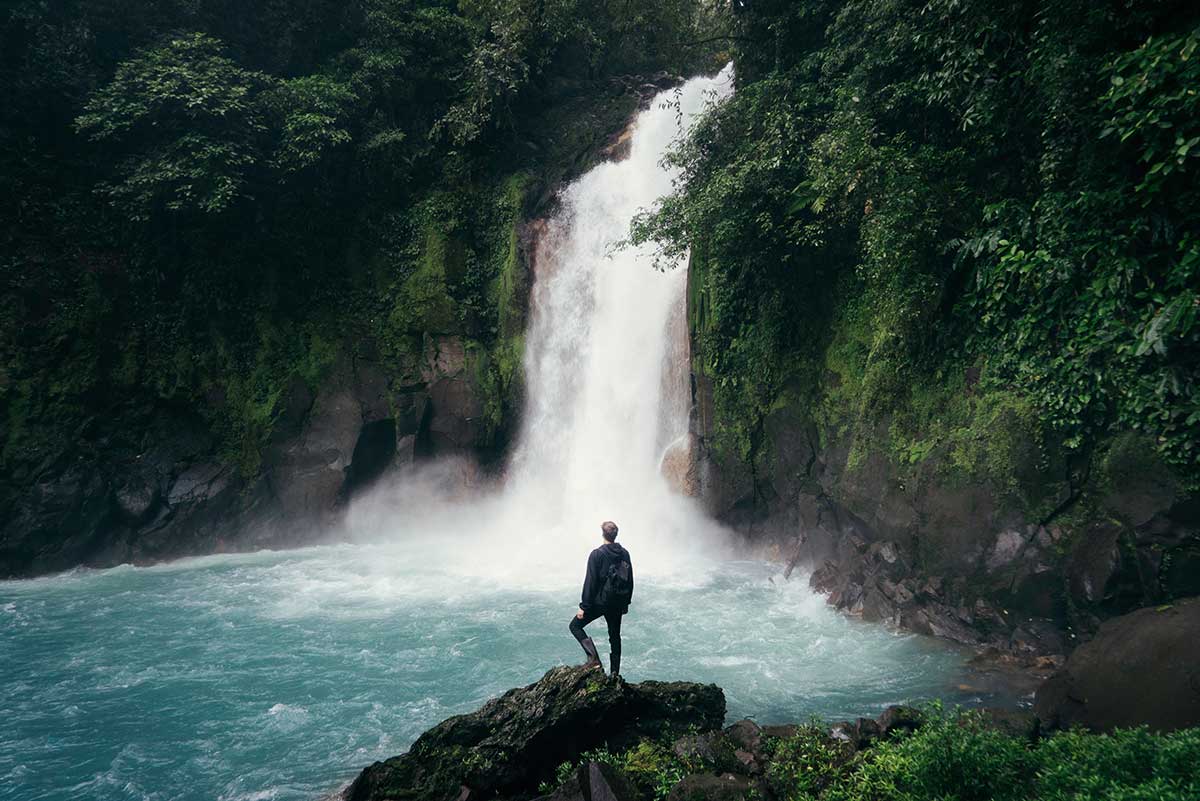 Photo by Štefan Štefancík on Unsplash

MILLENNIALS ARE CONCERNED ABOUT GLOBAL ISSUES.


Sure, terrorism and disease are travel considerations for Millennials, just like everyone else.
However, Millennials also express more personal concerns, like concerns about their own economic situation (42% vs. 33%).
They also express global concerns, like fears that quotas or other restrictions may keep them from seeing places like Venice (36% vs. 28%) or global warming may affect their travels (33% vs, 27%) .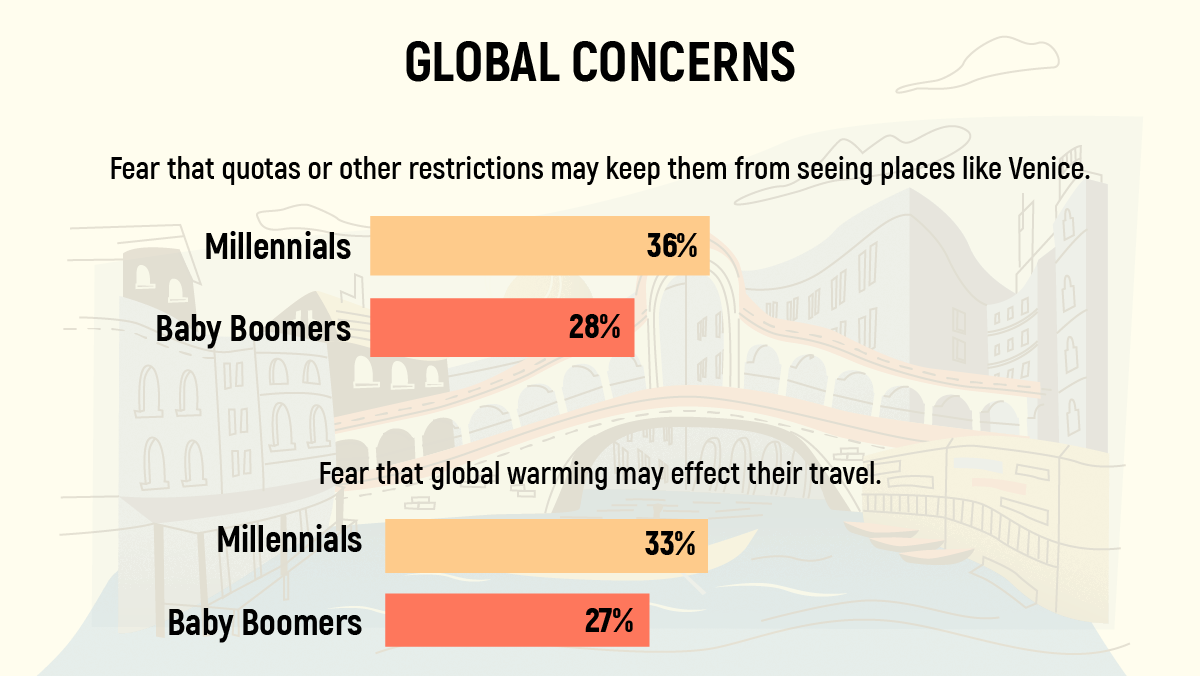 Vectors by Vecteezy.com

These particular concerns are definitely personal for Fleckenstein.
"I've felt that way about a few places," she says. "I wanted to visit Venice because it's sinking. Some places I visited ten or so years ago, such as Barcelona or Portugal, have exploded in popularity. I'm grateful I got to visit before the age of Instagram."
While O'Neil says there's nowhere on her destinations list "that I'm that worried about that I'm rushing to see," she admits that she is concerned about the effects of environmental changes on wildlife in Asia and Africa and in the oceans.
She's also concerned about overtourism, and her role in it.
"Being a content creator, encouraging people to travel and visit certain destinations, can make you worry at times," she says. "People blame influencers for the mass tourism, but it's more that the world is now more accessible to more people."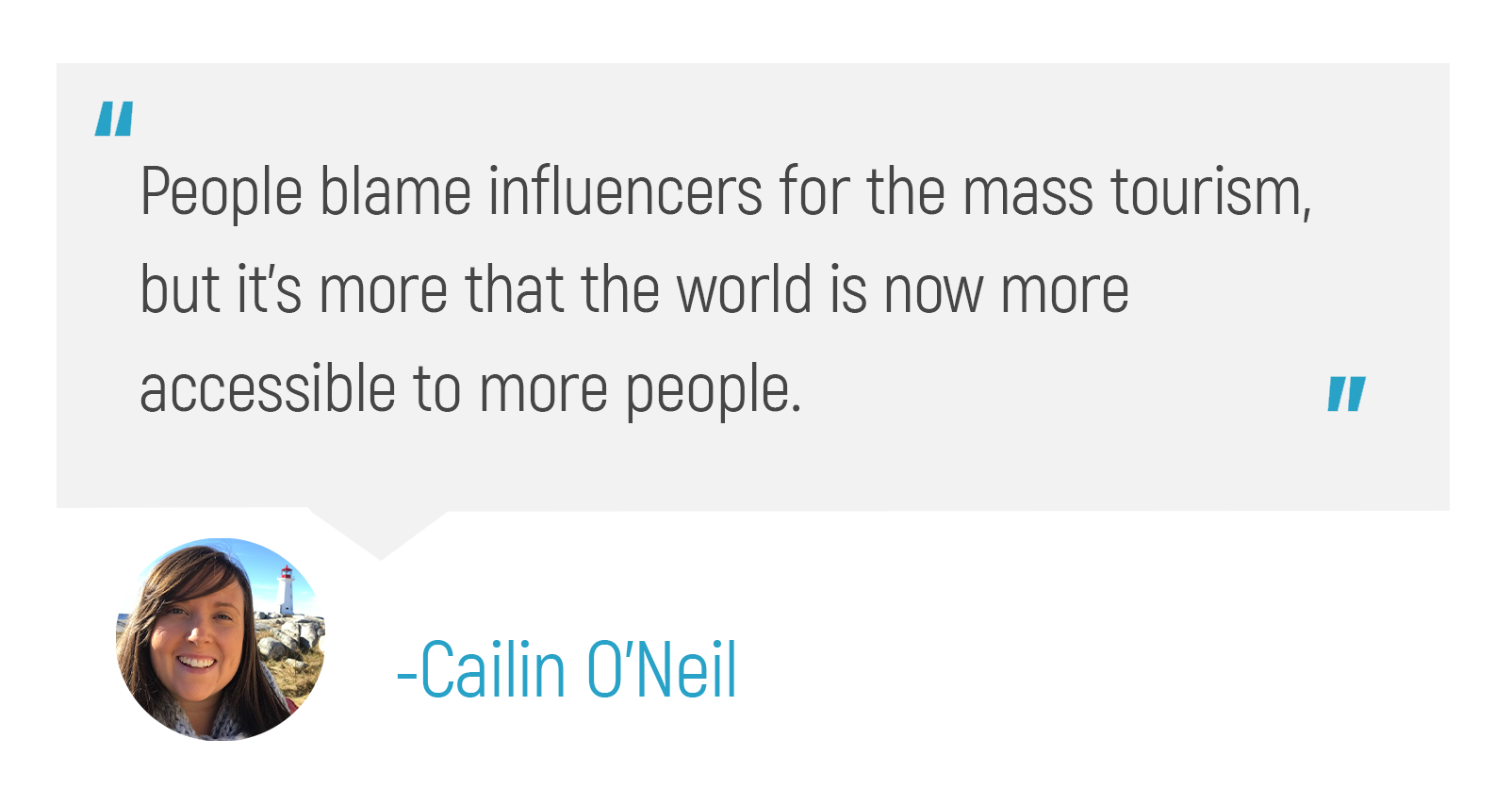 AS MILLENNIALS GET OLDER, THEY REALLY DO ACT A LOT MORE LIKE THEIR PARENTS.


One of the funniest things about Millennials and travel: When women near the upper boundaries of the age range for Millennials, they suddenly become more safety-conscious, and start taking more cruises and tours.
On the other hand, older Millennial guys have the same attitudes toward safety as younger Millennial guys, and go on the same types of trips.
Millennial women are being prudent, in other words, while Millennial guys are being … well, less than prudent.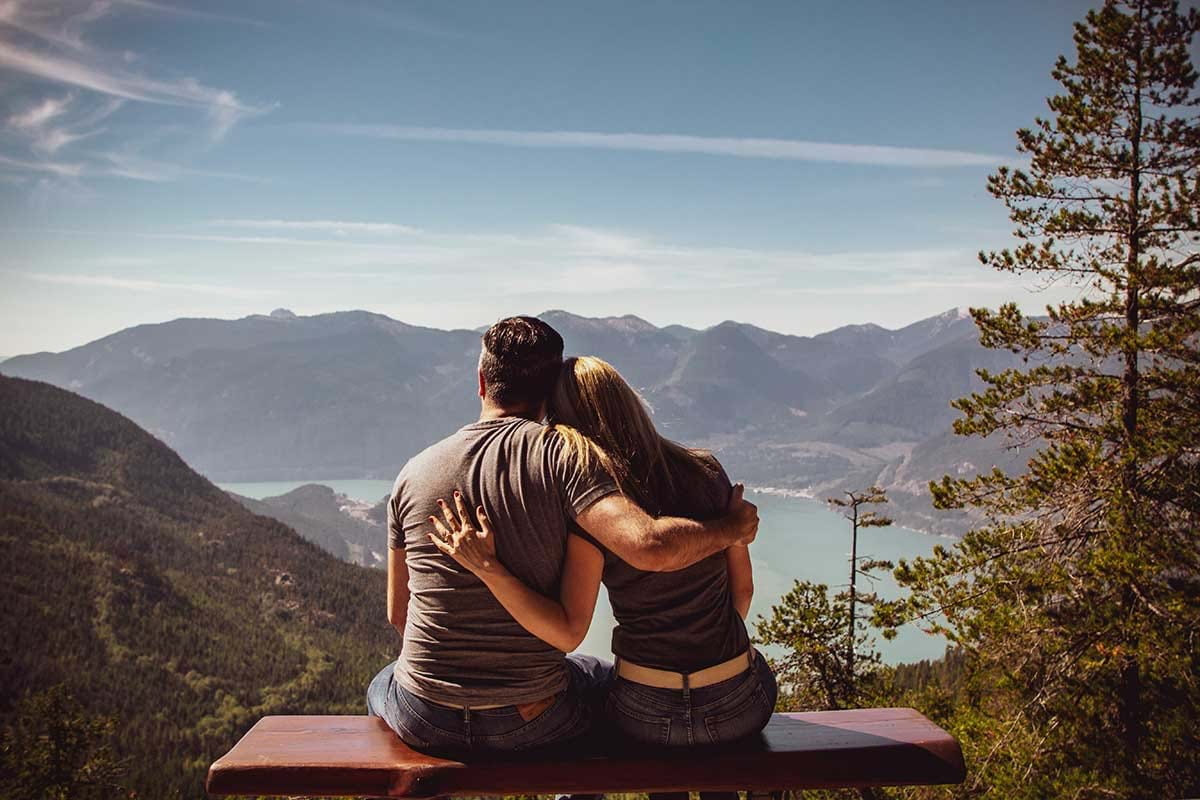 Photo by Andre Furtado from Pexels

MILLENNIALS ACTUALLY KNOW A LOT ABOUT TRAVEL INSURANCE.


Millennials know how travel insurance works, they know what sorts of trips merit travel insurance, and they know what they want from a travel insurance product.
Overall, Millennials insure about 21% of their trips – the same rate as other groups, and the same rate as in past years.
However, the trips they insure are the ones that should be insured – ambitious, more expensive trips. And since they plan to take more of those kinds of trips in 2019, they plan to buy more travel insurance this year.
Millennials do have a couple of issues with travel insurance. In keeping with their tech-oriented travels, they wish travel insurance was as technologically advanced as the rest of their travels. And one of the main reasons they don't buy travel insurance? They forget.
Fortunately, if you're a Millennial reading this blog, you don't have to forget. You can get a quote right here.
---
---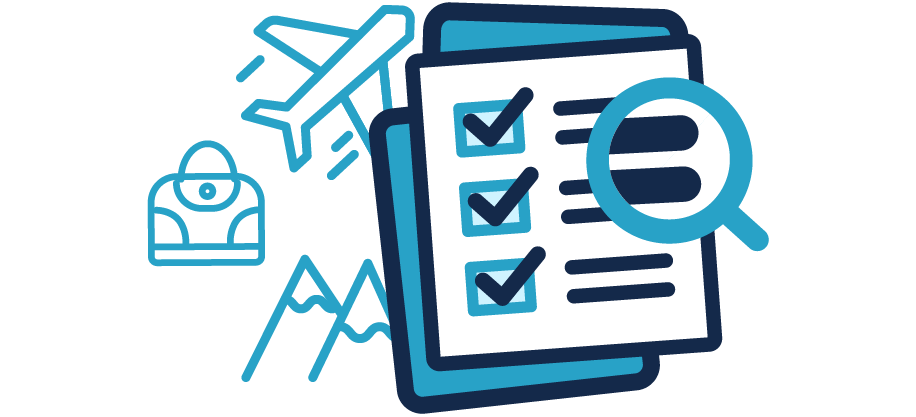 Questions About Travel Insurance?


Check out our online guide, "What Is Travel Insurance All About?" We've provided in-depth answers to all your travel insurance questions, starting with the basics.
---
Back To All Blogs